When Shontrelle Johnson signed onto Paul Rhoads' first full recruiting class at Iowa State in 2010, his future was as bright as the glare from the sun beading off of a snow covered field.
I remember interviewing Shontrelle at Iowa State's media day event in 2010. He was a confident and enthusiastic young man to say the least. Normally, freshmen don't get a whole lot of love at what I often times refer to as the "dog and pony show." At Iowa State, freshmen normally don't play. They redshirt. Only the special ones play in year one.
Shontrelle was a special one. 
The 1,175 rushing yards and five touchdowns Johnson has compiled over the last four seasons do not tell an accurate story of his inspiring career. The numbers might not indicate it, but Shontrelle still is a special one. 
Heading into Saturday night's "Senior Bowl" at Jack Trice Stadium vs. Kansas (7 p.m. kick on Fox Sports 1), the fact that Johnson will even be on the field tells you all that you need to know about this courageous young man who hails from DeLand, Fla.
As a freshman, Johnson backed up and learned from one of the top running backs in Iowa State history, Alexander Robinson. Even then, Johnson showed the Cyclone Nation how much talent he actually had. In fact, this Shontrelle Johnson touchdown run vs. Kansas is one of the more memorable plays of the Rhoads era.
The 2011 season though was supposed to be Johnson's breakout year. That however was not meant to be. Johnson only played in four games before going down with a serious (and scary) neck injury against Texas. Johnson's fellow senior running back Jeff Woody recalled discussing this very situation with his wife Hannah just a few days ago.
"If it were me, I would probably just hang them up," Woody said. "But Shontrelle wanted nothing to do with that. He wanted to be back on the field wearing the Cardinal and Gold and playing football as much as he could. Nothing was going to stop him from getting to where he wanted to go."
Johnson thought about calling it a career and frankly, nobody would have blamed him had he done so. He didn't have to think about it for long though.
"The neck injury was something that I debated if I wanted to just keep my scholarship and help coach out a little bit because guys don't come back from that type of an injury," Johnson said. "It was definitely a learning experience. It was a test of faith."
It was no surprise that Johnson rehabbed and was able to play in 2012. It was a surprise though when he was ready to go at the start of his junior season. In Iowa State's season-opening win over Tulsa, "The Rabbit" ran for a career-high 120 yards. Johnson looked like a brand new man. He ran the football an All-Big 12 level. The then-junior accumulated 504 yards and two touchdowns in 2012. He was the only running back on Iowa State's roster to run 100 yards in a game that season but even so, Johnson clearly wasn't himself. He needed more time and confidence to bounce back from the career-threatening neck injury so surely, 2013 was going to be "his" year.
Then, Johnson tore his ACL while preparing for the 2012 Liberty Bowl.
"After the ACL injury, I was kind of close (to calling it quits)," Johnson said. "The expectations to come back in that same year, most guys think about sitting out a year after an ACL injury. It was one of those things that you had to consider but in the end, everything worked out."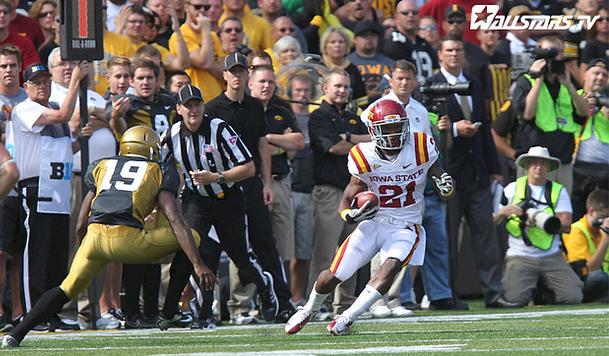 Those are two career-threatening injuries in four years. Obviously, Johnson hasn't had that breakthrough season in 2013 but impressively, he has played in every single game. That's because Shontrelle Johnson is addicted to football, the Cardinal and Gold, hard work and attempting to please Iowa State's loyal fan base.
"Game in, game out. I love fighting for this team," Johnson said. "I couldn't imagine playing for anybody else in the country. The brotherhood. The relationships that you build with the guys on the team, the coaches and the fans and how they support us game in and game out. They are always there." 
Forget Iowa State's 1-9 record for a moment.
This is what Saturday night is about: Johnson and the other 20 seniors on Iowa State's roster will have one final chance to ooh and ahh you all. Johnson isn't thinking about ending his career on a high note though. He wants to beat Kansas for everybody else. For the coaches, trainers and teammates who helped him fight back from two awful injuries, to the fans that have supported him from day one.
"I am speechless when it comes to how bad we want to win," Johnson said. "It is such a big shock that this is happening. We haven't won a game in our home stadium at all this year. It is going to be a big relief and the monkey is definitely going to be off of our back if we can come out here and get a win for our fans and ourselves."
When he came in as Paul Rhoads first prized recruit, Johnson expected to score more than five touchdowns in his career. He was an aspiring NFL running back. Johnson likely won't play professional football after this but he will leave Iowa State as an all-pro in the game of life.
"These are life lessons in general," Johnson said. "Everything isn't always going to go as you expect it to go but at the end of the day, things will get better and life will go on. One setback might set you up for something better. It taught me to stay positive and not get down."
The title of this blog is, "A tip of the cap to Shontrelle Johnson." To a football player, the ultimate tip of the hat is when your teammates love and respect you.
"Shontrelle Johnson is one of the most mentally tough individuals that I have ever had the privilege of talking to," Woody said. "His mentally capacity to deal with adversity is right up there with Jake Knott."
That, right there, is the ultimate compliment.
Cyclone Nation – during Senior Night festivities on Saturday, I encourage you all to give Iowa State's 21 seniors a standing ovation. Show them your love and support. And when the public address announcer says "No. 21, Shontrelle Johnson," tip your hat to that young man.
He most certainly deserves it.