CF's coverage of the Big 12's basketball media day in Kansas City is brought to you by MJ Properties in Ankeny.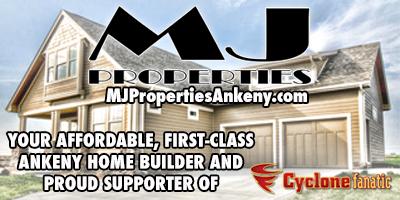 KANSAS CITY, Mo. — Iowa State's non-conference schedules haven't been horrible the last three seasons. They certainly haven't been juggernauts either. This year is different. If the Cyclones attempt to sleepwalk through November, things could get ugly, fast.
Michigan, a road trip to BYU, a formidable field in Hawaii, an SEC opponent in Auburn, Iowa and those bleeping UNI Panthers (who are always a thorn in Iowa State's side to say the least) on a neutral court are all on Iowa State's slate for 2013/14's non-conference schedule. 
One Cyclone who has play on every Iowa State team that Fred Hoiberg has ever coached is embracing this challenge with a smile on his face. Melvin Ejim says that urgency isn't up in mid-October practices, but excitement certainly is. 
"When you play teams that are games that don't really prepare you for the league, it's easy to just slack off," the preseason all-Big 12 forward Ejim said at the Big 12's annual media day event on Tuesday. "It's easy to just think that you're going to win all of those games or whatever. Now you have all of these games against teams that are nationally known. You see what you're made of so much quicker."
A slow start has plagued Iowa State in each of the last two seasons, both of which the Cyclones qualified for the NCAA Tournament. There were hiccups along the way though. The 2011-12 team lost at home to UNI and was blown out by Drake. Last year's roster was physically beaten up by the University of Iowa and went winless in a Las Vegas Tournament vs. Cincinnati and UNLV. 
Regardless of Iowa State's non-conference record this season, Ejim is confident about one thing.
"Going to into the conference we will be more prepared," Ejim said. "We are looking at it a little bit differently because these are great teams and we want to win. In order to win, you have to focus and make sure you are doing things the right way."
For the Cyclones, it will all begin on Sunday, Nov. 10 when UNC-Wilmington comes to town. Iowa State will have another tune-up two nights later via a date with Texas A&M-Corpus Christi but after that, it's on.  Ready or not, last year's runner-up, Michigan will invade Hilton on Nov. 17 followed by a trip west to Provo, Utah on the 25th.
The Cyclones better be ready. The days of filling up on cupcakes in November are over. Blink and it is going to be meat and potatoes time.