DALLAS — Five down, five to go.
Oklahoma State, TCU, Kansas State, Kansas and Texas Tech took center stage at the Big 12's annual media day event in Dallas on Monday.
Here are team-by-team highlights from the day that was in the "Big D." 
Oklahoma State
2012 Record: 8-5, 5-4
2013 Projection: Picked first by the Big 12's media
Newsworthy nuggets 
*** Don't expect Oklahoma State head coach Mike Gundy to declare whom his starting quarterback will be until after the Cowboys play Mississippi State (in Houston) on Aug. 31.
"Won't say much until after the first game," Gundy said. "We play a very quality opponent the first game.  So we'll need to use every advantage we have to give ourselves the best opportunity to win that game.
Senior Clint Chelf and sophomore J.W. Walsh are the men competing for the job.
*** Gundy had to replace four assistant coaches from his 2012 coaching staff for one reason or another. OSU's new offensive coordinator, Mike Yurcich, comes to Stillwater from the Division II level. You'd expect Gundy to be more involved in the offense next season right?
Wrong.
"I have a lot of confidence in the coaches on our staff and the decisions they make, and at the end of the day, they're the ones that have to instill it in the players in meetings and get it across to them on the practice field," Gundy said. "They have to get them to perform on Saturday."
*** Certain SEC coaches have criticized up-tempo offenses as of late, basically saying that they are dangerous student-athletes on the defensive side of the football. Gundy however believes this new trend is outstanding for the sport. He spoke at length about this on Monday morning.
"Well, in my opinion, high tempo and spread offenses have been the single thing that's created parity in college football.  And over the last eight or 10 years, when coaches have essentially started playing basketball on grass is really what we're playing now by spreading the court and getting the ball to young men that years ago wouldn't have an opportunity to play because they weren't maybe as big or as strong or as fast, and maybe even a Josh Stewart, if you were in a traditional style of offense, where does he play?  Even though he's a really, really good player, does he get 100 catches, and do we know who he is across the country?  I would say no.
So I think it's the very best thing that's happened to college football.  It's the reason that we've gone away, in my opinion, from a top 15 teams in the country, when I was growing up ‑‑ and some of you, some of you are a lot younger than me ‑‑ but even in the late '70s and '80s, you had your top 15 tradition‑rich teams in the country that were going to be that way in the first polls that came out at the year, and it would end that way.  Well, that now has gone to the top 40 or 45 teams in the country for the most part that have a chance to win on any given Saturday."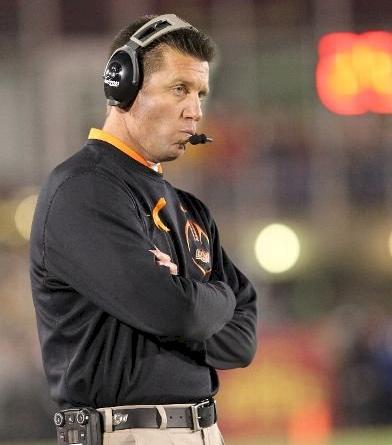 Toughest question Mike Gundy faced: "Your name has come up for a bunch of jobs over the last few years.  Curious what your level of happiness, contentment is at Stillwater, and is that a destination job?"
How he answered it: "I'm very happy in Stillwater.  To a certain extent, at times you wish that ‑‑ or I wish that my name wouldn't have come up or I wish that it wouldn't have been as much smoke or fire.  At times I'm to blame for that.
But I'm very happy, always been very happy in Stillwater.  And the honest answer is that from day one when we took this over, our coaching staff going into nine years now, we felt like the most important thing that we could do for the players on our team is make a commitment to them, if they would buy in, that we would have a chance to have success.
For me personally, I have to feel comfortable knowing there's a commitment to the young men on our team to give them the best opportunity for success in the classroom and on the football field, and if there's not, then it's hard for me to sell.
So at times, whether we all like to admit it or not, there's a business aspect to this profession, probably more so than we would like to think.  But I have to feel comfortable myself personally ‑‑ and I don't use "I" myself very often when we talk about Oklahoma State football ‑‑ that there's a commitment in all different areas for our young men to have success.
So when we go in those homes, the very most important thing we do is recruit young men who want to get a degree from Oklahoma State and be a part of that team, and that commitment has to be from both sides.
So I'm comfortable with that.  It doesn't mean I always agree with the decisions that are made, none of us do, but I do understand a chain of command, and at the end of the day, I say, yes, sir, and move forward."
Best quote: "I've been very fortunate to be at Oklahoma State. I've said that, and I mean it.  They took me on as a young player when I don't think most coaches would have.  Now in 20 years, if I would have walked through the halls of the high school and looked at myself, I don't know that I would have recruited me."
Kansas State
2012: 11-2, 8-1
2013 Projection: Picked sixth by the Big 12's media
Newsworthy nuggets 
*** Kansas State head coach Bill Snyderis still unsure as to who will start at quarterback for the Wildcats in their season-opener vs. North Dakota State on Aug. 30. Collin Klein's backup from last season, Daniel Sams and junior college transfer Jake Waters will battle it out in camp. Snyder didn't have much to say about the competition, other than reassuring media that there will indeed be one.
*** Regardless of who gets the start at quarterback, that man will be playing behind all five starters from last year's Big 12 championship offensive line.
"Well, if I'm the quarterback, I'm awful happy about it for sure," Snyder said. "I'd rather have it the way it is than the other, though.  And especially with the young people that we have, because I think we've got good young people in those positions who are very team oriented, very unselfish, and that means an awful lot at that position, or those positions."
Toughest question Bill Snyder faced: "Bill, we picked you eighth two years ago, and you finished second.  We picked you sixth last year, and you won it.  This year we picked you sixth again.  Are you going to at some point say 'I told you so?'"
How he answered it: "No is the simple answer. I think I said last year that, if I were given the opportunity, I would have picked us 99th.
As I look at it this year right now where we stand, I'd probably echo the same thought.  It's precarious trying to make those kinds of decisions as the season gets started.  Our program is no different than any other in that the dynamics of the program change year in and year out regardless of how many you do or do not have returning.  It's just a different environment, and I would suggest that it's just a difficult task.
I know it has to be done, but it's an awful difficult task to make those kinds of decisions.  I certainly couldn't do it.  I've declined so many times to be on the coaches polls in regards to selecting the top 25 in the country, et cetera, because I just ‑‑ it is so difficult to do.  Even during the course of the season, it becomes difficult to pick winners and loser.  That's why people make so much money in Las Vegas, I guess."
Best quote: "Well, my first position as an assistant coach was in Gallatin, Missouri.  This was a high school position.  I was an assistant football coach and assistant basketball coach and assistant women's basketball coach, assistant track coach, drove the school bus, taught four units of Spanish, which I knew nothing about, and I made $6,000 a year.  And I thought I'd died and gone to heaven, in all honesty, because I'd never had a paycheck worth very much prior to that."
TCU
2012: 7-6, 4-5
2013 Projection: Picked fourth by the Big 12's media
Newsworthy nuggets 
*** It was quite the trend on Monday. Nobody seems to have a starting quarterback. TCU's senior Casey Pachall was picked by the league's media as a first-team all-league gunslinger but even so, Gary Patterson isn't counting out sophomore Trevone Boykin.
Which brings us to…
Toughest question Gary Patterson faced: "Two questions here. You hint that you may play two quarterbacks, Trevone and Casey both. Is that the case, or are you undecided at this point?"
How he answered it: "I think it just depends. We'll see how two‑a‑day scrimmages and going into the first ball game — when I say that, it won't be a 50/50 thing, I don't think, but I do believe there's a place for both of them.
If it is Casey as the starter, you have a Trevone that really can beat you with his legs.  How do you do that?  He really developed.  He had an unbelievable spring, to be honest with you, which bodes well for us because he's only going to be a sophomore for us in the future after this season.
But I think you give a quality of understanding that they can't just ‑‑ going into a ball game, if he's going to play some, you can't just say that your game plan is all about a guy that's a thrower and he hands it off and he does a great job checking and has a strong arm.  I think you have to get ready for both of them, just like we've done for other schools in this conference.  If they have a guy that can throw it, a guy that does a better job running.
For a defensive guy, that's a lot different animal because you've got to put a lot more work into it."
Best quote: "For us, we're excited. For coaches this time of year, being in the Big 12, knowing a little bit more about it, buying less diapers, we're not quite as young of a football team as we were a year ago."
And another…
"Number one, just 18-year-old to 22-year-olds in particular, never have confidence with any of them on a day-to-day basis. All you have to do is have your own, in 31 years of dealing with 130 of them." 
Kansas
2012: 1-11, 0-9
2013 Projection: Picked last by the Big 12's media 
Newsworthy nuggets
*** Kansas boosted its recruiting rankings by going heavy on JuCo's in 2013. However, head coach Charlie Weis stated that going that route was more of a quick fix and isn't how he plans on building his program.
"I think that you can't factor junior college recruiting to the number that I brought in this year into long-term plans. I think that the high volume of players I took this year was a necessity.
When you go through a transition coming in and you dismiss 29 scholarship players, which I did for a variety of off-the-field issues – not one of those players did I get rid of because they weren't any good. You can't do it for that reason.
So now I took a team that already wasn't very good, and I made them worse talent-wise. So that led to we need to fill the holes right now."
"I think that that in the long-range plan and the plan that we've laid out as a coaching staff, that sliding scale should start working in the other direction where the majority of the players you bring in are high school players and then you fill the desired holes or gaps you need with those junior college players."
Toughest question Charlie Weis faced: "Charlie, last year Dayne struggled as a transfer quarterback, and now Heaps comes in in kind of a similar situation, but how are things better for him, and how could this maybe work for him whereas it didn't work for Dayne?"
How he answered it: "Actually, they're totally different situations other than the fact that they're coming in new.  Dayne was coming off the back‑to‑back ACLs.  So you get your ‑‑ you tore your right ACL, then you get healthy, then you tear your left ACL.  So as a quarterback, okay, you could simulate a lot of things, but the one thing you're not going to do is in training camp let your starting quarterback get hit a whole bunch of times.    
So you don't know what's going to happen when the real bullets start flying, and I think that we all saw ‑‑ Dayne admittedly is too.  He's one of my favorite people of all times.  I mean, wasn't playing with a lot of confidence, wasn't playing with that air about him that "I'm not worrying about my knees, I'm just going to go ahead and let it go."
Jake has no physical issues.  Jake just had to sit for a year while he was biding his time for his opportunity to play.  So I think that Jake will come in with a lot more confidence than Dayne came in because I don't think that health issues are even in the back of his mind, knock on wood. 
Best quote: When asked about how he is "selling" Kansas football to recruits…
"Well, I ‑‑ the problem with me is I have a very ‑‑ I'm a very straightforward person, and these players either really like you or they can't stand you.  It's one or the other.               
I take a very honest approach and a very practical approach, but I'll just say as if it's your kid.  Let's say it's your kid.  Let's say he's a junior in high school, and I'm recruiting him, and we're talking, and you're sitting in my office.  I say, look, I've got a great school here, great education, great academic support, I've got a great strength coach.  My trainer is topnotch.  All the facilities are on par with everyone else.  The only thing that needs to be done is they need to do some work on the stadium, which are in the plans.               
So all the background things I've got in place.  Now, what are you looking for in college?  If one of the things you're looking for is all those things, then I already have a good head start.               
Then everyone wants to play.  There's no one that wants to not play.  I said, have you looked at that pile of crap out there?  Have you taken a look at that?  So if you don't think you can play here, where do you think you can play?  It's a pretty simple approach.  And that's not a sales pitch.  That's practical.  You've seen it, right?  Unfortunately, so have I.
So now you're sitting there saying, look, you want to have an opportunity?  Everybody wants to tell me about depth charts.  When a kid asks me, "Well, what's your depth chart, how many guys are you going to take," I answer the question:  Let me give you some advice, never ask that question again because that means that you don't think you're good enough.               
So really, by being honest with them and just saying here's what it is, hopefully, before it's all said and done, before I end up leaving the place, that's not going to be the same thing I'm saying, but that's what I'm saying right now."
Texas Tech
2012: 8-5, 4-5
2013 Projections: Picked seventh by the Big 12's media
Newsworthy nuggets 
*** All five programs that took the stage on Monday will have quarterback competitions take place when camp begins in a few weeks. This includes Texas Tech, a program that will be led by its new head coach and former quarterback, Kliff Kingsbury. Kingsbury said that both Michael Brewer and Davis Webb are still battling it out.
"Those guys kind of separated themselves from the rest of the pack," Kingsbury said. "We'll get them to fall camp and probably go about two weeks, it varies, before we name a starter and try to get the scrimmage in. See how seven-on-seven is going this summer, see how film is, and just who separates themselves."
Toughest question Kliff Kingsbury faced: "You made some headlines with some comments you made about the no huddle offense, kind of refuting what Nick Saban and Coach Bielema had to say about it. Can you maybe elaborate more about obviously how you feel about the no huddle?  You ran it at Texas Tech. You ran it at Texas A&M. You got Manziel with the Heisman doing it. Kind of what are your thoughts on the whole thing?"
How he answered it: "I think that was really well documented how I feel.  The game evolves and changes and you have to play for your strengths.  If we think playing in that style gives us an advantage, we're going to do it. 
Everybody is entitled to their opinion, and I'm not saying I'm right.  But that's just how I feel about it."
Best quote: "It's easy to sell a product when you lived it and you love it and you're telling the parents and telling the kids. Hopefully, they see that passion."