Happy Fourth of July weekend Cyclone Nation! As I write this on Friday morning, I fully realize that most of you are probably off camping, vacationing, golfing or catching up around this house on this beautiful July weekend in the Cyclone State. Be safe and enjoy that time with your families.
If you're bored, I decided to empty out the good ole Cyclone Fanatic Mailbag for you starting with a pretty basic question from Wesley.
Wesley writes: Will Iowa State win six in football this year despite all the predictions?
CW: Well first of all, these "predictions" that you speak of don't mean a whole heck of a lot. Not for Iowa State at least. The last four years have proven that. In fact, the so-called Lord of College Football Predictions, one Phil Steele, has underestimated Paul Rhoads' program in each of the last four seasons.
So if you're trying to come up with that magic number, sure, read the magazines. Learn everything that you can about Iowa State and its opponents. But the "predictions" are certainly not the gospel.
I think that as it has been the last two years, Iowa State's bowl future will be based off of its success in the non-conference. Go 3-0 and we sholud be planning another Cyclone Fanatic bowl charter somewhere. Anything less and I see Iowa State ending up with five wins on the season. I like Iowa State in its first two games vs. Northern Iowa and Iowa. To me, at Tulsa is a tweener (the Golden Hurricane will likely be favored at home). Flip a coin when it comes to that contest. Ironically, Iowa State's bowl fate could very well rest in a game against the team it lost its bowl game to last season. 
Hypothetically, let's say that Iowa State indeed does go 3-0 in its non-conference. The Big 12 schedule looks like this:
Texas
@ Texas Tech
@ Baylor
Oklahoma State
@ Kansas State
TCU
@ Oklahoma
Kansas
@ West Virginia
Kansas is probably the only game that Iowa State will be favored in right? Let's pencil in a win there so the number is now a four. Every year, I automatically pencil in a Paul Rhoads upset special somewhere. On top of that, I think that Iowa State has a legitimate shot against Tech, West Virginia and perhaps even Kansas State as far as road games are concerned.
Six wins is certainly a very realistic possibility.
This is a young and unproven Iowa State team but that doesn't mean that the Cyclones won't be any good. Last year, I feel like everybody most people kind of knew what Iowa State had. This year, that isn't really the case and let me add – that isn't necessarily a bad thing. 
Regardless, I see 2013 as a very entertaining football season for Iowa State fans. The program is past the point of being blown out like the old days. The Cyclones should be competitive in every game. As of Friday, kickoff is only 57 days away.
ShankinPATs writes: It is Sam Richardson's senior year…Is he still our starting quarterback?
CW: That is a brutal question for two reasons. 
1)   It is an insanely hard one to answer on July 5, 2013. 
2)   It isn't really fair for me to answer it.
I have (and neither have any of you) never seen Grant Rohach, Joel Lanning or Trevor Hodges take a snap at the Division 1 level. So how fair would it be for me to write off Richardson before the start of his sophomore year?
I understand where you are going with this but can we just lay off of the quarterback controversy stuff for a while? Over the last few years, it has been embedded in all of our minds but why not just see what Richardson can do before kicking him to the curb? 
Why do fans always want to do this? 
Iowa State fans wanted Bret Meyer over Austin Flynn. Then they wanted Flynn. Then they wanted Austen Arnaud over Meyer. Then they wanted Jerome Tiller. Then Steele Jantz was the man. But why not play Barnett? No, we want Jantz back. PLAY SAM RICHARDSON. No, no, no. We want Rohach!!!!!
Get my point? 
If Richardson is Iowa State's quaterback when he is a senior, I'd say that's a good sign. It means he is winning.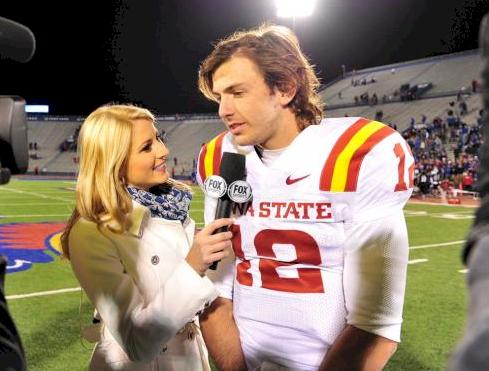 Brentblum writes: I am a fan of the summer reality show Big Brother aka Survivor with air conditioning. Let's say we put all of the Iowa State coaches plus Jamie Pollard and John Walters in the Big Brother house. Who emerges victorious? The Mayor would seem like a good pick due to his skills in the various challenges and nobody would want to eliminate The Mayor. But Pollard can negotiate with the best of them, CJL is a winner and Rhoads is ruthless. Walters probably goes out first, we can agree on that. What say you?
CW: As much as I appreciate Blum trying to pull reality television into this hack blogger's mailbag, I do have a somewhat surprising confession to make. In 29 years of life, I have yet to watch an episode of Big Brother.
I know. I know. It's crazy right? I watched the first season of Survivor when that overweight guy, Rich I believe was his name, brought home the cash-money. That was enough for me. I had seen enough and at that moment, made a decision to cash out on the CBS reality shows. I'm more of a Bachelor kind of guy (this season of the Bachelorette is filled with a bunch of tools by the way).
But I do understand the concept here so let's break it down.
You're right about Walters. He gone. The man is too nice to be vindictive in a game like that.
Two guys stand out to me as front-runners right from the start.
Jamie Pollard because of the reasons that you mentioned. Through vision, charisma and intimidation, Pollard would RUN THIS GAME from the start. 
Bill Fennelly has proven over decades that he has something that is very important in life – staying power. There is your darkhorse…
In the end though, how can you not pick Fred Hoiberg? I mean, everything that the man touches turns to gold. Fred wins Big Brother – Iowa State edition. Why? Because Fred always wins. Period. 
Triggermv writes: If you could only choose one of the two as a starter next season, Sherron Dorsey-Walker or Matt Thomas, who would you choose? I realize this is subject to change based on how each of them progresses.
CW:Matt Thomas.
Listen, I know that Dorsey-Walker has come a long way in a year and I think that he will be a solid player for Iowa State over the next four years. But Matt Thomas was labeled as the "best shooter in college basketball's class of 2013 for a reason. The dude is really, really good.
This conversation creates a good "problem" to have. Iowa State has multiple guys who can light the net on fire playing for a Fred Hoiberg coached team.
But again, I won't ride the fence here. The answer to your question is Matt Thomas.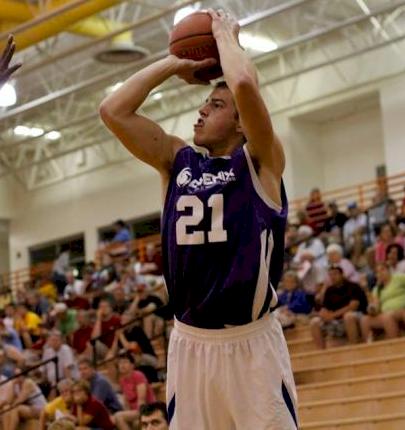 Erikbf writes: How is the Dexter series going to end? Dexter dies, arrested or runs away to an island with Deb and Harrison?
On a serious note……….How good can this basketball team be next season? It feels like the bar has been raised where ISU doesn't rebuild, Hoiberg just reloads. A lot of people thought last year would be down since Royce and Co. left and ISU was a couple questionable calls away from making a final four run.
CW: Who is this "Dexter" that you speak of? For real, I've never seen this show either. I need details brother. Do tell. 
How good can Iowa State be next season? Right now, I've got the Cyclones tabbed at fourth in the Big 12, a spot ahead of Kansas State all because of the point guard position. Kansas State lost theirs (Angel Rodriguez transferred to Miami) and a few weeks later, Iowa State picked up DeAndre Kane.
I think that without Kane, Iowa State was an NIT team with an outside chance to make the NCAA Tournament. With Kane, Iowa State is an NCAA Tournament team with an outside shot to drop to the NIT. It isn't that Kane is LeBron James either. It is just that he fills the gaping hole in Iowa State's roster perfectly. With Kane, Monte Morris, Bubu Palo and Naz Long, Hoiberg has options as to who will be handling the rock for Iowa State. There is nothing that Hoiberg likes more than a versatile lineup.
I think it is safe to say that Kansas and Oklahoma State (in whichever order you'd like to put them in) are No. 1 and 2 in the Big 12 heading into next season. I don't see a scenario coming around where that changes.
Baylor is Baylor is Baylor is Baylor is Baylor………..
……..is Baylor is Baylor is Baylor is Baylor is Baylor. 
I don't care who is coming back. You have to put the Bears at No. 3 based off of talent but as we've all learned over the years, you just don't know. That and Fred Hoiberg seems to have Scott Drew's number (he's 4-1 against the Bears in three seasons).
But Iowa State is a pretty safe pick at four. With a top-heavy conference, getting to 20-plus wins shouldn't be an issue for the "good guys." Having said that, the non-conference schedule is shaping up to be much more challenging than ones that Iowa State has seen in recent years.
I see two keys to Iowa State having a "great" year and not just good. 
1)   The backcourt, chemistry and all of that jazz. Been there, done that. 
2)   A third big man (cough cough, Percy Gibson) needs to step up his game. Teams are going to gun at Melvin Ejim and Georges Niang and attempt to get Iowa State's two best players in foul trouble. Those guys need help. 
Clonefan 32 writes: Should I be concerned with Ellerman's lack of scoring in the CCL?
CW: Yes. You should be very concerned……..
Cloneteach writes: What are the chances the CCL games eventually get taped and archived on Cyclones.tv?
CW: Slim to none. By NCAA rule, coaches can't even attend these games. I just don't see how the athletic department's website would ever be able to broadcast/make money off of them. You'll just have to settle for our highlights instead.
Acoustimatic writes: With the guards the women's team has this year, do you anticipate seeing Coach Fennelly use four guards and Hal at times? It seems to me we have lots of rotation options this year. 
CW: I'm not really up on how exactly Fennelly plans on using everybody next year but I do know how he feels about Christofferson. According to Billy Fennelly (in a podcast I recorded with him a few months ago), the staff views her as a Georges Niang-Doug McDermott type of player if that makes any sense. Very versatile. Can play the 2 through the 5 really. I fully anticipate Fennelly to use her the same way that Hoiberg did Niang during Big 12 play last year in an attempt to spread opposing defenses out.
You're right though. Fennelly is going to have a ton of options in the backcourt going forward. Iowa State women's basketball is in the middle of a golden era (consistency speaking) and based off of how recruiting has gone lately, I don't think that the program has peaked yet either.
CY22 writes: Thinking about how things have become so specialized/individualized as far as workouts and other things go with the new training facility, can you see the staff carrying this over more as far as personnel go when on the field? I ask more from a worrisome standpoint that having some players become too role specific may come to a disadvantage vs. anticipating greater things with more versatility (looking at you Woody).
CW: Honestly, I think you're worrying about things too much.
You mention Jeff Woody, but I think a lot of what we heard (regarding him and tight end) during spring ball had to do with the fact that all of the tight ends were injured. At one point, all four of Iowa State's tight ends were dinged up.
Think about it…In order for the offense to even practice, somebody has to play at that spot. Woody is a smart kid who is indeed versatile. Just because he played some there in the spring doesn't mean that he is destined to take half of his snaps at the position in 2013.
If Iowa State comes up with a wrinkle or two with him then so be it. That would be great. But again, I think you're too worked up over this workout thing. 
The best players are going to play and there are literally zero negatives to the new training facility.