The top-ranked wide receiver in America isn't supposed to commit to Iowa State 14 months before National Signing Day. That just isn't how it works. 
Times are changing. 
Allen Lazard is Clone to the bone. Iowa State is in his blood. By committing to Cyclone head coach Paul Rhoads back on Dec. 3., Lazard was simply choosing to not delay the inevitable.
"Why go through the whole process if you already know what is going to happen?"
That's what Lazard, a 6-foot-4 blue-chipper, who caught 11 touchdown passes for Urbandale during his junior season, told Cyclone Fanatic last Friday.
Across the board, Lazard has connections to Rhoads' program that helped lure him to Iowa State. His father, Kevin, played defensive back at Iowa State from 1990-93. His brother, Anthony, is currently a walk-on linebacker in the program. Allen Lazard knows and is comfortable with the majority of Iowa State's current roster. He loves the coaching staff. He is familiar with the campus and get this – he has even played pick-up football on the hills of Jack Trice Stadium.
"I used to be on the hillside playing tackle football and all of that stuff. I've always wanted to play there," said Lazard. "It has been since I was a little kid. Ever since I was five or so, I have been going to Iowa State football games with my family."
Because of his vast history with Iowa State, Lazard, who also recorded 90 tackles as a defensive back for Urbandale, has seen the progress of Paul Rhoads' football program from an up close and personal level. His father tells him stories of the good ole days. As a fan, Lazard has experienced the highs and lows of Iowa State football for the past decade or so.
Oh how things have changed since the early 90's when Lazard's father was a Cyclone. Iowa State's new state-of-the-art football facility is a great example.
"My dad has told me stories about when the Jacobson Building was the new facility in his day," said Lazard. "The program has grown and the campus has grown. The new facility is just crazy. I can't wait to get up there."
Along with a handful of other in-state recruits, Lazard attended Iowa State's Junior Day over the weekend.
Rhoads rules
Why Iowa State? Because it makes way too much sense to not happen. Lazard grew up a Cyclone. He understands and loves the culture. He's comfortable there, has two alumni parents and big bro is an under-the-radar up and comer within the program. The Lazard's are an Iowa State family. Period.
Now that we have that covered, onto another important question regarding Lazard's commitment: Why did Lazard, an elite athlete who could have gone to any school in the country, commit so early in the process?
The timing of Lazard's early decision surprised the people closest to him. On Dec. 3, 2012, Paul Rhoads got a phone call that he'll never forget.
"I think he was in disbelief for quite some time, as well was Coach (Shane) Burnham," said Lazard. "They were definitely happy."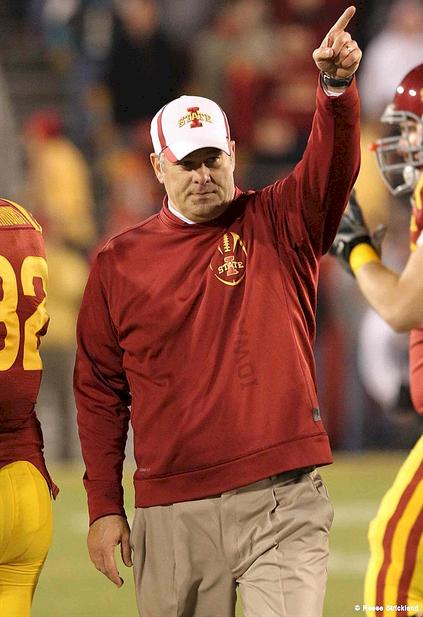 The same goes for his parents, both of whom Allen says weren't expecting any sort of a decision until a year down the road.
"With both of them having gone to Iowa State, it made them happy," said Lazard. "They were caught off guard because they thought I would wait a little bit longer."
But it is important to take Lazard's family history out of the equation for a moment and give credit where it is due. If it wasn't for Iowa State's relentless recruitment of the wide receiver, who some compare to a young Larry Fitzgerald, the process likely would have played out much longer and who knows – Iowa State could have easily whiffed.
"The main part for me, I felt that if a school really wanted me, they would be contacting me. They would be coming to my school to find me," explained Lazard. "I should probably go to a few junior days and stuff but if they really wanted me, they would have been coming to my school and trying to get me."
Iowa State has always been there. Rhoads is passionate as a coach on the field and according to Lazard, Iowa State's head man brings that same mentality to the recruiting trail. From day one, Paul Rhoads and Lazard's primary recruiter, Shane Burnham, have proven to Lazard just how critical he will be to taking Iowa State football to that proverbial "next level."
"When he is talking, everybody is listening," said Lazard of Rhoads. "It is his intensity and his desire to never give up on you no matter what. If it is how you are doing individually or the team, he wants to push you to be the best player and the best person that you can be."
According to Lazard, that is what makes Rhoads different from the other coaches out there. What makes Lazard different from the oodles of wide receivers across America is God-given talent. Lazard is without question the highest profile recruit to commit to Iowa State in program history.
Better recruiting
It was on Dec. 1 that West Des Moines Valley offensive tackle Jake Campos made the switch – from Missouri to Iowa State. Campos, along with 24 others, signed on the dotted line to complete Iowa State's 2013 class earlier this month. Only two days after Campos made the switch, Lazard made his pledge to the Cyclones. 
"I just see greatness coming," said Lazard. "He (Rhoads) got Jake Campos to come – to switch from Missouri," said Lazard. "Shawn Curtis is another great lineman."
Now that he's committed, Lazard says that he will do his part on the recruiting trail throughout the summer months.
"I am going to work on the in-state guys," said Lazard. "At camps this summer, I'll be talking to out of state guys. I'll try and talk them into coming up to Ames."
Lazard plans on attending Nike's combine in early May, along with other national camps along the way. He'll go to Iowa State's camp of course as well.
Favorite Cyclones
Of course there is his father. That's a no-brainer. But after that, Allen Lazard's list of all-time favorite Cyclones is actually pretty predictable.
"Seneca (Wallace) would have to be at the top as well as Todd Blythe," said Lazard.
The Blythe comment is fitting. After all, Blythe, who played at Iowa State from 2004-07, is Iowa State's all-time leading receiver in receptions, yards and touchdowns.
No. 1 isn't a bad guy to look up to. And neither is Jake Knott, a former Cyclone linebacker who according to Lazard has been an inspiration to him for years.
"Just his will not to give up. He came out as a two-star athlete," said Lazard. "At the time, he only had one scholarship offer. He probably had a better chance at baseball in college but now he is one of the top linebackers in the country. He will be playing on Sunday's next year."
Their paths to Iowa State could not have been more opposite. For Knott, landing that scholarship was a constant struggle. Lazard is a well-known world-class athlete. But both CIML products bleed cardinal and gold. From that standpoint, they are one of a kind.
Not done yet
He's not in college yet but Lazard, who is currently averaging 9.8 points and 8.1 rebounds per game for Urbandale's 15-6 basketball team, has a few more notches to add to his belt before attending Iowa State.
The young man has state championships on his mind, in two sports.
"Honestly, that (winning a basketball title) would be right up there with winning a football championship. I love playing basketball," said Lazard. "I love my coaches and the other players. I just love the atmosphere and the game. It would be a really big deal to me to win a state title, or at least get to 'The Well' and experience it."
Urbandale went 7-3 in football last season with a large stable of its 2012 squad coming back. Football season is a ways away though. Lazard and his Urbandale teammates will begin their hoops postseason on Feb. 22 at 7 p.m. vs. either Marshalltown or Southeast Polk.