By Chris Williams, CycloneFanatic.com PublisherFollow Chris on Twitter @ChrisMWilliams
*** CycloneFanatic.com's coverage of the 2012 Big 12 Men's Basketball Tournament in Kansas City is brought to you by WCI Pools & Spas located in Urbandale and Ames. Bring your Big 12 Tournament ticket stub into WCI Pools & Spas by March 31st and receive and extra $500 off of a Jacuzzi Hot Tub. ***

What: Iowa State (22-9, 12-6) vs. Texas (19-12, 9-9) – Quarterfinals of the Big 12 Tournament
When: Thursday, March 8 at 8:30 p.m.
Where: The Sprint Center in Kansas City, Mo.
TV: WOI (Ames, Des Moines), KPTH-DT2 (Sioux City), Mediacom (Cedar Rapids/Waterloo/Dubuque/Mason City/Ottumwa)
KANSAS CITY — A good old-fashioned rubber-match.
That's what Big 12 basketball fans will see on Thursday night when third-seeded Iowa State meets up with sixth-seeded Texas in the quarterfinals of the 2012 Big 12 Tournament.
For Texas, a potential berth in the NCAA Tournament could be on the line. The Longhorns are a classic bubble team, sitting at 9-9 in a power conference looking to send the committee some good vibes before Sunday rolls around.
It's all about seeding for Iowa State. Most "experts" have the upstart Cyclones playing in the blasted 8/9 game in the NCAA Tournament's first round. That may or may not end up being the case. Who actually knows? Regardless, Iowa State has a Big 12 Tournament championship on its mind. That was clearly the case during Wednesday's shootaround.
Iowa State defeated Texas in its Big 12 opener 77-71 in Ames on Jan. 4. The Longhorns got the best of the Cyclones in a 62-55 slugfest in Austin on Jan. 24.
Iowa State has lost six straight games in Big 12 Tournament play. Will the Cyclones snap that losing streak on Thursday against a hungry Texas team?
Let's break it down.
Iowa State's probable starters:
G: Chris Allen, 6-3 Sr. – 12.0 PPG, 2.4 APG
G: Scott Christopherson, 6-3 Sr. – 12.6 PPG, 3.1 RPG
G: Chris Babb, 6-5 Jr. 8.3 PPG, 4.1 RPG
F: Melvin Ejim, 6-6 So. 9.4 PPG, 6.7 RPG
F: Royce White, 6-8 So. 12.9 PPG, 9.2 RPG
Texas' probable starters:
G: Myck Kabongo, 6-1 Fr. – 9.8 PPG, 5.3 RPG
G: J'Covan Brown, 6-1 Jr. – 20.0 PPG, 3.8 RPG
G: Julien Lewis, 6-3 Fr. – 7.7 PPG, 3.6 RPG
F: Jonathan Holmes, 6-7 Fr. – 7.1 PPG, 4.9 RPG
F/C: Clint Chapman, 6-10 Sr. – 7.2 PPG, 5.3 RPG
BREAKING DOWN THE CYCLONES
Focus.
When it comes to Iowa State's performance in Kansas City this week, Fred Hoiberg isn't worried about it.
"If you have to motivate your guys right now then you've got the wrong group of guys," said Hoiberg. "Our focus is high but it has to go through the roof now."
When Iowa State traveled to and lost to Texas in late-January, the Cyclones lacked this f-word on offense and turned in one of their worst offensive performances of the season because of it. Iowa State's two seniors, Scott Christopherson and Chris Allen, combined to go 2-for-14 from the field as the Cyclones shot 33.3 percent from the field.
"It wasn't that we shot badly. We played bad offense," said Christopherson. "We took rushed shots. We had a lot of turnovers. We weren't moving the ball from side-to-side. When you do that, you're not going to shoot well."
"When we're patient and we move the ball from side-to-side and get good shots then that's all you can ask for on offense."
LINKS:
— Randy Peterson of the Des Moines Register focuses on Chris Allen's experience in the month of March in his preview for the big game.
— Peterson updates readers on Fred Hoiberg's on-going heart condition.
— Motivation won't be a problem for Iowa State on Thursday reports Rob Gray from the Cedar Rapids Gazette.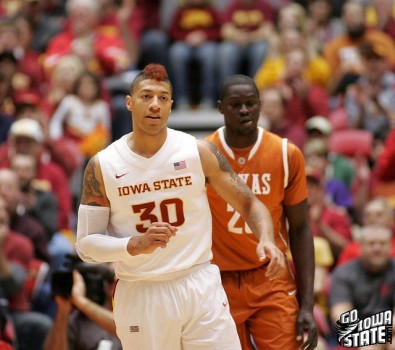 BREAKING DOWN THE LONGHORNS
The Longhorns are young and they are very talented. Those two facts accurately sum up Rick Barnes' 2011-12 Texas team that will start three freshmen on Thursday night. A win against Iowa State wouldn't only likely lock up a spot in the NCAA Tournament, but it would also be the 13th straight 20 win season at Texas under Barnes, who has made it to the semi-finals in 10 of his 13 trips to the Big 12 Tournament.
"They are going to come ready to play," said Hoiberg. "Rick Barnes has a long streak right now of NCAA appearances (13). I know that those players aren't going to want to let him down. There's a very good chance that they're in anyway but they're going to want to solidify it."
Texas started its 2012 Big 12 campaign with a 3-6 record but won six of its last nine leading up to the postseason.
"Texas has grown, a lot," said Hoiberg. "What typically happens with young teams is that they get more comfortable with each other and they grow a lot. Rick Barnes has done a terrific job and his record speaks for itself."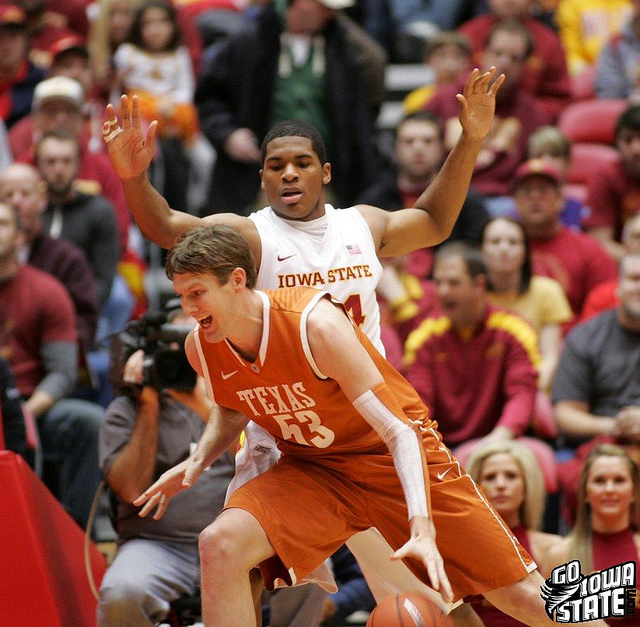 WANGMENE OUT: Texas' front line will be thin in this one, as 6-foot-7 senior Alexis Wangmene broke his wrist in Saturday's loss to Kansas. Depending on who you talk to, Wangmene is Rick Barnes' best interior defender.
Longhorn to watch: This is the no-brainer of all no-brainers. It's junior J'Covan Brown.
The Big 12's scoring leader at 20 points per game struggled mightily in his second meeting with Iowa State, but Brown is still capable of going off in a big way at any time. Just ask Kansas. Brown dropped 33 (29 in the second half) on No. 3 Kansas in Lawrence (in a 73-63 loss) last Saturday. Brown has scored 30 or more four times already this season.
"He is as difficult of matchup as there is in our league on the perimeter," said Hoiberg. "We're going to have to do a great job of team awareness of him and trying to slow him down."
That responsibly will once again fall on the shoulders of Iowa State's junior all-star defender named Chris Babb.
In a recent radio interview, Babb told 1460 KXNO's Miller & Brinson that Brown is the toughest Big 12 player that he's been forced to defend all season long. Even so, Brown was 3-for-16 against Iowa State on Jan. 24.
Keys to a Cyclone victory:
Here are a few of them…
— Obviously, containing (I'm not sure it is possible to actually stop the man) J'Covan Brown is a big one. There's no reason to think that Babb won't get the job done, but he has to stay out of foul trouble in order to do so. Babb has committed three of more fouls in three of Iowa State's last four games. Prior to the Texas Tech win on Feb. 22 (four games ago), Babb hadn't committed more than two fouls in a game all season long.
— Patience on offense is what lost Iowa State the game in Austin. Had the Cyclones even had a decent night of shooting the basketball, Iowa State would have swept the Longhorns in the regular season. Point is, thirty-three percent won't cut it on Thursday night. Patience on offense will equal easier shots and that percentage should skyrocket because of it.
— Rebound. The Longhorns have gotten the best of the Cyclones on the glass twice this season by fairly significant margins (38-29 in Ames & 41-34 in Austin).
PREDICTION
If Iowa State can manage to slow down J'Covan Brown and just play a decent game offensively at the same time, the Cyclones should be in good shape. That's my opinion anyway.
The thing about Brown is that for much of the season, he's been a one man show. It isn't that other Longhorns haven't contributed to getting Texas this far. It's just that in order for Texas to really thrive, Brown has to be the guy. Freshman Sheldon McClellan is the only other Longhorn to average double figures on the season.
Texas will indeed be desperate and Rick Barnes will have his team ready to play, but I still like a hungry Iowa State team to advance to the semi-finals of the 2012 Big 12 Tournament.
THE PICK
Iowa State 70, Texas 65