By Brent Blum, CycloneFanatic.com ColumnistFollow Brent on Twitter @BrentBlum 
We are exactly one month away from the beginning of the NCAA tournament.  Just think – It has been over 2,500 days since Iowa State last played in a postseason game. It is the longest streak of any BCS school in the nation. The Cyclones haven't played in the NCAA tourney, NIT, CBI, or the CollegeInsider.com tourney — which I'm not convinced anybody has actually watched. It's a little like the Lochness Monster.
The last postseason game Iowa State played in was a second round match-up with No. 1 seeded North Carolina on March 20, 2005. The Tarheels ran Iowa State out of the gym that afternoon in Charlotte, en route to the NCAA Championship.
It was so long ago, that two of the Tarheels best players that day (Sean May and Rashad McCants) have already played in and retired or been cut from the NBA.  McCants is probably best known since then for dating Khloe Kardashian before she married Lamar Odom. A distinction he is proud of I'm sure.
Billboard's No. 1 song the day of North Carolina's victory over the Cyclones was  Kelly Clarkson's, "Since you've been gone." The second song on the charts, Green Day's "Boulevard of Broken Dreams." Strangely fitting.
Well Iowa State is only 30 days from the end of that boulevard. What a strange trip it has been.
With that in mind, let's take a closer look at how the Big 12 is taking shape for the stretch run.
Big Monday:
Baylor 79, Iowa State 64 – The Cyclones flat out let the Bears get way too comfortable in this one. Baylor shot 60 percent  in the game and 72 percent in the final stanza. It was an uphill battle form the start for Iowa State on the defensive end. Quincy Miller was a nightmare to defend. At 6-10, he shot right over the top of Chris Babb and was excellent in the mid-range. Baylor ran their offense through him and had it humming all night. Credit Scott Drew for finding the mismatch (never thought I'd write that.) Iowa State tried to zone at times, but nothing seemed to slow down the Bears. With Baylor leading 48-42 and 12 minutes remaining, the Bears scored on 15 of their final 19 possessions.
If I'm an NBA GM, I think Miller is more of a sure-fire pick than his teammate Perry Jones III. That guy is a Diet Coke version of Kevin Durant, love his game. Speaking of Perry Jones, he finally showed some aggressiveness and confidence attacking the basket and even tried to rebound a little.
You also don't expect Anthony Jones to step out and knock down jumpers and get offensive rebounds, but he did. It all added up to a miserable night on defense for the  good guys.
On offense, the Cyclones did exactly what they wanted. They got great looks the entire game. We're talking shoot-a-round, wide-open looks. They didn't make enough obviously, but it was encouraging to see the quality of shots they got. I definitely think Iowa State has a great opportunity to beat the Bears back in Ames.
Kansas 59, K- State 53 – This was a brawl with baskets. K-State played exactly as they always do. They tried to beat the hell out of KU and played with a huge sense of desperation. They crashed the glass en route to 19 offensive rebounds and scrapped and tugged and grabbed KU to a point that may be a misdemeanor in some states. But as is the quandary with these Wildcats, they didn't have enough firepower. Jamar Samules was stellar for the Cats,  putting up 20 points and 12 rebounds but Jamar had almost no help.  McGruder, Spradling and Rodriquez couldn't get anything to drop and KU's Jeff Withey was a force on the back-end on defense swatting nine K-State  shots astray.
Withey has been unreal. If the NBA has Lin-sanity, we have some Withey-steria happeing in Lawrence. This dude scored 80 points total in his first two YEARS at KU. In his last three games, he has posted 61 points, 36 rebounds and 19 blocks. It's just astonishing how much confidence he is playing with and completely transforms the Jayhawk attack. Tyshawn Taylor continued his eccentric play with 20 points and countless hustle plays. If I have a game on the line, I want him on my team. He has some stones.
It appears the conference race will come down to the February 25th match-up in Lawrence between KU and Mizzou.
Saturday Notes:
Missouri 72, Baylor 57 – If Phil Pressey is making four 3-pointers like he did against Baylor, good luck beating the Tigers. They are so fundamentally sound on both ends of the floor that you either have to hope the Tigers get in foul trouble or that they are missing shots. The guy on the scouting report to play off of is Phil Pressey and he made Baylor pay on his way to 19 points. What is not talked about enough with Mizzou is their ability to take care of the ball. They average just 11 turnovers per game – good for ninth in the nation. And unlike conservative turnover teams like Purdue and Wisconsin, Mizzou runs their offense at a quick pace. Very impressive.
Texas 75, K-State 64 – J'Covan Brown and the Horns had it stuck on automatic in the second half. They out-scored K-State 48-24 in the second half. Texas feeds off of Brown. He is a streaky guy and when he is on, the young Horns take his lead. A career high 15 points from offensively challenged Alexis Wangmene was also a huge bonus for Texas. But here is the stat of the game and perhaps the year: In the last 25 minutes of this game, Texas shot 34 free throws, K-State shot zero.  FRANK ANGRY! FRANK NO SHOOT FREE THROW!
Texas Tech 65, Oklahoma 47 – An embarrassing performance for the Sooners. Thirty-two percent shooting, 16 turnovers and just one player in double figures. Steven Pledger was MIA, four points in 31 minutes for the conference's fourth leading scorer. The only performance worse than the Sooners over the weekend was Nicki Minaj's. Props to the Red Raiders, they have battled all year and they finally got a reward for their efforts. They only played six dudes, but those six dudes produced and guarded all game. Billy G's team is light on talent, but he gets the most out of them and on this night, it was enough against a non-existent Sooner squad.
What to Watch for This Week:
Tonight:
Texas @ Oklahoma – Very curious with this matchup. Next three are HUGE for Texas. They have the Oklahoma tour this week (@OU and @OSU) and then host Baylor on Big Monday. The next six days will determine if they are tournament worthy or not. Also tune into to see if OU has elected to mail in the last month or if they show some heart after the Tech debacle. They travel to Ames on Saturday.
Texas A&M @ Texas Tech – A&M had a "We'd rather be in Cabo" look going the entire second half in Ames. 'Fellas you are only a month away. Hang in there. If Tech wins two in a row with their talent, Billy G should get a vote for coach of the year.
Wednesday:
Oklahoma State @ Missouri – Revenge on the minds of Mizzou after OSU dunked their way to a win over the Tigers earlier in the year. This has the chance to get ugly.
Very Premature All-Conference Team:
The Big 12 likes to have six people on their all-conference team, which is very friendly of them, but is also a cop out. This allowed the notorious chucker LaceDarius Dunn to absurdly make the first team last year. That then led to several bad Twitter jokes from me that went something like: "Good to see Lace Dunn make first team as he single handedly kept every team the Bears played in the game." Ah, I miss Mr. Dunn and his shot selection. That aside, here is my look at what the "real" conference teams should look like as of today.
First Team
G – Tyshawn Taylor, Kansas
G – J'Covan Brown, Texas
G – Marcus Denmon, Missouri
F – Royce White, Iowa State
F – Thomas Robinson, Kansas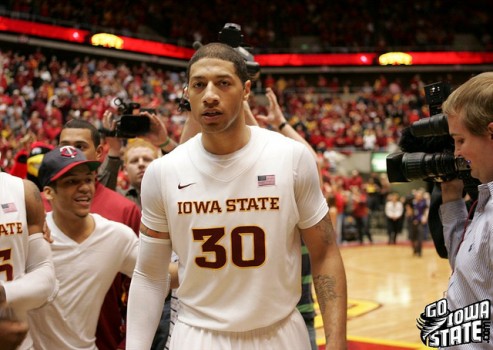 Second Team
G – Pierre Jackson, Baylor
G – Flip Pressey, Missouri
G – Rodney McGruder, K-State
F – Ricardo Ratliffe, Missouri
C – Jeff Withey, Kansas
Third Team
G – Steven Pledger, Oklahoma
G – Kim English, Missouri
F – Le'Bryan Nash, Oklahoma State
F – Perry Jones, Baylor
F – Romero Osby, Oklahoma
Player of the Year: 1. Thomas Robinson 2. Royce White 3. Tyshawn Taylor
Defensive Player of the Year: 1. Jeff Withey 2. Chris Babb 3. Mike Dixon
Newcomer of the Year: 1. Royce White 2. Pierre Jackson 3. Romero Osby
Freshman of the Year: 1. Le'Bryan Nash 2. Myck Kabongo 3. Quincy Miller
Sixth Man Award: 1. Mike Dixon 2. Tyrus McGee 3. Angel Rodriguez
Coach of Year: 1. Frank Haith 2. Fred Hoiberg 3. Bill Self
Going to be a crazy final 30 days before the NCAA tournament. Let's get it started.