By Chris Williams, CycloneFanatic.com PublisherFollow Chris on Twitter @ChrisMWilliams

CycloneFanatic.com's coverage of the 2011 Big 12 football media days in Dallas is proudly brought to you by the Iowa Clinic's Urology Department.
DALLAS – Believe it or not, other topics besides the Longhorn Network were discussed during day one of the 2011 Big 12 football media days in Dallas.
Here are a few nuggets to hold you over until day two, when Iowa State will take center stage. To cap things off in this roundup, I offer you some memorable quotes from the day and of course, an installment of LINKS GALORE.
Gundy confident in new coordinator
The Oklahoma State faithful are sick and tired of hearing about how the departure of former offensive coordinator Dana Holgorson (who is now the head coach at West Virginia) will equal doom for their potent offense in 2011. 
Why? Because the hiring of Todd Monken was well thought out by head coach Mike Gundy.
Monken, who spent the last two seasons as the quarterbacks coach of the Jacksonville Jaguars, returns to Stillwater after being the passing game coordinator/wide receivers coach at OSU under Les Miles from 2002-2004.
Oklahoma State's offense was ranked third in college football last season, averaging 520.23 yards per game. But recognize that this well-oiled machine is far from broken.
Note to Coach Monken – Don't change a thing. Gundy's plan is that he won't.
"We wanted a coordinator that would come in and be willing to run our offense. And it's not easy to find a coach that's willing to do that," said Gundy. "And Todd's approach has been very good. Brandon (Weeden) and Todd's relationship has gotten to a level that I'm very comfortable with, and I'm just looking forward to Todd putting his touch on our offense."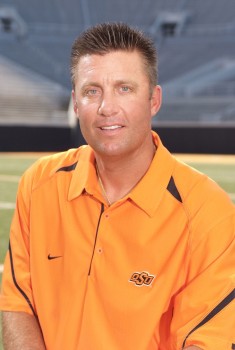 Phil Bennett, Baylor's savior?
Baylor's offense was ranked 13th nationally at the end of last season. That's pretty good.
Art Briles' defense was ranked 104th to end the campaign. That stinks.
Enter Phil Bennett into the picture. Bennett, who was SMU's head coach from 2002-2007 and spent the last three seasons as Pitt's defensive coordinator, brings a wealth of experience to Waco. That's something that Briles was visibly excited about on Monday.
"He's got one thing money can't buy, and that's experience," Briles said. "He's got a lot of good experience on the defensive side of the ball. So we're not going to say anything or he's not going to say anything that's surprising. He's going to have an answer for everything. He's got a plan."
He better have a plan. Over the last four games of last season, Baylor's defense gave up an average of 47 points per.
Round-robin
Even in the days of the old Big 12 that actually had 12 teams in it, Gundy was one man who pushed to eventually play a round-robin schedule. In 2011, he'll finally get his wish.
"I think that each team competing annually against each other will help stimulate some rivalries within our league," Gundy said. "Oklahoma State, Missouri we get to play every year. So I think the fans will look forward to playing Missouri and Missouri fans will look forward to playing Oklahoma State. And when you did it once every two seasons or two years in a row with taking a two-year break, I don't think it worked and it wasn't effective."
Missouri head coach Gary Pinkel surprisingly echoed Gundy's thoughts.
"I think as the league, as it's evolved to 10 teams, I think the league will be as strong or stronger nationally each and every year, and the competition every week you better bring it," Pinkel said. "You better bring everything you've got every week. That's a challenge that you have, because this is a really, really good conference."
MEMORABLE QUOTES FROM MONDAY

Mack Brown on the Longhorn Network's relationship with ESPN: "So Dave Brown called me mid-summer and said: We want to have your first scrimmage online. Everybody's going to want to see it. And I said: Yeah, Oklahoma, A&M, Kansas, Texas Tech, they're going to be sitting there grading our practice as we do it. We can't do that."
Mack Brown on the Longhorn Network televising high school football games: "I don't think that part will have any effect on recruiting at all." — Seriously Mack?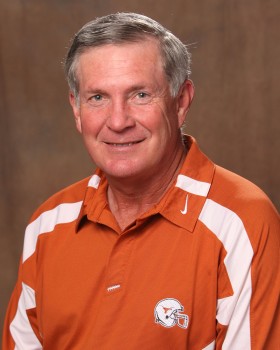 Mike Sherman on backup quarterbacks: "You're only as good as your backup quarterback." — Signed, Ryan Tannehill
Gary Pinkel on replacing Nebraska: "And who is going to replace Nebraska? I don't know. We're fortunate the last eight of the ten years I've been in here, we had a pretty good run with them back and forth." — Think he wanted that rivalry to end?
Art Briles on Robert Griffin's confidence: "I mean, shoot, he's not worried about what people are thinking about what he's saying; he's worried about producing on the football field. And he's a mature enough person to understand that what he says he has the ability to back up, which he does."
LINKS GALORE
— The Daily Oklahomareports that Texas A&M is committed to the Big 12 Conference.
— Gregg Doyle from CBS Sports doesn't have such an optimistic view on the conference's future in this very strong column.
— Iowa State's Jamie Pollard is quoted in this Dennis Dodd column on the Big 12's marriage problems.
— Topeka Capital-Journal columnist Kevin Haskin recaps a somewhat awkward reception that the Big 12 hosted Monday night.
— According to Texas A&M athletic director Bill Byrne, the Big 12 athletic directors will meet within the next few weeks to discuss the Longhorn Network.
— The NCAA's new celebration rule that will allow officials to take points off the scoreboard is a concern to Baylor head coach Art Briles. Why? Because Robert Griffin is his quarterback. The Daily Oklahoman's Berry Tramel explains.
— A quality feature on Texas A&M's quarterback change from last season and how it saved Mike Sherman's job from Matt Hayes of The Sporting News.