By Ben Bruns, CycloneFanatic.com Contributor and former Iowa State All-American
Iowa State took care of business last weekend. While the Jayhawks controlled the first quarter, I believe it says a lot about this football team and the state of the program that we could simply come out in the second half, put the pedal down and separate ourselves from a team like KU. Though they don't have the operator at quarterback or the playmakers at wide receiver that they did a season ago, KU still has some very good players on that football team. ISU's 2's were in for most of the fourth quarter and played winning football.
Nebraska is a whole different animal. Up and down the lineup, the Huskers have studs. A very good defense is nothing new for Nebraska. For most of the first half last Saturday, Missouri's Blaine Gabbert looked like a pinball bouncing around in the pocket. Had he been any more nervous of Crick & Co., he would have needed a pair of Depends®. The Huskers' Alex Henery has a streak of 18 made field goals, which is closing in on an NCAA record, as well as solid special teams. And if that wasn't enough going for the Big Red, the big story in Lincoln is the NU offense. Nebraska's Taylor Martinez has re-written the record book for freshman Husker quarterbacks. (Martinez, whose father was a Cyclone football letterwinner, wasn't offered a scholarship by Gene Chizik & Co.) Couple Martinez's excellent play with the breakout performance last week of Roy Helu Jr., who set a single-game record in rushing yards (307) against a Missouri squad that had been holding opponents to 114.6 yards per game, and you've got one potent offense rolling into Ames this week.
Last week Nebraska popped big play after big play, making Missouri's safeties look like they wanted no part of Helu. Why is Nebraska so deadly? To put it simply, they do it all. Herbie Husker will throw the kitchen sink at you.
Nebraska is a multiple set team that runs almost every modern family of run game. In the Power series, the Huskers run both one- and two-back Power (block down, kick out, pull the back side guard up in the hole), one- and two-back Counter (block down, pull two o-linemen to kick out, and pull up). They even run a read option variant of Power in which they option the play-side defensive end (shown below). If the defensive end closes, the quarterback keeps. If the defensive end widens or comes straight up the field, they give it to the tailback.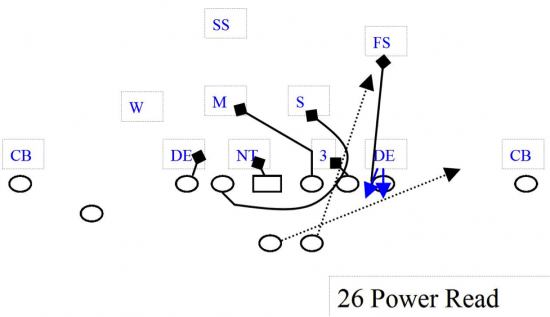 Nebraska is also very effective in the Zone Read game. Last Saturday, Helu hit his head on the goalpost for the third time, cutting up the field on the back side of a Zone Read play in which the weak-side defensive tackle is turned loose to try and defend both the quarterback and the tailback; he played up the field and Helu torched him. As you can see from the picture below, this play forces the defense to be sound from tackle to tackle. The quarterback can keep it and run left of the 3-technique, or he can give it to the tailback with a two-way go.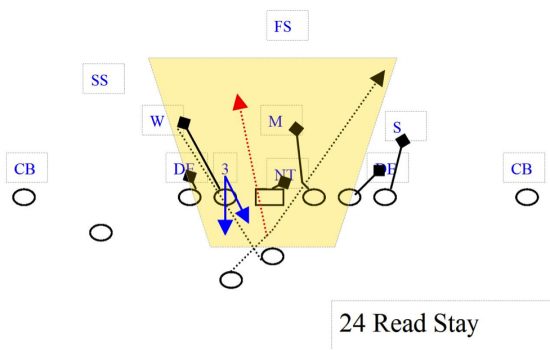 To round things out, the Huskers will run isolation and option action as well. Martinez makes all of it work better than anyone else ISU will see this season because based on the clips I've seen, he runs fakes at full speed every time. His ability to stretch the defense both with his feet and his arm tore Mizzou apart. Had Missouri's safeties played better, fitting more quickly into the holes, they could have stopped Helu from popping the big plays. But Martinez's ability to run froze them for just enough time to allow Helu to fly by. Nebraska has embraced the new option style in full force, making it run like few others can. Martinez is like a big, nasty Seneca Wallace with electrifying skill in the running game and an emerging passing threat that keeps you honest.
In 2000, we had the Huskers on the ropes at home going into the fourth quarter. Nebraska outscored Iowa State 28-7 in the fourth quarter to win the game. When the dust settled after that game, I asked my good friend, former ISU noseguard Ryan Harklau, what had happened to our defense in the final quarter of play? Hark just simply said that the Huskers starting running stuff they hadn't run all year…things we hadn't practiced against all week. Besides the Huskers' size, speed, strength and depth, you're playing against a group that can run just about anything. At the height of Tom Osborne's era, Nebraska had four full practice sessions going on at any time within a practice. The first and second team offense and first and second team defense would practice simultaneously against four separate scout teams. If someone got hurt, they just shifted the next man up the ladder. While this Nebraska team doesn't have that kind of depth, as evidenced by the drop in production when Martinez went out of last week's game, it can run it all.
ISU will need its best effort of the season to have a chance Saturday. The guys in Ames do still take charity (to the tune of a +1 turnover margin per game this season), should Nebraska choose to oblige. But this game is going to be about offense. Can ISU's offense score enough to take pressure off a defense that will be scrambling to contain Martinez & Co. and get off the field? That's the question to be answered Saturday. Slow the game: Win your battle, one play at a time, for 60 minutes…that's all Paul Rhoads & Co. will ask of the 11 men on ISU's side of the football. Be proud of your effort and put yourself in a position to win at the end of the day.