By Chris Williams, CycloneFanatic.com Publisher
Has anybody else noticed that lately, Ames has become a bit of a volleyball town? The success that last year's Cyclone volleyball team experienced has carried over the the 2010 preseason. With that, he's a five question Q&A with Iowa State's head volleyball coach, Christy Johnson-Lynch to get you ready for the 2010 campaign.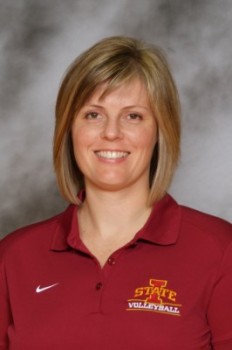 CF: It was recently announced that in 2014, Iowa State will host the NCAA Volleyball Regional Finals. You've told me before that Ames is starting to catch on with the sport of volleyball. How does hosting events like this and last year's first and second rounds matches help you build Iowa State's program into a consistent, national power in the sport?
CJ: If you look at the other teams that are hosting 1st and 2ndrounds and especially hosting regionals, you can see it is a pretty elite group of schools and volleyball programs. These are the programs we want to be compared to. These are often the best teams in the country. I think it's another great step for our program. It shows the level of commitment from our administration and our fans, not to mention playing at home just increases your odds of advancing in the tourney.  Hosting regionals helps us create more buzz around our team, creates excitement, and is part of our overall plan to develop one of the best volleyball programs in the country.
CF: Who is a name that Cyclone volleyball fans might not know right now, that they surely will at the end of next season?
CJ: Fans will soon get to know Alison Landwehr since she takes over setting duties this fall.  I am really excited about her.  She had a fabulous spring and she is doing an awesome job running the offense.  She is an extremely hard worker. She has a great demeanor and great leadership skills.
CF: In your mind, who will be the teams to beat in the Big 12 next season?
CJ: I think Nebraska will be picked to win the conference next year as they return almost everyone.  Texas should be good again, as well as Oklahoma.  We should be in the mix as well.  There will be some wild card teams like Baylor and Missouri who could be very good if some younger players step up for them.
CF: Where do you see Iowa State in the mix for the conference and nationally?
CJ: I think we have a shot to compete for a Big 12 championship, but it will be a very tough year in the conference so we will have to really play well just about every night to have a shot.  Nationally we have a goal to be top 10 again.  If we improve, stay healthy and things fall into place for us ,we could make a great run in the tourney.  We would love to take the next step and get to the Final Four.
CF: What are your teams strengths and weaknesses heading into practice?
CJ: We return almost everyone, so our team will be similar to last year's team.  We should continue to be a great passing and defensive team.  We should be a strong blocking team.  We'd like to continue to work on our serving. In the past I don't think we've put a great amount of pressure on other teams with our serving.  We worked hard on that this spring and saw great improvement in our serving numbers.
To view Iowa State's 2010 volleyball schedule, CLICK HERE.