Photos by Jacqueline Cordova
AMES — Iowa State 50, Davidson 0.
No contest.
The most significant storyline to come from Sunday's wrestling bout in Hilton Coliseum extended beyond the scoreboard. It was the Carr family's strong connection and deep-rooted passion for the sport.
Wearing the Iowa State uniform, David Carr took to the mat at 165 pounds, while Nate Carr Jr. was in the coaches' corner for Davidson for the second year in a row. Simultaneously, Nate Carr Sr. provided analysis as a radio commentator for Varsity.
"It's a great, great story," Nate Jr. said. "I've helped him (David) in so many ways. He's helped me in so many ways. And obviously, our dad has impacted us in so many ways that at the end of the day, we love the sport of wrestling and we love people."
David secured his 95th career win with his dad by the mat, who always watches his matches up close. His dad switches from analyst to supportive parent for about seven minutes, often less due to David's quick match finishes.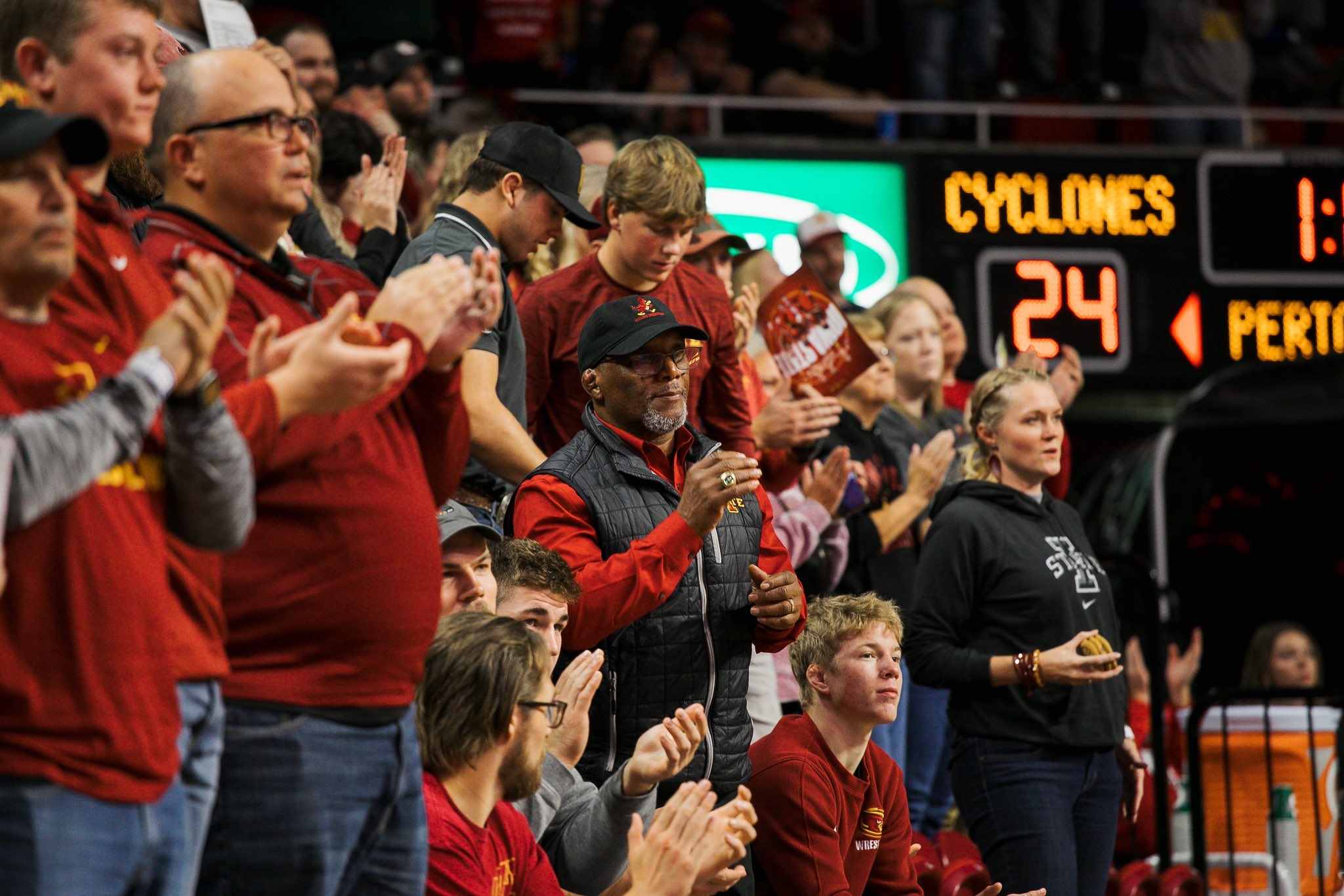 "Being able to see my dad across the mat and seeing my brother, I'm just proud of what he's (David) done. I am grateful for what my dad's instilled in me and David to be leaders and to be humble too," Nate Jr. said prior to the dual starting when reflecting on what it meant to be there as a family "The sport of wrestling is awesome and it provides a lot of great opportunities for us. We're just doing something we love. At the end of the day, we're still gonna hug each other after it and keep it moving."
After David had his hand raised, he ran straight to his big brother to share a quick hug. A moment that gained a standing ovation.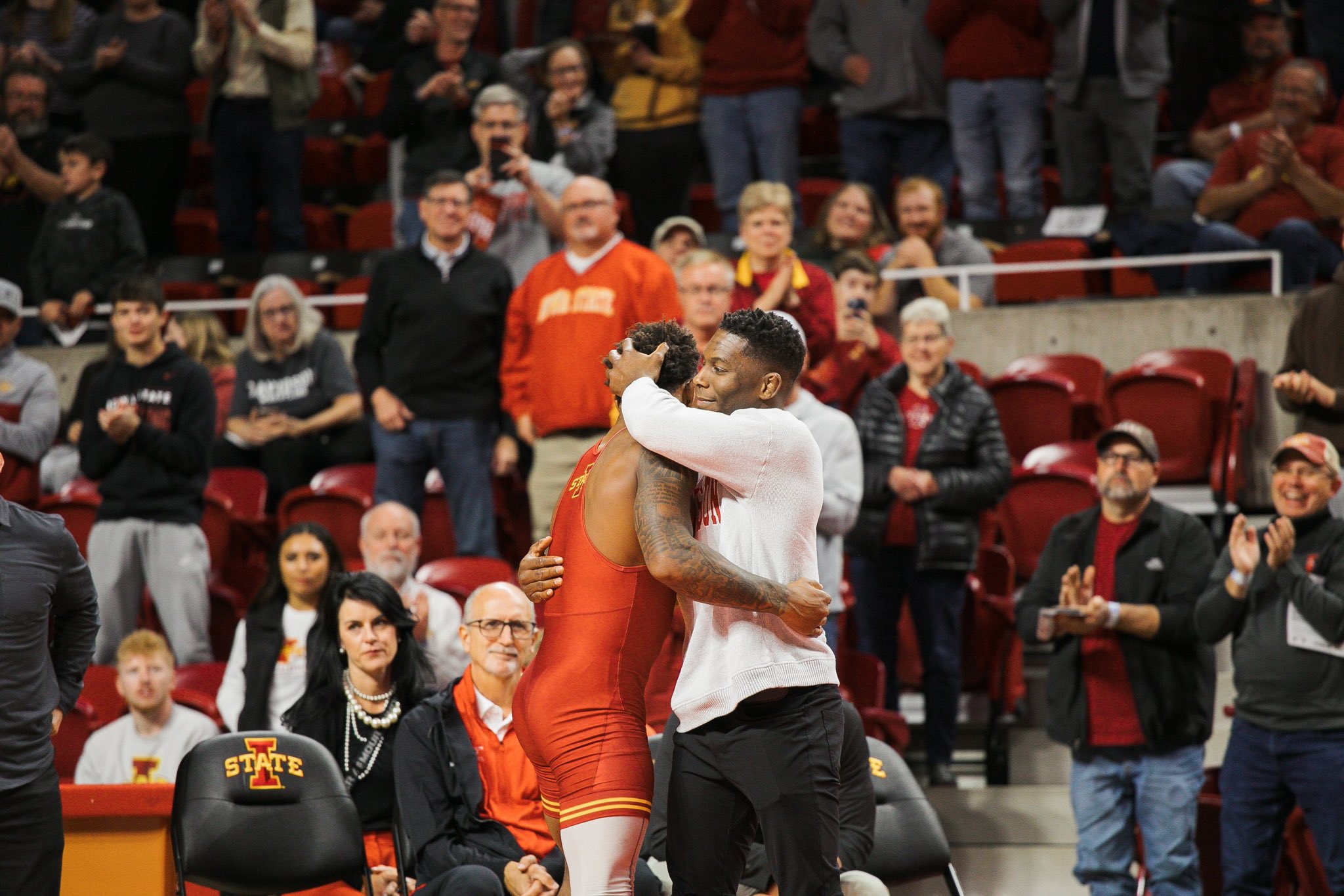 "It's really exciting to be able to come back to Hilton where I've had some great memories and come back to Ames, where I got my start and it's all because my mom and dad met in Ames in the 80s," Nate Jr. said when discussing what a trip back "home" meant to him.
A house divided for the night, Linda Carr sat in the stands cheering on her sons in her bedazzled jean jacket that had both the Iowa State logo and the Davidson logo to show support for both her sons.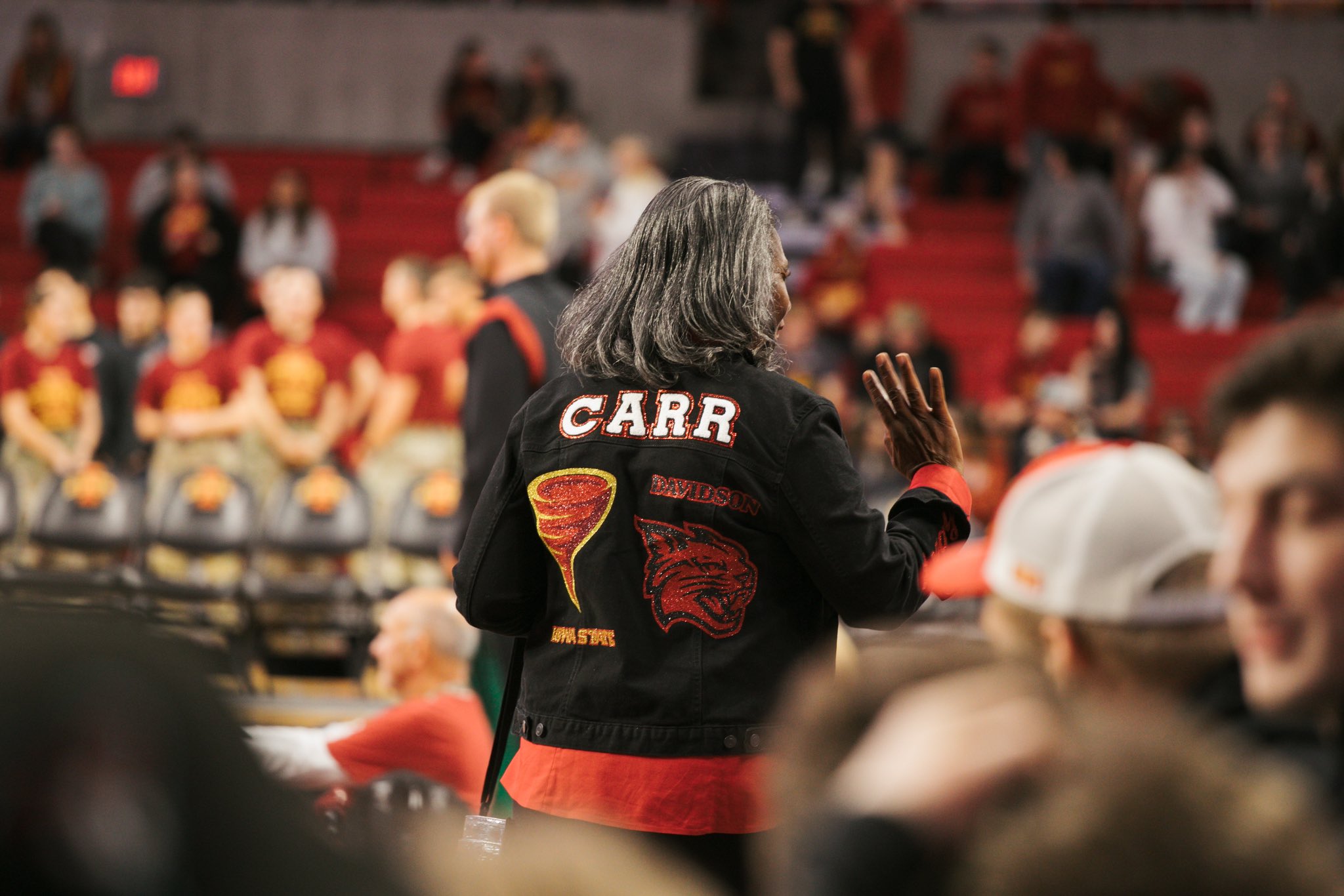 As the lights faded in Hilton Coliseum, the Carr family, driven by family values and wrestling, made a lasting impression on the mat. In the end, it's not just about the score, but the bonds beyond the final whistle.
"David and Nate…you can't get any closer than blood," said head coach Kevin Dresser.
Final Results:
No. 10 Iowa State 50, Davidson 0
125: #19 Kysen Terukina (ISU) tech fall Enis Ljikovic (DC), 19-4 (4:46)
133: #21 Evan Frost (ISU) tech fall Jackson Sichelstiel (DC), 16-1 (4:56)
141: #23 Jacob Frost (ISU) tech fall Josh Viarengo (DC), 19-4 (5:36)
149: Anthony Echemendia (ISU) tech fall Tyler McKnight (DC), 22-5 (3:47)
157: Cody Chittum (ISU) major dec. Tanner Peake (DC), 13-3
165: #2 David Carr (ISU) tech fall Marc Koch (DC), 17-2 (3:54)
174: #33 MJ Gaitan (ISU) fall Brett Sanderlin (DC), 3:37
184: Caleb Helgeson (ISU) major dec. Wyatt Ferguson (DC), 17-5
197: #25 Julien Broderson (ISU) fall Cameo Blankenship (DC), :45
285: #9 Yonger Bastida (ISU) tech fall Jake Fernicola (DC), 19-4 (3:11)
*FloWrestling Rankings (11/6/2023)
Post-Dual Press Conference:
Dresser: https://bit.ly/47mycfy
Broderson/Gaitan: https://bit.ly/3MHElLg