Oct 26, 2019; Ames, IA, USA; Iowa State Cyclones head coach Matt Campbell reacts with tight end Charlie Kolar (88) after Kolar caught a touchdown pass during the second quarter at Jack Trice Stadium. Mandatory Credit: Jeffrey Becker-USA TODAY Sports
The 2019 football regular season reached its conclusion on Saturday with a resounding "thud" of a performance in Manhattan, Kansas. It wasn't the result that fans were hoping for but at 7-5, Iowa State is going bowling for the third consecutive year, and that's something to be thankful for.
Cyclone Fanatic's mighty leader Chris Williams suggested we put a bow on the regular season with a mailbag, so I've emerged from my bunker to once again provide the wisdom you hunger for in Q&A form. I tried to include as many questions as possible in this edition of the mailbag, so this could get a little lengthy.
If you asked something and don't see it below, please remember that it only means I have a personal vendetta against you and consciously decided to exclude you from the fun.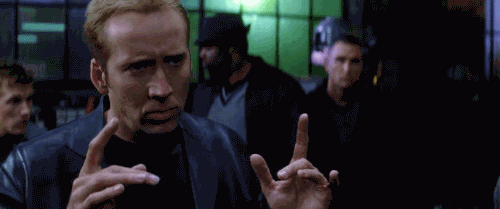 Iowa State Questions
cyclones500 (forums) asks: Lengthy discussion continues in the ***Official ISU Bowl Predictions*** thread. Set us straight: Which bowl will Iowa State get? Use both OU in/out of CFP. Optional — rank likelihood bid for each possible bowl with a percentage.
Well, if you were paying attention to when CF published our bye week "Last Four Games" staff picks article, you would know that I have already peered into my crystal ball and seen the future:
"Going game-by-game: I foresee a loss in Norman, followed by wins against Texas and Kansas to close out the home slate. (Texas' defense isn't very good and their trip to Ames is sandwiched between games against No. 22 Kansas State and No. 12 Baylor.) The regular season finale in Manhattan will likely turn into a classic Farmageddon brawl with official Reggie Smith getting taken out to dinner by Bill Snyder after the game for a job well done. (I know Snyder isn't the coach any more, but you know he's still gonna be there, windbreaker in tow.) Clones finish at 7-5 (5-4) and get selected for the Texas Bowl against former Big 12 foe Texas A&M. "
(Please note that while Reggie Smith did not officiate ISU's game against K-State, I have it on good terms that he was still taken out to dinner by Bill Snyder.)
Texas Bowl vs. Texas A&M is the answer.
Okay, okay… Turning off the smartassedness for a second…
If Oklahoma/Baylor gets into the Playoff, that means the other goes to the Sugar Bowl and the Alamo Bowl gets its choice between Oklahoma State, Kansas State, Texas, and Iowa State. It's gonna be hard for them to turn down the name brand of Texas for that game, so I think they take the Longhorns. After that, the Camping World Bowl gets its pick. With Texas gone, and Oklahoma State having gone to Orlando as recently as 2017, that probably means K-State or ISU gets to go to Disneyworld. Let's be optimistic and say they pick the Cyclones since they were going to invite them in 2018 before the Alamo Bowl snatched them up first.
If Oklahoma/Baylor DOESN'T get into the Playoff, the conference champion will go to the Sugar Bowl and the runner-up will be Alamo Bowl bound, which gives the Camping World Bowl the first crack at the four teams tied for third place. They've already made it publicly known that if they can take Texas, they will do so – so again, the Longhorns' brand wins out. The next pick goes to the Texas Bowl, and I'm going to again be optimistic and say they pick Iowa State after seeing the success of Cyclone fans traveling to the Alamo Bowl last season.
Percent likelihood of bowl destinations in my opinion:
Alamo Bowl: 2%
Camping World Bowl: 25%
Texas Bowl: 30%
Liberty Bowl: 25%
Cheez-It Bowl: 18%
Sound about right?
StevieISU23 (forums) asks: Now that the Regular Season is Over (2019-20) – Who do you miss most from last year (18-19)'s FB team? I say (Brian) Peavy- phenomenal tackling corner, with lockdown abilities. (Hakeem) Butler gets some votes too. What say you?
I'm with you on Brian Peavy. It became pretty apparent as the season wore on that his lock-down abilities were under-appreciated.
Another guy whose departure definitely impacted the defense was Willie Harvey. By his senior season, Harvey was the player who always seemed to be in the right place at the right time and a lot of the impact he made was the type that didn't always show up on the box score.
Those two get my vote as "most missed" over Butler. It definitely would have been fun to add Butler to this year's roster, but as we saw, the Cyclone offense was able to be very good at times even without him and David Montgomery.
acoustimac (forums) asks: What's the higher priority for football – finding a kicker that can handle kickoffs into the end zone and make up to 45 yard field goals consistently or fixing the defensive schemes to stop third and long?
Definitely getting better on third and long. I see the game-opening kickoff return from Saturday as an outlier rather than a trend, and who knows, even a strong-legged kicker may not have been able to boot the ball through the end zone with how much the wind was howling that night.
If ISU's defense was able to get off the field more often on third and long, then a lot of the close results that we saw this season start tipping more in Iowa State's favor and the need for an uber-accurate kicker becomes less of a necessity. Having a Cameron Dicker or *ducks* Keith Duncan would be nice, but I see that being more of a luxury than anything. Keep in mind, when you're scoring enough points and moving the ball enough (thanks to more possessions from a good defense that can get off the field on third downs) then you can miss your fair share of field goals and still win a lot of games:
cygrads (forums) asks: Will we start putting more money, time and effort into special teams going forward? Is it possible to switch from a 3 man front to a 4 man front depending on opponent or even change during a game just to throw offenses a wrinkle or is that too difficult to implement?
Special Teams:
I was waiting for ISU to break out a 4-man front during the second half of the K-State game to combat the effectiveness of the Wildcats' rushing attack and it never happened. It's certainly possible, because we've seen 4-man fronts in short yardage situations at points this season. For some reason, the staff chose not to give it a try. They know more about football than me so there must have been some logic behind why they believed it was best to stick with the 3-man look.
@geo49e (Twitter) asks: With (Breece) Hall having such a great season, did we redshirt the other freshman RB?
Yep, I believe Jirehl Brock qualifies for his redshirt after only playing in three games this season. CF user demoncore1031 had a great thread tracking the games played by true freshmen that was awesome. The only freshmen that ended up burning their redshirts by season's end were Hall, Kym-Mani King, and D.J. Miller.
@mlevere1992 (Twitter) asks: Do you think there is a way to prevent either the slow start to the season or the late season slump?
Yes.
kccyclone3 (forums) asks: Who's the guy currently on the team in a "minor" role who makes a the biggest impact next year?
After his performance in the last few games of the season, it has to be Will McDonald. That edge rushing role on passing downs proved to be the perfect situation for his skill set and if he can do the same thing for a full 12 games, he's going to make a name for himself in the conference.
Blandboy (forums) asks: Will Will McDonald have a breakout season next year, or will the fact that the officials refuse to call holding on the linemen attempting to block him (which they could on virtually every play) hold him back?
See above! You're right about the holding concern though. If he can manage to have a good off-season of adding strength, hopefully he can get through some of those, ahem, "arm blocks" we saw to close out 2019.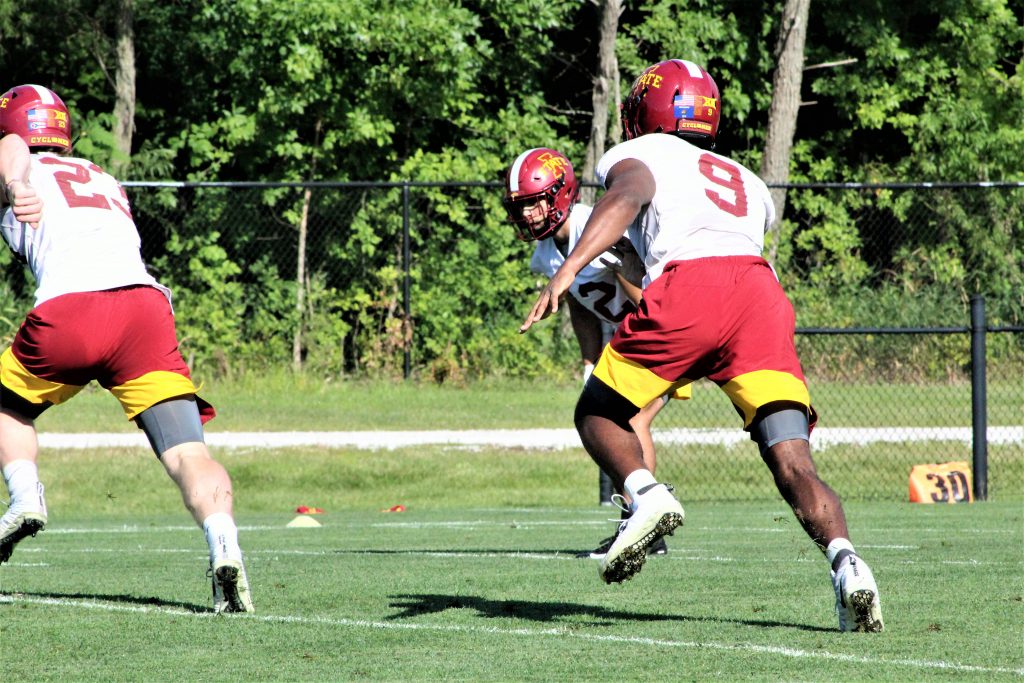 CyCloned (forums) asks: How many transfer OL do you think CMC will try to sign this year? Do you think that Re-al will get some snaps in the bowl game? Just to change things up a bit.
It's likely Campbell will take a look at the guys available in the O-line transfer market, however I don't think he has a specific number in mind. If he can get one or two experienced linemen to come here and compete for a starting spot, then great! If not, the guys they have coming down the pipeline should be entering the time in their careers where they've developed enough and just need a bit of game experience to hit their stride.
Regarding Mitchell… My guess is that nothing changes in the bowl game for his use. That's probably not the answer most fans want to hear, but if Campbell thought he could help the team win games, we would have seen more of him by now.
ISUCubswin (forums) asks: What are you more disappointed in, the lack of seeing Re-Al get any meaningful playing time, the lack of the staff's creativity to get Re-Al meaningful playing time, or that Iowa State fans were deprived of watching Lamar Jackson 2.0 run up and down the sidelines because we couldn't build a sustainable lead against anyone to give Re-Al any time except ULM when he carved up their defense like I did the turkey?
I'm most disappointed that you didn't share any of the turkey you carved up with me.
Cyinthenorth (forums) asks: Does the offensive line regress next season with all the departures, or do we see marked improvement from the dudes that have been waiting in the wings and may have come in a bit more highly touted than the guys they're replacing?
cymonw1980 (forums) asks: When Campbell came to ISU I was most excited about the coaching staff's track record with O-Linemen. Four seasons in that is the most problematic spot on the roster (imo). I like the young talent and I am confident it will get turned around soon. Do you think we need a grad transfer at OL to be better than we were this year? Why/why not? If season started tomorrow, who are the starting 5?
The offensive line will likely enter the 2020 season with a lower floor than what we've seen most of this season, but I think that as they gain more experience, their ceiling will be higher than 2019's line. Unfortunately that may mean a few rough plays in the non-conference. Ideally, they get things figured out as Big 12 play begins.
As I touched on a few questions above, I don't think a grad transfer is necessary to be better than this year, though getting one might help alleviate some of those early-season growing pains the young guys will go through.
If the season started tomorrow, I think the starting five would be Joey Ramos at LT, Trevor Downing at LG, Colin Newell at C, Robert Hudson at RG, and Sean Foster at RT.
@Mt_Mensenite (Twitter) asks: What incoming freshman/transfers are most likely to make an immediate impact next fall?
This answer depends mostly on the returning depth at each position. All the offensive skill positions have enough depth returning that having true freshmen play won't be necessary unless any of them showcase game-breaking abilities at camp. And while there are definitely questions about what the offensive line will look next year, that's a position group that you ideally want your young guys to develop for a couple years before being thrust into playing time.
So I don't think any true freshman will get significant playing time on offense.
On defense, the line also likely has enough depth returning to make do even though Ray Lima and Jamahl Johnson will be graduating on the interior. The same "couple years to develop" logic applies to a slightly lesser degree as well. Marcel Spears Jr. and Bobby McMillen III both graduate from the linebacking corps, but Jake Hummel got quite a bit of playing time this season and is set to fill Spears' position in the starting lineup.
That leaves the defensive backs. The cornerback room is full of young, budding players and probably won't need any freshmen to play. The star position will see the return of Greg Eisworth barring the unlikely situation where he declares early for the NFL Draft.
That leaves just one position left: safety.
Iowa State loses Braxton Lewis and Justin Bickham at strong safety, which could open up the door for one of the incoming safety recruits (Craig McDonald, Mason Chambers, Jordyn Morgan) to get immediate playing time. Don't be surprised if one of those guys shows up on the depth chart at the beginning of next season.
@cywerd1 (Twitter) asks: It seems like every team in the conference should be better on paper next year. Do you think that creates a barrier for next year's success?
IndyClone15 (forums) asks: What is our record next year? Who is our leading receiver (yards) next year?
Sigmapolis (forums) asks: Game-by-game predictions for next year, please? A simple W-L and some explanation (either game-by-game or just overall) to go with it would be great, thank you!
Unfortunately for the rest of the conference, Iowa State should be better on paper next year as well! I predict Charlie Kolar will fully cement himself as the best tight end in the land next season and paces Iowa State in receiving yards.
Now, to the game-by-game predictions.
vs. South Dakota – WIN. Campbell will have the team up for this game after reminding them constantly of how close the UNI game was this year.
at Iowa – WIN. Iowa will still be breaking in a new quarterback for this game and I think next year will finally be the one where Campbell breaks the Iowa code.
vs. UNLV – WIN. The Rebels were just 4-8 this season and I don't foresee them coming into Jack Trice Stadium and winning.
vs. Texas Tech – WIN. The Cyclones have had Tech's number the past few years.
at Kansas – WIN. Because Kansas.
at Oklahoma State – WIN. This prediction hinges on Chuba Hubbard declaring for the NFL Draft after this season. If he's back, I probably change this to a loss.
vs. Oklahoma – LOSS. Always tough to beat the Sooners, even at home.
vs. Kansas State – WIN. Another close game, but edge goes to the home team in this battle.
at TCU – LOSS. Max Duggan will have turned into a very good quarterback by this point and it'll be tough to beat TCU at their place.
vs. Baylor – WIN. Jamie Pollard petitions the Big 12 to take away Baylor's heaters and coats. They struggle through frostbite and hypothermia.
at Texas – LOSS. The Cyclones traditionally struggle in Austin and Tom Herman could be coaching for his job in this one.
vs. West Virginia – WIN. Nothing really scares me about the Mountaineers so far during the Neal Brown era.
Final regular season record: 9-3 (5-3). A return trip to the Alamo Bowl for a shot at the first double-digit win season in program history.
CySmurf (forums) asks: The Holidays can be a very joyous time for some and a complete depression for others. Which brings me to my question for you…what is your happiest memory from a Cyclone athletics standpoint? And what is your worst feeling as a Cyclone fan?
It's a tough call between 2011 Oklahoma State and 2017 Oklahoma as my happiest memory as a Cyclone fan. Both were so unexpected. Right now, I probably lean toward the win over OU just because it's been part of the current era of ISU football and was more of a springboard for greater things.
Worst feeling? Hmm… So many to pick from… But in terms of pure instantaneous negative emotions all at once, the Aaron Craft 3-pointer over Georges Niang was such a massive gut punch. For one, losing on a last-second buzzer beater always sucks. Then add the fact that it comes from one of the most loathed players in the nation outside of Columbus, Ohio. Then add the fact that it's in the NCAA Tournament and instantly ends the season. Yeah… That sucked.
Other Sports Questions
CtownCyclone (forums) asks: Who makes the College Football Playoff this year? Can OU sneak into the 4th place spot after the championship games?
Ohio State, LSU, Clemson, and…..Oklahoma.
I have a weird feeling that Oregon is going to beat Utah in the Pac-12 Championship, which opens up the door for the Big 12 champ. Baylor played OU tough in Waco, but on a neutral field, I'm rolling with the Sooners to not tip the wagon.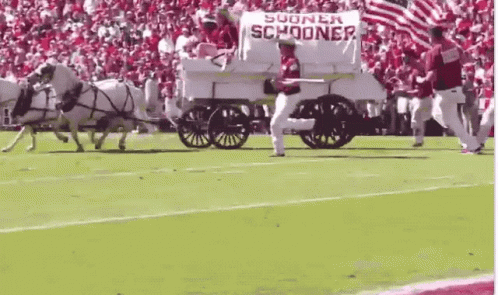 DSMCy (forums) asks: In the past few years, "traditional powers" seem to have more trouble hiring football coaches. Tennessee had their fiasco a few years ago, now Arkansas and FSU at least appear to be moving beyond their 1st, 2nd, or maybe 3rd choice. Are we seeing TV money at work? Where "smaller schools" can pay a guy enough that he doesn't jump at the first offer? Or is this just a few young coaches that like where they're at and see the dysfunction that those other places present?
Coaches, in my opinion, are realizing that underachieving institutions that have massive expectations will not allow coaches enough time to do the things necessary to turn around a program.
If you're Florida State and have won between five and seven games over the past three seasons, that's officially a trend and you're not going to magically win five more games every year just because you hired a new coach. It's going to take 2-4 years alone to establish your culture and bring in your players, and THEN you can start the clock on expectations. Instead, schools and fans are starting the clock from day 1 and it's incredibly difficult to meet or exceed expectations in those spots.
That's why I do think TV money factors in a little bit… Why not go to a school with lower expectations where you can still make a good living and have more time to build your team into a winner?
CyJeans (forums) asks: Which Big 12 football coaches do you see getting fired or hired away to another team or the NFL?
None this off-season. Tom Herman will be on the hot seat next year though. If Texas doesn't return to the conference championship game next year, I'm guessing he's gone.
Lincoln Riley to the NFL seems inevitable, but I have no clue when it will happen. I imagine he will give it a year or two with Spencer Rattler at quarterback at least before some NFL team backs a Brinks truck up to his office.
Colorado (forums) asks: What strategies would you recommend for continuing to pretend to like a team that you don't like? Signed, Husband of KSU graduate.
Heavy alcohol consumption.
Godspeed, friend.
Off-Topic Questions
Cyched (forums) asks: How can something be "new" and "improved?" If it's new, what's it improving on?
As someone who works in marketing, I must tell you that as a consumer, you're not supposed to question such things. Just buy stuff and don't worry about it. Trust me.
Cycsk (forums) asks: Who at CF gives the best holiday gifts to staff?
Chris, of course. Rumor is he's gifting everyone a new Karl Chevrolet truck this year. Thanks, CW, can't wait!
jcyclonee (forums) asks: Is the best thing about the holiday season the fact that you no longer have to look at pumpkin flavored beers?
It's a close second, right after receiving amazing gifts (like a new truck – thanks again, CW!).
bannedman (forums) asks: How do you get through the holiday season without resorting drugs and or alcohol? lots of people find the holidays quite sad (missing family members (dead), maybe life hasn't turned out as well as you'd like); what are some ways to cheer yourself up and make the holidays enjoyable again.
Man, that's a heavy question, bannedman.
One of my go-to ways to cheer myself up a bit when I'm feeling down is to try to make someone else's life better. It isn't always the easiest thing to do when it seems like everything sucks, and I'm definitely not always perfect at doing it, but the feeling of knowing you made someone else's day better (no matter how big or small) is something you can cling to through the difficult times.
Tell a joke to make someone laugh… Offer up a compliment about something… Be overly gracious and kind when interacting with a stranger when out and about… Stuff like that is completely free and anyone can do it.
They always say the holidays are about giving. On the surface that may seem like it means giving material gifts (thanks once again for the truck, CW!), but the best kind of giving is giving someone the gift of a brighter day.
And on that note… Thanks for reading this edition of the CF mailbag, you exceedingly excellent person!