Mar 15, 2019; Kansas City, MO, USA; Iowa State Cyclones guard Marial Shayok (3) shoots a three-point shot while defended by Kansas State Wildcats guard Mike McGuirl (00) during the second half of the semifinals of the Big 12 conference tournament at Sprint Center. Mandatory Credit: Amy Kontras-USA TODAY Sports

KANSAS CITY — It was March 12, 2015, at the Sprint Center.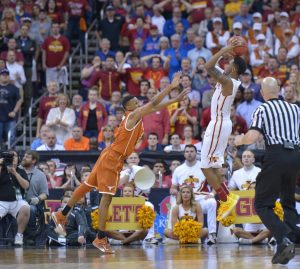 No. 13 Iowa State trailed Texas by 10 with 3:35 to play. "Hilton South" woke up, and she was angry. The Cyclones had tied the game at 67 when Monte Morris took an inbound pass from Dustin Hogue to knock down a historic, and now legendary game-winner with five seconds to play. 
Enter Marial Shayok into the equation. 
From nearly the exact same spot, Iowa State's All-Big 12 senior hit not one, but two threes in the final two minutes of a 63-59 come-from-behind victory over the top-seeded Kansas State Wildcats. 
"We just got a friendly Hilton South roll there," was how Iowa State head coach Steve Prohm described it.
That was the first three – the one that bounced a couple of feet above the rim before eventually splitting the nylon. 
Freshman Tyrese Haliburton picked up the assist.
"Mike got the rebound and kicked it to me," Haliburton said. "I just got to the paint and I saw Babb motioning. I skipped it over and I knew Marial was going to hit it. What was going through my head was to try to get this rebound and it bounced on the rim for what seemed like an hour. It went in thankfully."
Marial on the shot pic.twitter.com/GxA5oSG0hF

— Chris Williams (@ChrisMWilliams) March 16, 2019
Shayok, who has been heavily nursing an injured pinky toe, finished with a game-high 21 points while playing every minute of the game.
"He has earned the right to make that shot," Prohm said. "He shoots every day. He has been bought in. He has been a rock for this team. Sometimes you need your older guys to step in and be big in big moments."
Shayok wasn't the only senior that shined in the win. 
Nick Weiler-Babb had 12 points, six rebounds and three assists while hitting clutch free throws down the stretch to help ice the game. 
Together, Weiler-Babb and Shayok went 12-for-12 from the free throw line.
Clutch.
Without playing a single minute, Iowa State's other senior, Zoran Talley, also played a big role in this game.
Seriously.
He couldn't check in due to a concussion, but unofficially gets an assist for Haliburton's posterizing dunk over three Wildcats with 4:55 to play. 
"Zoran should take credit for it," Haliburton said. "He told me that if it happens again, 'Go dunk it.'"
Here's what Talley saw. 
"The first time on the fast break, he had it but he passed it over to Mar and we got a turnover," Talley said. "The second time, what'd he do? He ended up punching it on three heads."
Perhaps Talley should consider coaching in the future.
"That was a heck of a play, wasn't it?" He is a winner," said Prohm of Haliburton. "He is about everything that's right."
Haliburton's flashy jam stood out but his six first-half rebounds were vital in Iowa State developing a 10 point lead at the break. The Cyclones needed every one of them as they turned the ball over 17 times and only scored 28 second-half points. 
The 63 points marked Iowa State's second-lowest scoring output on the season. The lowest? That would be 57 on Jan. 12 vs. you guessed it, Kansas State.
Tyrese on the Marial threes pic.twitter.com/awyTD2miwB

— Chris Williams (@ChrisMWilliams) March 16, 2019
Big stat alert: The hardened Cyclones out-rebounded K-State by 14.
Wild game. 
Much like the next 24 hours at Kansas City's Power and Light District, which reportedly ran out of Busch Light at around 3 p.m. on Friday afternoon.
"They call it Hilton South for a reason," freshman George Conditt said. 
Indeed. 
Iowa State is bound to play in its fourth Big 12 Tournament Championship game in the last six years. 
"It speaks volumes for those kids in the locker room where everyone talked about how we were splintering and that we've got all these issues," Prohm said. "Their character and their toughness and who they really are showed up. You don't beat Kansas State on a neutral floor unless you've got some toughness to you, especially being down five with three minutes to go and having to make tough plays."
Tune into ESPN on Saturday night at 5 to see what happens next.