Sep 10, 2016; Iowa City, IA, USA; Iowa State Cyclones wide receiver Allen Lazard (5) is tackled by Iowa Hawkeyes linebacker Aaron Mends (31) and defensive back Malik Rucker (30) and defensive back Jake Gervase (30) and defensive back Joshua Jackson (15) at Kinnick Stadium. The Hawkeyes beat the Cyclones 42-3. Mandatory Credit: Reese Strickland-USA TODAY Sports 
While the cliché that "anything can happen in a rivalry" is pretty accurate, it was anything but the case on Saturday night in Iowa City.
In the trenches and beyond, the 2016 version of the Cy-Hawk game featured the men (the Iowa Hawkeyes) and the boys (our Cyclones) and resulted in a 42-3 rout.
Here are five thoughts on the day that was in and around Iowa State football.
A legitimate quarterback controversy
First of all, I want to make one thing very clear. Iowa State has a plethora of problems right now. It isn't just quarterback play – far from it.
But Joel Lanning lacked touch and was out of sync from the first series on Saturday night. His final stats: 8-for-20, zero touchdowns and an interception. Lanning didn't get much help from his offensive line and a running game was non-existent but even on the easy throws, he missed more often than not – often times very badly.
Then (late in the third quarter) entered Jacob Park, who would go 6-for-15 (79 yards) on the night although that number doesn't tell the full story.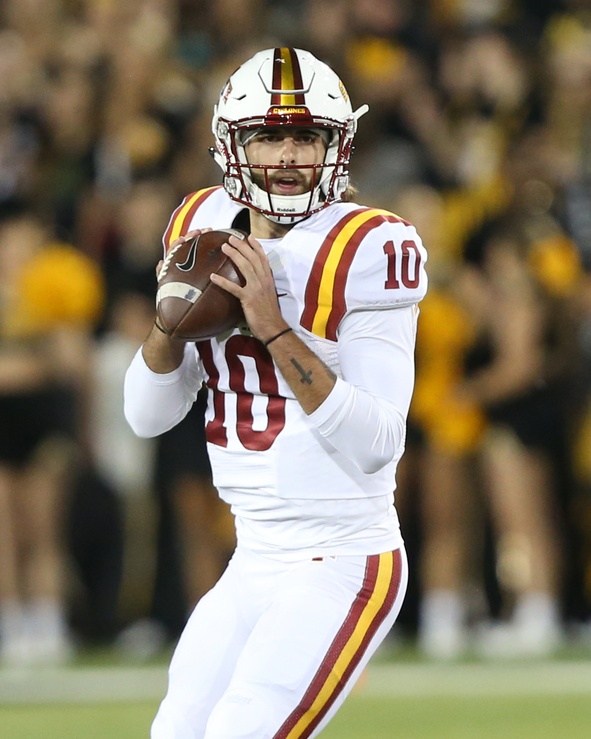 He completed three additional passes that were called back due to penalties.
I highly doubt that Matt Campbell will confirm the starter either way leading up to next Saturday's road trip to TCU (11 a.m. kick on FS1), but if you go strictly off of the Iowa game, Park should get a very strong look.
Penalties, penalties and more penalties
Compared to week one's loss to UNI, Iowa State cut down on its turnovers but penalties were once again a major issue.
This time: 10 of them for 73 yards – most being very untimely. Iowa State had nine of them in a week one loss to UNI.
As Campbell put it in his postgame press conference, the number of penalties this team has committed in the first two weekends of the season is "unacceptable."
Running game non-existent
Iowa State's longest run of the young 2016 season has been for 12 yards.
(Gulp)
A curious number though: Mike Warren only had seven carries. That's the same Mike Warren who led all freshmen running backs in college football a season ago.
After the game, Campbell made some cryptic comments about his stud sophomore. 
Knowing Campbell, he isn't just going to abandon the run. Plus, the season is still incredibly young and that seems like a pretty brash thing to do. However it is hard for me to imagine a scenario where this line with this specific personnel is going to be able to get much of a push at any point in the season.
Hawks owned the trenches
I fully expected Iowa State's offensive line to have a long night in Kinnick Stadium but I did not see the struggles coming on the other side of the ball.
In fact, when I learned that James Daniels (Iowa's starting center) was going to miss the game, I actually saw that as a major opportunity for the Cyclones with big Demond Tucker leading the way up front for the good guys.
The result was 198 rushing yards for the Hawks and quarterback C.J. Beathard having enough time to roast marshmallows in the pocket.
Final thoughts 
"There's just no flow to Iowa State football on either side," Campbell told the Cyclone Radio Network's Eric Heft after the game.
I consider myself to be a pretty positive guy but other than "it can't get any worse," there really isn't much of a silver lining to draw from after the first two games of the season.
The only positive I can find has nothing to do with Iowa State. It's the fact that the Big 12 appears to be greatly down this year and if the Cyclones improve, maybe an upset or two could occur. Oklahoma State lost a home (in controversial fashion) to Central Michigan on Saturday. TCU, who some picked to win the Big 12, lost at home to Arkansas. Baylor struggled with but eventually beat SMU 40-13. Ohio (the Bobcats, not Ohio State) killed Kansas and Texas Tech gave up 68 points to Arizona State.
Forget all of that though. Right now, it's all about Iowa State and at the current pace, this team isn't beating anybody.
Will fans see improvement? That's all I really care about at this point.
Stay tuned.