Sep 10, 2016; Iowa City, IA, USA; Iowa State Cyclones quarterback Jacob Park (10) runs away from Iowa Hawkeyes defensive lineman Garret Jansen (53) at Kinnick Stadium. The Hawkeyes beat the Cyclones 42-3.  Mandatory Credit: Reese Strickland-USA TODAY Sports
IOWA CITY — It only took two games for the door to open on a competition for the job as Iowa State's starting quarterback.
That opening might be just a sliver, but the Iowa State offense's performance in a 42-3 loss to in-state rival No. 17 Iowa on Saturday pushed the door open — and the question onto everyone's minds.
Will a change in quarterback help find the Iowa State offense a rhythm?
The struggles started on the Cyclones' first drive of the game when junior starter Joel Lanning missed tight end Justin Chandler on a short route in the flats. His next pass was out of Mike Warren's reach completing a three-and-out — and forcing the first of nine Colin Downing punts.
Lanning finished the game 8-of-20 for 86 yards with an interception. He showed flashes of success, but couldn't find a sustainable rhythm before being relieved by sophomore Jacob Park late in the third quarter.
"Joel made some things in a really positive way happen and we didn't sustain it," Iowa State head coach Matt Campbell said. "Jacob came in and played well, as well. So I think we'll sit down and figure that situation out and really make the best decision moving forward."
Park completed 6-of-15 passes for 76 yards during his first playing time at the college level.
The former four-star recruit showed signs of what made him so highly-touted coming out of high school in South Carolina. He connected several times with junior receiver Allen Lazard (7 catches for 111 yards), including a 36-yard connection on a fade route that ended as ISU's longest play of the night.
That said, he did all his work once the game had long been decided.
"I thought he did a really good job at times," Campbell said. "It didn't lead to anything in terms of points, but I thought Jacob did a nice job when he came in the game."
It seems like it's been ages since an Iowa State quarterback pushed his way forward and seized control of the position. The Cyclones don't need a quarterback that's going to win a Heisman or be an All-American. Heck, they don't even need one that will be All-Big 12.
Iowa State needs a quarterback who is capable of making the easy plays, getting the ball in the hands of playmakers and managing the game while limiting mistakes.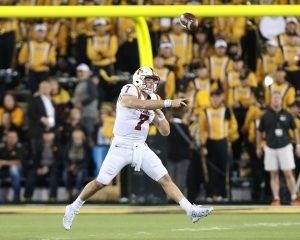 "I need to make plays," Lanning said. "Get the ball to the playmakers with my throwing. A few times I missed some guys that were wide open. No excuse for it."
Is Park or Lanning the guy that can bring some kind of flow to the offense? I have no idea.
If Iowa State's offense is going to have any sort of success this season the question needs to be answered. I'll be surprised if Lanning isn't the starter when Iowa State takes the field next week in Forth Worth to face TCU, but Park showed he is capable on Saturday night at Kinnick Stadium, even though the offense found ways to hurt itself.
"(Miscues) hurt the flow of the game, If you're a baller, you're a baller. It don't matter," Park said about finding a flow in the offense. "It irritates you, but it's all about the next play. Did he throw an interception or did he throw a touchdown? It's over and it's all about the next play."
Or in Iowa State's case — the next game.