It is Homecoming week at Iowa State. In my four years up in Ames, I didn't think much of Homecoming. I wasn't part of a fraternity, didn't participate in any of the Homecoming committees and didn't quite understand the hullabaloo. The first time I heard a large "Yell like Hell" practice, I thought I had entered some surreal Jim Carrey "In Living Color" sketch. Are they acting, singing, screaming for help, what is going on? As Brick Tamland said in Anchorman, "I DON'T KNOW WHAT WE ARE YELLING ABOUT." Honestly, it felt like some contrived idea so fraternities and sororities could hang together and hook up. (And if that's the case, play on kids, play on.)
The extravagance of the lawn displays was a nice touch, but it seemed like a waste of time in many ways. Much like Jamaal Tinsley said Kansas' Allen Fieldhouse, "Was just another gym," I felt Homecoming, "Was just another week."
But now that I am six years removed from my last Homecoming week as a student, I am starting to understand the significance. Homecoming becomes more meaningful as the years pass. It gets more difficult by the year to reconnect with college friends and Homecoming is one week where old friends get together and relive the glory days when the biggest concern was where to find cheap beer.
As age and responsibility add up, the college years fade farther away. But walking around campus during Homecoming and seeing the familiar sights helps to bring back enough of a memory to feel 20 again.   
This week especially I think of the Cyclones of past. Like many of you, some of my greatest experiences at Iowa State were lived at Jack Trice Stadium and Hilton Coliseum. The players that wore the Cardinal and Gold had almost as much impact on my years in Ames as any text-book or early morning shenanigans at Sips.
One of the reasons I chose to attend Iowa State was because of the football program's resurgence in the late '90's. I grew up going to Cyclone games to watch guys like Blaise Bryant, James McMillion, Troy Davis, Ed Williams and Todd Bandhauer. They were thrilling individuals to watch but the result on the score-board left a lot to be desired. Finally in 1998, the turner was starting to turn and I wanted to be a part of it.
One man that was at the center of that Cyclone resurgence was Ennis Haywood.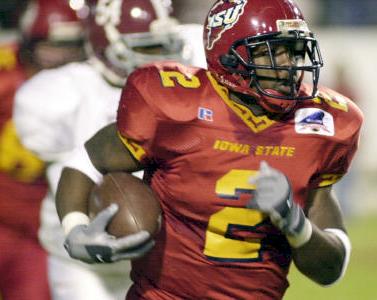 Haywood stepped on campus in Ames as an unheralded running back out of Dallas. After sustaining an injury as a senior in high school, he only had one big-time offer and that was from Dan McCarney.
He made an impact in the Cyclone back-field immediately. As a true-freshman he was third on the depth chart behind Darren Davis and J.J. Moses. He burst on the scene in a big way. In his fourth carry in a Cyclone uniform, he busted free for 56 yards against Ball State – the longest run of the season for Iowa State.
He continued to bide his time behind Davis during his freshman and sophomore years. The Cyclone program improved from three wins in '98 to four wins in '99. In 2000, Ennis was finally the feature back. And he put the Big 12 on notice. Haywood led the conference in rushing  as the Cyclones marched to a school-record nine wins and their first bowl win in history.
Haywood was the type who was never satisfied. He was named a captain in 2001 and once again led the Big 12 in rushing.
His relentless running style was indicative of that era of Cyclone football; they never settled for the status quo, just kept grinding for respect.
Haywood ran for 219 yards at Ohio in the first game after the 9/11 Tragedy. In my Cyclone-centric mind, that remains one of the most persistent memories of that terrible month. When Ennis blazed down the sideline for a 66 yard, game-icing score, it provided a joyful reprieve from the burdensome reality of that time. No Cyclone has rushed for 200 or more yards since that day in Athens, Ohio.
That year's squad finished with seven wins and a trip to the Independence Bowl. Haywood still stands in the top 10 in the Iowa State career rushing yardage record book at No. 6 with 2,862 yards. The back who is No. 7 is on that Cyclone rushing list: Stevie Hicks.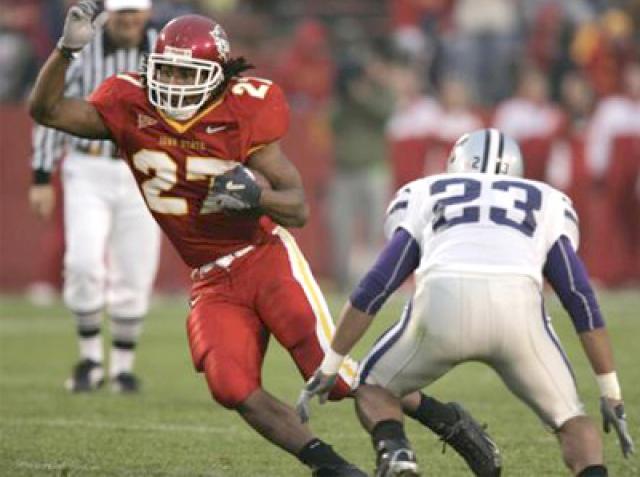 Hicks was destined to be the next great Iowa State running back. Unlike Haywood, when Hicks committed to Iowa State, he was highly sought after. He was a stand-out at Creighton Prep High School in Omaha and chose the Cyclones over the home-state juggernaut Huskers. At the time, he was considered Dan McCarney's biggest ever recruit. He red-shirted his initial season at Iowa State in 2002, but the rumblings of his dominance on the scout team were impossible to ignore. Message boards were in their infancy, but he was probably the first Cyclone to receive a heaping of internet hype. Nobody can tackle this kid, he is a beast. At 6-foot-2 and 220 pounds, he was a large man who was incredibly nimble. 
After Hiawatha Rutland injured his knee early in the 2003 season, Hicks became the man in the Cyclone back-field. It was a disappointing 2-10 season for Iowa State, but Hicks showed some flashes of what he could become. He led the Cyclones in rushing as a freshman. In 2004, he was a huge part of the Iowa State attack that won seven games and earned a trip to the Independence Bowl. In what was his finest effort in Cardinal and Gold, Hicks illustrated the bruising style that we became accustomed to; he pounded the Miami Redhawks for 159 yards and a touchdown as Iowa State won its second ever bowl game 17-13.
Unfortunately, Hicks could never stay completely healthy in his final two years at Iowa State. But he still led the Cyclones in rushing his junior and senior seasons.
When he wrapped up his career, he became the only player in Iowa State history to lead the team in rushing all four years he was on campus. (Alexander Robinson would match that feat over the next four years.)
I was in school the same years Hicks was in the back-field (2003-2006). I remember the first press-conference I attended as a nervous and naive freshman reporter. Hicks was sitting in a chair talking to the media with a smile as wide as the Jacobson Building. It strangely put me at ease; these guys aren't super-heroes, they are just college kids like the rest of us. That's what I remember most about No. 27: no matter the circumstance, he was always smiling. Hicks' teammates would tell the story that every time he galloped for a big run and carried defenders in his signature style, he would come back to the huddle smiling and giggling.
People gravitated to Hicks. He was a larger-than-life character who everybody loved. I would see Stevie on the Cy-Ride going to class every once in a while and he was constantly smiling and chatting with somebody; nobody was a stranger.
Tragically though, Hicks and Haywood share more than just a line next to each other on the Cyclone rushing history book. Both left us way too soon. Haywood died in 2003 at the age of 23; Hicks passed in 2008 at the age of 25. 
The circumstances around the tragedies of both have been well documented, but still excruciatingly heart-breaking. Haywood had just found out he had been added to the roster of his home-town Dallas Cowboys in the spring of 2003. He was expected to battle for playing time at running back after being signed as an undrafted free agent the year prior. But an unfortunate mix of asthma medication and alcohol turned out toxic. Haywood left a wife (his high school sweetheart) and two kids. His second daughter was born five weeks after Ennis' passing.  
Hicks struggled with life after football and depression. He fell to his death in November of 2008 in his home-town of Omaha. A simple word like "tragedy" doesn't seem strong enough to describe the sudden shock.
Both remain harsh reminders of how fragile life can be.
On this Homecoming week, I can't help but think about these two men who aren't able to make it back. Two Cyclones who never fully got the recognition they deserved.
The athletes that put on the Cardinal and Gold are more than just players on a playing surface. They are representatives of an entire University and the hundreds of thousands of Cyclones throughout the world. They are the select few who have the influence to bring us all together.
It is easy to get caught up in the details and the minutiae of the action on the field, the wins and losses and the what-have-you-done-for-me-lately. But sometimes it is necessary to step back and say a simple thank you.
After the 2001 Independence Bowl ended, there was a large group of Cyclone fans near the goal line of the Cyclone sideline with their head in their hands after Iowa State's game winning field goal went controversially astray. It was an especially painful way for a season to end. Most of the players and coaches walked stoically into the locker room equally stunned. The last person off the field was Ennis Haywood, who had just played his final game in a Cyclone uniform. Unlike most, he had a smile on his face. He stopped in front of the Iowa State cheering section and saluted the fans. The Cyclone faithful stood to give him a standing ovation-with very few dry eyes to be found. Haywood hoisted his helmet high in the air as if to say, "I will always be a Cyclone."
Thank you Ennis. Thank you Stevie. It's the least we can say.