By Chris Williams, CycloneFanatic.com PublisherFollow Chris on Twitter @ChrisMWilliams
A week after the biggest win in Iowa State football history, the Cyclones were hardly hungover in Saturday's 26-6 loss at Oklahoma.
Iowa State's defense was fantastic. Iowa State's offense was not fantastic.
For more details, I highly encourage you to read this recap.
THREE UP
No hangover – When you consider the fact that Iowa State turned the football over four times in the first half and had a legitimate chance to win the game in the fourth quarter against an Oklahoma team who many picked to win the national title in the preseason, that should tell you a lot.
"We came into the week wanting to win this game," said linebacker Jake Knott.
Last year, Iowa State went into Norman and was blown away by Oklahoma's speed, size, talent, atmosphere and well, pretty much everything. That was not the case on Saturday. The Cyclones belonged on the same field as Oklahoma. Minus the turnovers, Iowa State could have beaten Oklahoma.
This bodes well for the future.
Defense – It's hard to imagine a scenario in which we can sit here and discuss how a defense that gave up 509 total yards played as well as Iowa State's did on Saturday. But consider the following statistics:
— Iowa State's defense took the field for 90 snaps on Saturday compared to 63 by the offense.
— Let's now take a look at what this group has done to the last four offenses it has played.
* Texas Tech was averaging 43.43 points per game before playing Iowa State. The Cyclones held the Red Raiders to seven in that contest.
* Kansas had been averaging 26.38 points per game. The Cyclones held the Jayhawks to 10.
* Oklahoma State was the nation's second highest scoring offense in American at 51.70 points per game. The Cyclones held the Cowboy offense to to 24 (in two overtimes, 17 in regulation).
* And then there was Saturday, when Wally Burnham & Co. held Oklahoma to 26 points. The Sooners had averaged 44.70 per game before Saturday's contest. The Cyclones held Oklahoma to 26.
So when I say that Iowa State's defense is playing as well as anybody in the Big 12 right now, those stats back it up. This has been a special group over the last month.
MORE DEFENSIVE NOTES:
— Oklahoma had the ball in the red-zone seven times on Saturday. Iowa State's defense held the Sooners to field goals four times. That's how you win football games in the Big 12.
— Iowa State was visibly much more prepared for Oklahoma's jet-tempo than what we saw a year ago out of the Cyclones.
— My Cyclone Reaction co-host Jack Whitver made a great point as we were wrapping up our show on Saturday night. Iowa State's defense just might have eliminated both Brandon Weeden and Landry Jones from Heisman Trophy consideration. Jones was a very humble 22-for-43 for 256 yards and two interceptions on Saturday.
Kick Return – Is this the most underrated unit for the Cyclones this season? Could be. Jarvis West and Aaron Horne both produced solid returns on Saturday. West had 85 all-purpose yards on the day.
THREE DOWN
James White – Iowa State's leading rusher started the game for the Cyclones. Unfortunately, after being a part of two fumbles (neither were entirely his fault but that's up for debate), White only got credit for one carry and a loss of 11 yards in the game.
Passing game – Freshman quarterback Jared Barnett looked had some rookie moments on Saturday, but a lot of his 13-of-28/one interception performance wasn't Barnett's fault. This was a passing game problem, not a Jared Barnett problem. Iowa State's receivers had some major issues getting open, Barnett missed some throws and yes, there were dropped balls too.
Turnovers – In looking to overcome being a 29-point road underdog, turning the football over four times in the first half simply will not cut the mustard.
GAME BALL
Ter-Ran Benton – There are a handful of guys on Iowa State's defense who I could go with here but I'll cut against the grain and give senior strong safety Ter'Ran Benton his first game ball of the season. Benton racked up 11 solo tackles (one for a loss), a fumble recovery and an interception on the day.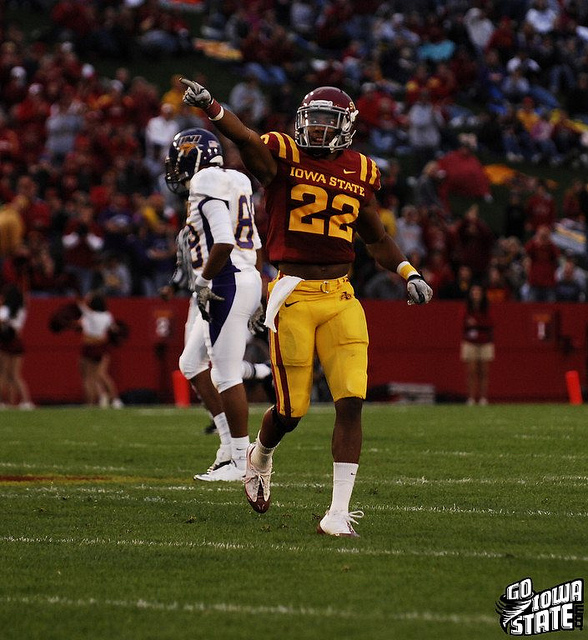 HELMET STICKERS
Jake Knott – The junior linebacker could have gotten my game ball. His 11 tackles and interception were big in Iowa State's defensive effort.
A.J. Klein – Surprise, surprise! Klein led Iowa State in tackles with 12. Just think about this group of linebackers next season…
Jeff Woody – This sophomore running back is playing on another level right now. With White not seeing much time due to the fumbling issues, Jeff Woody stepped in admirably and ran the football 13 times for 60 yards while averaging 4.6 yards per carry on Saturday. After playing the role of closer vs. Kansas and Oklahoma State, Woody was Iowa State's best offensive player against Oklahoma.
The defensive line – If you're on Iowa State's defense line, I come with good news. You got a helmet sticker for Saturday's performance. There's really no point in singling people out because the increased depth that we've seen from this unit over the last month has resulted in every player's production going up.
Albert Gary – He's now led the Iowa State in receiving for three games in a row. Gary had four catches for 52 yards and a semi-lucky touchdown off the helmet of an Oklahoma defender on Saturday.
Duran Hollis – I gave Jeff Woody some love. Freshman Duran Hollis deserves some too. "Duck" took advantage of his increased playing time by gaining 46 yards on only eight carries.
Leonard Johnson – Nine tackles and a pass break up made this an easy decision.
Jacques Washington – I love the fact that free safety Jacques Washington is only a sophomore. He'll be a staple on this defense for years to come. Washington had eight tackles on Saturday.