Aug 8, 2019; Green Bay, WI, USA; Green Bay Packers wide receiver Allen Lazard (13) catches a touchdown pass as Houston Texans cornerback Lonnie Johnson Jr. (32) defends during the third quarter at Lambeau Field. Mandatory Credit: Jeff Hanisch-USA TODAY Sports
GREEN BAY, Wis. – Allen Lazard surveys the crowd, knowing a tough decision awaits him.
He sees a line of kids and their bicycles, with all wheels pointed away from Lambeau Field and toward the practice facility that sits across Lombardi Avenue.
He sees little girls in pigtails with bedazzled purple and pink bikes. There are the 14-year old boys, thirsting for future likes on the Gram. He settles on one right in the middle, an eight-year old with a toothy smile and green and gold shoes.
He gives the boy his helmet, takes his bike and the two journey across the parking lot together. This is how he begins the fight for his professional life nearly every day.
Lazard is beginning his second NFL season in the same place where he ended his first: In Green Bay, hoping to crack the 53-man Packers roster featuring a Hall of Fame quarterback and a receiving group that could best be characterized as, "Davante Adams and nine other guys trying to make their mark."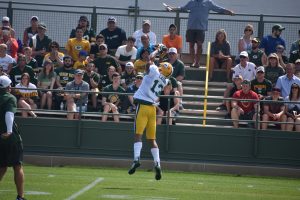 Lazard's literal place in the locker room says much about his current position on the depth chart: The Urbandale native's stall resides in what is termed the "green mile," an auxiliary space containing a dozen or so lockers, right off the palatial territory reserved for the team's more secure players.
He smiles broadly when recounting his reaction to life in the fishbowl that Green Bay, professional sports' smallest community at just over 100,000 population.
"It's crazy here," Lazard said. "I tell a lot of people that Green Bay is just a glorified Ames. The fan base and the tradition here is incredible. I think after two national championships from Coach Campbell, there really won't be much of a difference at all."
Lazard was signed by the Packers last December off the Jacksonville Jaguars practice squad. In an otherwise forgettable 31-0 loss to the Lions in the team's season finale, Lazard recorded his first official NFL statistic: A seven-yard catch in the fourth quarter from backup quarterback Deshone Kizer.
Lazard said despite the change at head coach with Matt LaFleur replacing Mike McCarthy, the extra time in Green Bay was beneficial.
"Being able to become familiar with the team, the facility, and the front office put me a little ahead of the curve," Lazard said. "But when we came back in April, we all had a new offense to learn and new coaches. I just took a mental break away from the game this offseason, so when I came back I would be completely focused and ready to go."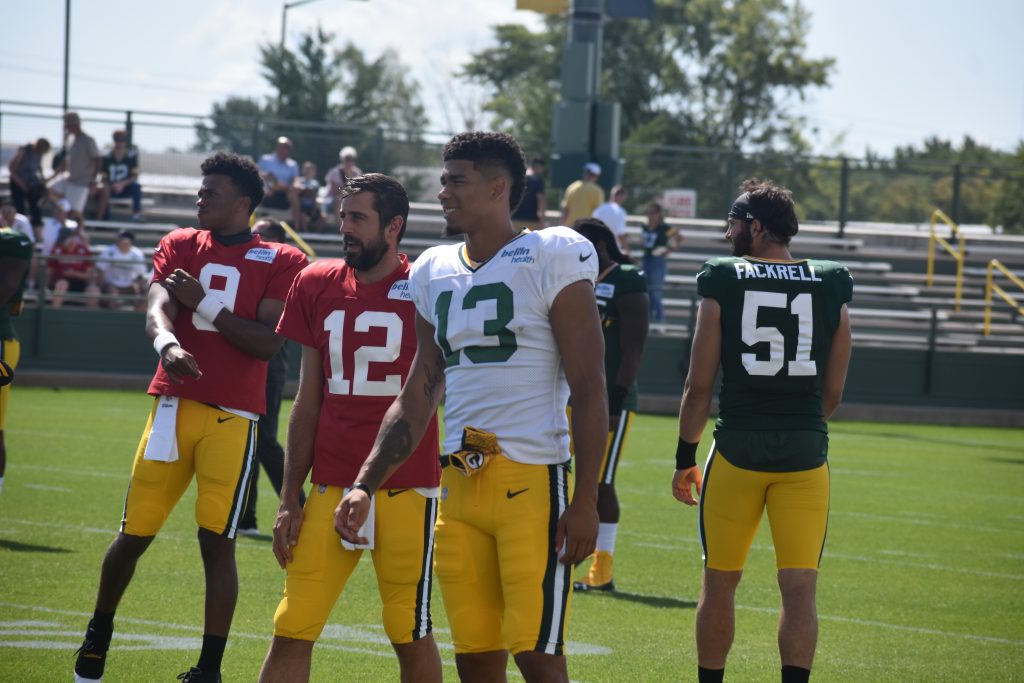 Lazard currently sits squarely on the roster bubble, a fact that isn't lost on him. He certainly helped his cause in last Thursday's preseason opener, by leaping to haul in a 27-yard touchdown catch in the fourth quarter against the Texans.
In typical fashion, Lazard explained his decision to skip the Lambeau Leap after his score.
"The touchdown felt great, obviously," Lazard said. "I had even a little more energy because I had three pass attempts to me earlier that were incomplete. But (quarterback) Tim (Boyle) trusted me one more time, and I just wanted to celebrate with my teammates. I've been practicing with these guys for a long time, and I wanted to enjoy the moment with them. There will plenty of Lambeau Leaps in my future. Don't worry."
The reputation that Lazard carried as an outstanding teammate has carried over into his time with the Packers. When Dax Shepherd, an undrafted rookie, scored a touchdown in Thursday night's preseason opener, the first teammate to celebrate with him was Lazard.
"Team camaraderie is one of the biggest things on any team," Lazard said. "You've got to cheer for each other and celebrate the successes. 'Shep' is an undrafted guy, just like I was last year. He's from North Dakota State, so he's got a familiar background. He's always asking me questions, and I've done my best to lay things out for him. Last year when I went through that, I wanted someone to do that for me. To see him get his first catch and get a touchdown in his first game at Lambeau Field, I was just super excited for him."
After going undrafted in 2018, Lazard showed the Jaguars enough to make the practice squad out of his first training camp.
"Last year I really learned just how valuable each rep in practice is," Lazard said. "You are always getting evaluated. My parents and grandparents really taught me to never take a day off, and that if you want something, you've got to go get it. I've got to have that mindset of attacking each day, be the best I can be and let God do the rest."
While Lazard is laser-focused on his opportunity to continue his professional career, he said he keeps close tabs on what the Cyclones are up to, and has great memories of his time in Ames.
"That staff has had their rough times, especially in that first year," Lazard said. "But Coach Campbell and the assistants have done a phenomenal job. They've recruited great players and they have implemented a great culture there. My class, we left a good impact in terms of how to go about things. It's more than just football, it's going to class and being a good person in the community. If you do those things, good things will happen."
Good things look to be on the horizon for Lazard, whose play on special teams was praised by LaFleur following Sunday's practice.
Lazard's professional journey will take its next step Thursday in Baltimore when the Packers take on the Ravens.