Iowa State senior Donovan Jackson brings the ball up the court on Sunday vs. Emporia State. Photo by Chad Bassman. 
My apologies for missing Monday Musings yesterday. Due to the craziness that is the month of November when football and basketball crossover, my family held our Thanksgiving this past Sunday in southwest Iowa. So instead of rising early and writing in my office on Monday morning, I spent that time traveling north so I could make it to Matt Campbell's weekly press conference.
Like many of you this time of year, I have so much on my mind regarding the Cyclones.
Warning: These musings are going to be all over the place. Let's start with basketball.
On hoops…
THE EXHIBITION: That 77-68 victory over Emporia State was … um…. Well, mom always said if you can't say anything nice, don't say anything at all…
To be blunt, it was hard to come away from that and not be scared to freaking death about the rest of the season.
However, Jared Stansbury was correct on Sunday night when he wrote that this isn't panic time. After all, the season hasn't even started.
But I do think it is time to panic in the sense that unless something massively changes between now and Friday, this team is going to take some serious lumps early on in the 2017-18 regular season. I don't think that is an overreaction. I'm afraid that the group that we saw on Friday night wouldn't win a game in South Carolina in a few weeks.
The individual talent is very raw, but obviously there. This, along with what I know is coming in via the 2018 recruiting class that will sign on Wednesday, makes me very excited about the future. These are all positives.
However the Cyclones did not play as a team on Sunday night. I wasn't crazy about their body language and it's easy to see that this group isn't anywhere close to having an identity.
But hey, it was an exhibition.
THE GOOD NEWS HERE: When it come to his coaching style, I think this is a team that Steve Prohm will really thrive with. I say that in the sense that over two years of covering Prohm, I've come to the belief that his greatest attribute as a coach is managing his roster. A handful of times over the last few seasons, Prohm has made a decision that I think is crazy at the time. Two weeks later though, I'm like, "Yeah I totally see where he was coming from."
The good thing about this young group is that he can mold it into whatever he wants.
BUT: They have to be coachable. The fact that three guys have had to be sat down before the season has begun is not a good sign. I do have a lot of faith in Prohm though when it comes to communicating with his guys. We saw him work wonders with Deonte Burton last year and I think we could throw Darrell Bowie and Jameel McKay on that list as well.
NICK WEILER-BABB: Whenever I watch him I find myself thinking, "This guy has so much potential but we have yet to see it click."
Iowa State REALLY needs "it" to click….Like, right now.
DONOVAN JACKSON: When Iowa State recruited him two years ago, it was to come in and be "the man" as a junior. Cleary Jackson's role changed when Monte Morris and Naz Mitrou-Long stuck around for the 2016-17 season. He was a role player and important one albeit. But Jackson was never asked to put that team on his back.
So my question is: This year, how long will it take for Jackson to truly grasp his new role with this program – the one he signed with Iowa State expecting to play?
We saw him blend into that guy towards the end of the first half on Sunday but he didn't carry that level of energy for 40 minutes. I think he has it in him…
Hopefully that spurt we saw from him on Sunday will carry over to Friday's season opener at Missouri.
GONNA BE GOOD: Lindell Wigginton did not look like a freshman out there. I love that he went to the free throw line 10 times. Very aggressive at the rim. He's going to be a special one but the guys around him have to gel before he will have a chance to reach his full potential.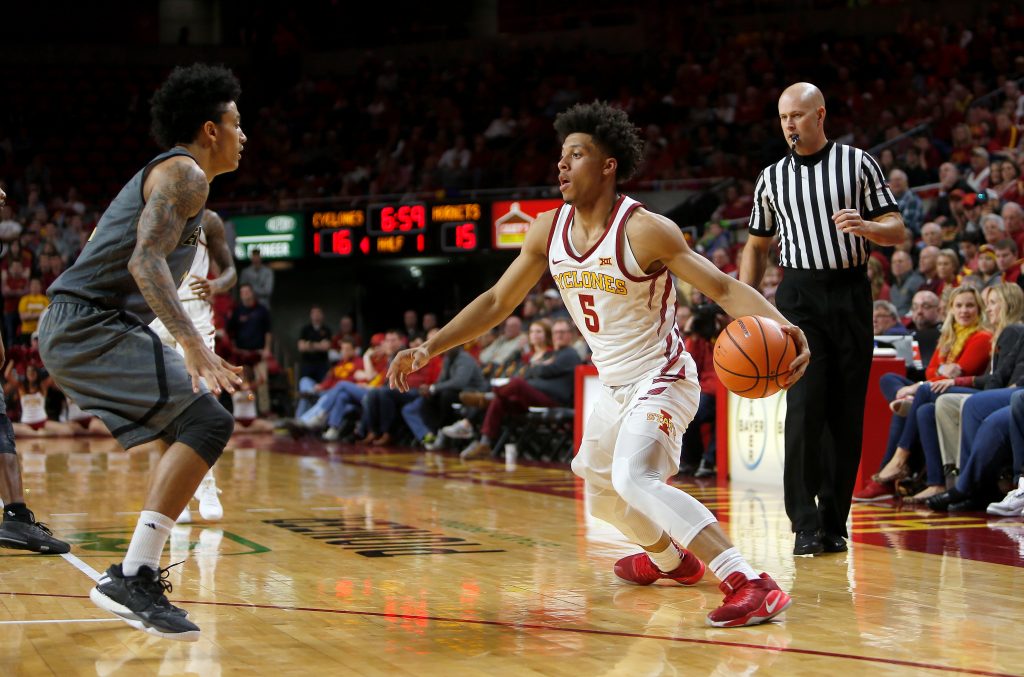 On football…
A FEEL FOR THE WEEK AHEAD: It's way too early to go on the record and make a prediction about Saturday (11:00 a.m. on ABC/ESPN2) but I don't like the way that this game sets up for the Cyclones, who are 6.5 point underdogs to Oklahoma State. Iowa State just seems like a fatigued football team at this point in the season.
That's not to say that they can't pull things together to upset Mike Gundy and the Cowboys, but the offense needs to improve if that is going to happen.
Before Allen Lazard caught a one-yard touchdown pass from Kyle Kempt on the first drive of the third quarter vs. West Virginia, Iowa State had gone four straight quarters without scoring a touchdown. The defense has been great (ranked second in the Big 12 behind TCU in scoring D) but eventually, you have to be able to put up some points to consistently win in this league.
The Cyclones are averaging 30.6 points per game this season but just 25.1 in Big 12 play. It is notable that the Cyclones have three defensive touchdowns on the season as well and one on special teams.
Iowa State's offense hasn't been bad but unlike the defense, it hasn't played at a championship level. If Iowa State wants to win out and play for a Big 12 championship on Dec. 2, that side of the ball simply needs to pick up its game.
Precise execution the key to reigniting ISU's struggling offense
HAVING SAID THAT: This program is still a year ahead (maybe more) of where we all thought it would be, which is always important to keep in mind when it comes to having perspective on the present day.
TWO ANSWERS: The Kyle Kempt run on the goal line Saturday was not a designed Kyle Kempt run. He was supposed to hand it off to David Montgomery. On the Cyclone Sideline Show Monday evening, Matt Campbell said that the ball slipped from Kempt's hand on the snap and he kept it instead of handing it off for security purposes.
Why didn't Joel Lanning play any quarterback? I'm hearing it's because his shoulder is still dinged up from the TCU game. As Campbell put it on Monday, Lanning has played over 700 snaps this year and is "taking a lot of ice bathes." Campbell added that he doesn't want Joel to be "the jack of all trades and master of none."
My takeaway: You're playing one of the most up-tempo teams in college football and his shoulder isn't anywhere near 100 percent. Lanning is more valuable to the defense right now (Case and point: Go back and watch the series he missed vs. TCU). That's why Campbell made the decision that he did. Plus, if that handoff gets made like the play was designed for, Iowa State ties the game at 20 and we could be talking about a 7-2 football team right now.
RESILIENT: One of my all-time favorite professional wrestlers, Diamond Dallas Page used to say: "When Page gets knocked down, Page gets back up!" That's the best compliment I can give this group of Cyclones. They've been incredibly resilient all season long. They don't get flustered easily. Because of that, I expect a very spirited performance by the good guys on Senior Day at Jack Trice Stadium.