Nov 18, 2017; Waco, TX, USA; Iowa State Cyclones quarterback Zeb Noland (4) throws a pass against the Baylor Bears at McLane Stadium. Mandatory Credit: Andrew Dieb-USA TODAY Sports
A little different perspective today. A bit more personal if you will indulge me.
I was able to attend the game in Waco yesterday as it was within my means to do so. I was able to bring my boys, daughter, and wife and got to embarrass them as their usually introverted pops yelled "Go Cyclones" repeatedly while walking to the stadium.
For many of you, it is an ordinary experience to be able to interact with the fan base and connect on a game day. For those of us who are transplanted and limited, the opportunity is a special event and colors my post-game comments today.
So, I write about the live experience and my experience with Cyclone Nation.
Perspective
Iowa State now has seven wins on the season and five wins in Big 12 conference play. The conference wins tie a school record for most conference wins in a season with a chance to set the record next week.
Iowa State's three losses in conference are by 10, four, and seven points respectively. Two of those losses occurred with the Cyclones in position to snatch a win instead of a loss. The only other loss was by three in overtime in another game the Cyclones were poised to win.
I hope you grasp that the implication is that with a bit of added execution, we would be talking about a top 5 team at this point in the season. They are what the record says they are and the team was not yet solid enough to pull off those four wins, but, for a program exhibiting a historic lack of confidence in the recent past, 2017 is the equivalent of the phoenix rising from the ashes.
Now, consider that we started our third different quarterback of the season on Saturday and there has been no drop off in competitiveness regardless of who is behind the center. The most important position on the field has experienced a cavalcade of adversity and yet the team has performed steadily throughout.
I cannot express in words what has been accomplished through 11 games in 2017. A winning record is guaranteed, a bowl game is assured, time was spent in the rankings, and the effort required to defeat Iowa State is monumental  –  even for the blue blood programs on the schedule.
Perspective.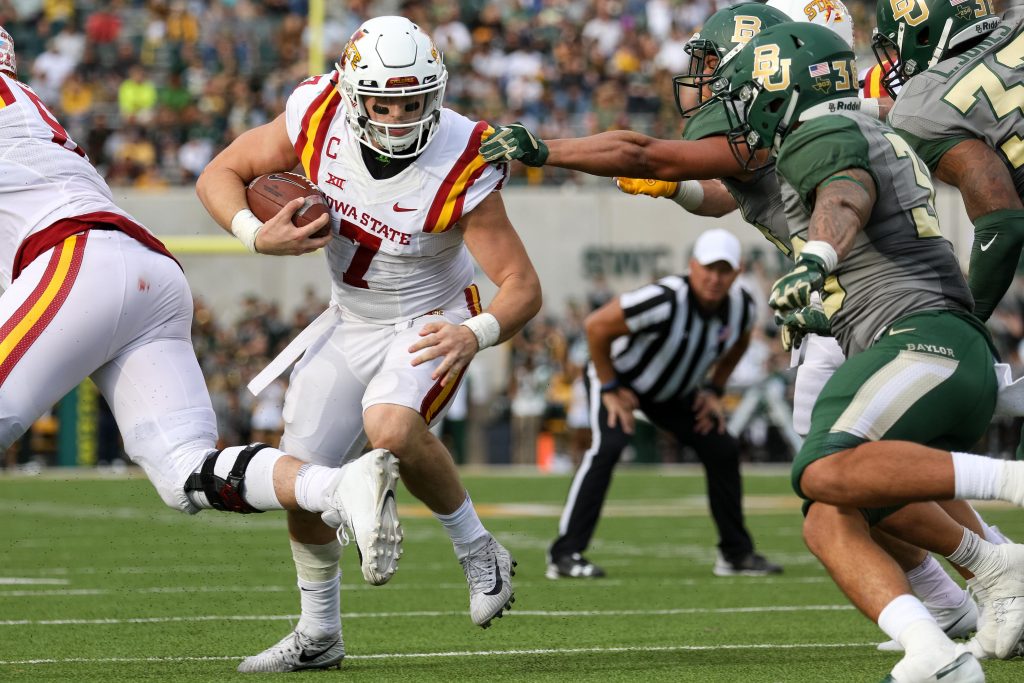 The Game
My vantage point was not as high up as I usually like. Live action is harder to assess play to play than watching film, but there is a good feel for what is coming and what the teams mental state is. While my points below are not film based, they are my live observations.
Getting "Iowa Stated"
Baylor got "Iowa Stated" yesterday. Yes, that means that this team has an identity. There is now a tangible flow to Iowa State games both emotionally and schematically.
Offensively, this team plays conservatively with middle runs, horizontal and quick tempo throws, and physical, grinding play calling. If it isn't stopped, then they will keep doing it and grind you down with physical play and time of possession. If you adjust or expose your scheme as playing tight to the line, then you will be hit over the top and to the edge with proficient execution.
Defensively, this team will play its base drop 8 with a small wrinkle as you reveal your preparation. They will absorb your success and allow you to wriggle within the vice that is closing. Then, they will make slight adjustments in play, alignment, or scheme to tighten the vice and choke off all of your best ideas. In the meantime, the offense has found a footing which increases the pressure to make plays against a defense that is hard to make plays against.
Oh, and there will be turnovers, penalties exploited, and special teams play that is solid and game changing. Essentially, Iowa State will make less mistakes than you and will grind out a victory if you don't make next level plays against them.
It took Iowa a next level run from Wadley and play call to overcome them. It took an inspired defensive effort from Texas and avoiding two near disastrous turnovers to overcome them. It took a superior play calling scheme and outlandish defensive effort for West Virginia to prevail. It took the best adjustments, an outstanding end zone catch, and a controversial interception in the end zone for Oklahoma State to win. No one else has escaped the vice.
It isn't the sexiest identity in game, but it is when the game is over. Only Oklahoma and Oklahoma State have scored more than 20 points against ISU in Big 12 play (only 4 have on the season). Think about that. I would venture a guess that most of us thought we could spot every team in the league 20 points going in to the season. Nope…they have almost all gotten Iowa Stated.
Baylor came out of the shoots well prepared and very physical. From the stands, their physicality stood out and was superior for a quarter and a half. They took advantage of the run lanes for the quarterback and used delayed routes under the coverage. In addition, they attacked the safeties with post routes in to windows created as the safeties jumped up to provide contain on play action. They hit the edges in the run game exploiting the alignment advantage I alluded to in last week's article.
Iowa State then adjusted with delayed linebacker blitzes in to the running lanes thus stressing the timing of the passing game. They kept the safeties in position to cut off the easy throw to the skinny post and ended up with a late interception. There was expected bend, but no breaks.
Another red zone take away (the fourth I can remember this season) highlighted the vice created by the defense. As Baylor moved the ball down the field, it compressed on them. The Iowa State defense becomes exceedingly hard to penetrate when compressed in the red zone. The spaces are smaller and the distance to account for the run is shorter. Baylor could not find an answer after exposing their initial strategy and did not score a touchdown after the first quarter.
Baylor's defense presented a tight box with nine threatening and they were able to corral the inside running of Montgomery initially. Iowa State drew them closer and closer to the line and Baylor left no help deep. Then, boom, Hakeem Butler and Zeb Noland make them pay over the top.
Thereafter, Baylor's will was broken and the Iowa State offensive line ramped up their physical play. The offensive line established movement and shielding through solid positioning which provided holes and easy cut backs for David Montgomery and Sheldon Croney. The run game dominated the second half and choked the life out of the Baylor defense.
At no time in the second half did the game feel in jeopardy. Instead, it was clear that Baylor was getting Iowa Stated.
To establish this identity, Iowa State must be resilient and resolved in its play. Emotional reactions where a player or players break discipline to try to make a play are counter to the plan. They rarely happen. The team trusts their process and scheme and it has resulted in a tangible identity to provide fits for opponents.
The identity of this team is grounded in its culture. Culture can be defined in many ways and has a myriad of elements in the context of a college football program. A few ways culture is manifested are:
*** Academic success: Iowa State increased its number of Academic All-Conference players this year to 14.
*** Community Service: On a regular basis Iowa State players are shown visiting hospitals and making special efforts with regard to children facing adversity.
*** Quality Leadership: Joel Lanning and Allen Lazard are quality people as well as quality players who are dedicated to the program. David Montgomery has become an equally dedicated leader.
*** Size and Strength: This 2017 made significant strides in its size and strength development over the off season. It has paid dividends and will continue to. It takes dedication and persistence to do so.
*** Confidence: Baylor provided an example of a team with no confidence. Iowa State plays steady because they are confident in the results of the plan and their play if they keep grinding.
*** Scheme Fit: The players skills complement the scheme being run which indicates purposeful recruiting and management of player development and scheme adjustments to maximize output.
*** Finishing: While there is work to do on finishing games, and still a game to play to finish the season, this team has made tremendous strides by securing wins and continuing forward progress after trajectory changing upsets.
The Campbell program is far from a finished product, but it has gained all the traction it needs to be credible in its continued implementation. The evidence of a culture change is tangible and the more it is reinforced, the longer it will last.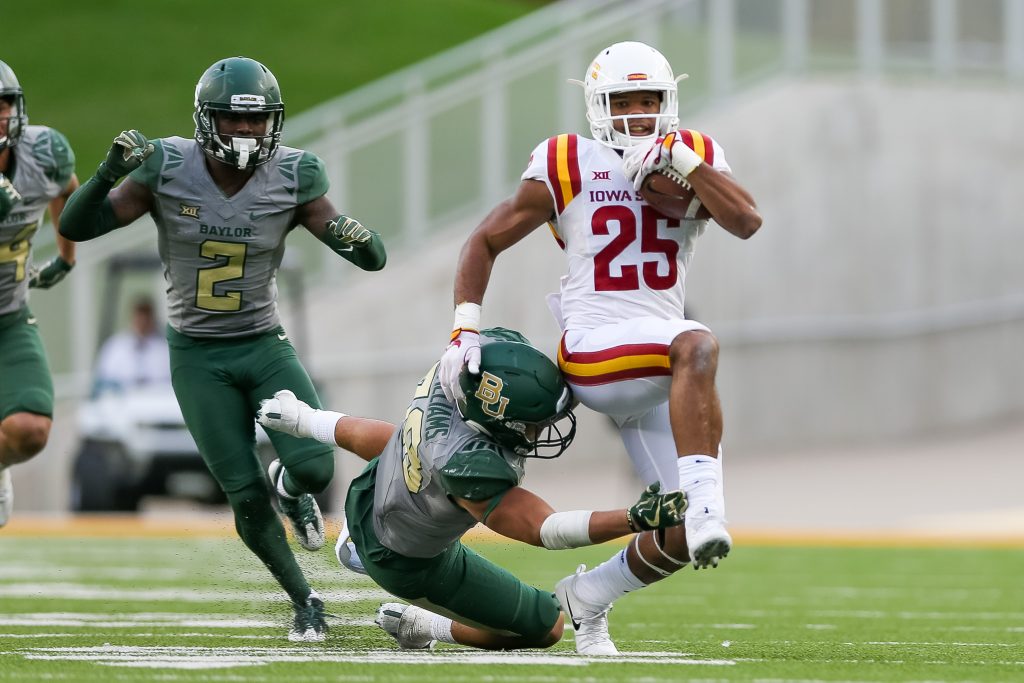 Notes on the Experience
*** First a player note: I have criticized Reggie Wilkerson at times due to struggles in coverage and tackling angles. On Saturday, he played a great ball game. He was strong in run support, made great adjustments in coverage, and came away with a turnover due to that.
*** Brian Peavy and D'Andre Payne are not talked about much because they are so solid on the outside that there is rarely a criticism or challenge to them worthy of addressing. Peavy in particular had a magnificent game in run support highlighted by pulling the ball away from a runner just because he wanted it more.
*** @DFWCyclones coordinated a free tailgate at a great location within a short walk to the stadium. More than 500 Cyclones gathered to cook, play, and enjoy a windy day. They took in donations for their scholarship fund which aids students headed to Iowa State from the DFW area. Barry did a fantastic job and made a home away from home. I had the chance to shake his hand and I love meeting passionate Cyclones.
*** Speaking of meeting Cyclones. While walking through the concourse…I stopped and paused, frozen in my tracks. Across the way was a man I had not seen in 23 years. Ben "the Shiek" Harvey was likewise paralyzed by recognition. A moment later we were locked in the biggest of man hugs hollering like little kids. Ben walked me over where Sundiatta Patterson sat and the same occurred.  Three old teammates overjoyed to see each other once again.  I was then directed to Lamont Hill and Graston Norris, also former teammates. In addition, I was able to meet Anthony Lazard.  I was bursting with joy and excitement at reconnecting with men who bled cardinal and gold.
*** We are old and none of us were All-Americans, all of them were more accomplished than myself.  But, we all poured our blood, sweat, and tears out at Jack Trice in a bygone era. It is a bond not unlike the one most of you have with organizational or school friends from the past, but for us, it is deep and was impactful yesterday.
*** Sports is small on the radar of life in its importance and significance. Football is only one of the sports participated in amongst athletes. But, its power to mold young men and women and bond them together in adversity and victory is pronounced. It is why we play and why coaches coach.
The bond is why the "Process" matters. It is why the culture, created from the top down, matters. Preparation for the struggle joined collectively and managed with care given to the details beyond the three hours spent in public view on a given Saturday is what changes and sets the course of lives.
As I sat with the families of players on this year's team I contemplated the blessing that the opportunity to be an intimate part of Cyclone Nation is. As I hugged my teammates and friends, I felt that blessing. As I viewed the joy of all of us at the success on the field of play, I was truly honored to have an identity based in small part on association with a unique institution.
My son, a born Texan, said that he loved Iowa State because it didn't matter whether we were good or bad, that their fans were always there and always thrilled to be Cyclones.  He loved it. I grabbed him in one of the thousand bear hugs I issued and said, "You get it, son… you get it."
Next week, I expect Kansas State to get "Iowa Stated" in Farmageddon. Apart from the X's and O's I love, I am honored to have attended and to be a fan of Iowa State. It is a special place and we have been rewarded with a special season.
Proud to be a Cyclone.