Jan 4, 2017; Austin, TX, USA; Texas Longhorns forward Tevin Mack (0) shoots against Oklahoma State Cowboys guard Jeffrey Carroll (30) during the first half at the Frank Erwin Center. Mandatory Credit: Brendan Maloney-USA TODAY Sports
Few teams in the Big 12 have as much on paper talent as the Texas Longhorns. Despite a roster full of blue-chip prospects, Shaka Smart's team has been one of the most inconsistent teams in the league to start the season.
The Longhorns will visit Hilton Coliseum tonight (8:15 on ESPN2) coming off perhaps their best win of the season against Oklahoma State on Wednesday. On the flip side, Iowa State enters the game after one of their better performances of the last few weeks.
The Cyclones went basket-for-basket with No. 2 Baylor proving, if they hadn't already, that they are capable of playing with anybody in college basketball.
1 – Youth movement
Texas enters Saturday's game with five of their main rotation players being freshmen or sophomores. Smart put together the No. 5 class of 2016 recruiting class in the country (according to 247) but that hasn't quite translated to on-court success.
The Longhorns' non-conference slate included losses to UT-Arlington and Kent State from small conferences. Their up-and-down play also included losses to Northwestern, Colorado, Michigan and Arkansas before opening conference play with a 3-point loss on the road at Kansas State.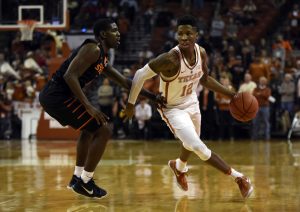 Led by sophomores Tevin Mack (15.2 points and 4.4 rebounds per game) and Kerwin Roach (10.9 points and 3.2 assists), Texas has shown flashes of the potential that made them a trendy preseason pick in the Big 12. It's that young talent, and the possibility of them putting everything together, that make the Longhorns such a scary team moving forward in the season.
"You just hope it's not tomorrow," Iowa State head coach Steve Prohm said. "Obviously, they're super-talented. Shaka's a great coach. I've got a lot of respect for them and their program. You can go down the list from Jarrett Allen to Andrew Jones and all in between — the sophomore guards that they have played really well against Oklahoma State, so you're not obviously a lot of highly-touted, blue-chip kids that, obviously, you've got a lot of freshmen and sophomores. They've played a demanding schedule. Home, road, neutral. So they'll be ready to go and coming in with a lot of confidence after beating a good Oklahoma State team. So we've got to make sure we're on our 'A' game."
Allen, the team's third-leading scorer at 10.7 points and leading rebounder at 7.6 boards per game, is a 6-foot-11 forward that headlined last year's recruiting class. He has all the physical tools to become one of the better post players in the Big 12 over the next few seasons.
2 – Weiler-Babb making his presence felt
Nick Weiler-Babb's emergence as a major contributor has been one of the most pleasant surprises for Iowa State since Big 12 play started. Despite scoring only six points against Texas Tech and seven against Baylor, it is doing the little things that has made the 6-foot-5 sophomore's presence most felt.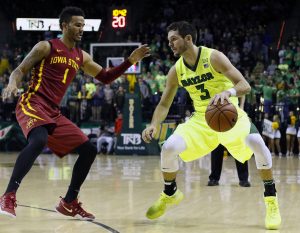 He's been very active on the defensive end and on the glass making him a huge piece of Prohm's small-ball lineup that has become so effective.
"I've got to credit Nick a lot man," senior guard Naz Mitrou-Long said.  "When I go to the four, it's not easy to guard those guys. Knowing the set's easy but executing and setting the screens, getting to your places, Nick comes in and makes it look easy and it's not. Nick's out here playing one to four and it's been effective."
If Iowa State wants to max out its potential this season, they'll likely need to keep getting solid contributions from Weiler-Babb as a role player off the bench.
3 – Defending Hilton
One of Iowa State's biggest objectives entering the season was making a more concerted effort to defend its home court. Obviously, the Cyclones already dropped one game at Hilton Coliseum when Cincinnati left with an overtime victory.
Now that the "second season" has started, the Cyclones are off to a good start after their conference plays opening win over Texas Tech. Saturday night's game will be another opportunity to defend their home court and keep pace in the Big 12 standings.
"We've got to take care of home. I know we're gonna have — students are back, we'll have a great crowd (on Saturday)," Prohm said. "I think the electricity, a late ESPN game, it will be a lot of fun and I think we'll play really well. Just need to play with the same focus and effort we had the other night."