Jan 3, 2017; Fort Worth, TX, USA; TCU Horned Frogs guard Jaylen Fisher (0) drives on Oklahoma Sooners guard Rashard Odomes (1) during the first half at Ed and Rae Schollmaier Arena. Mandatory Credit: Ray Carlin-USA TODAY Sports
Iowa State played some of its best basketball of the season in Wednesday's  road win over Oklahoma State. Now, the Cyclones turn their attention towards one of the more surprising teams in the Big 12 — the TCU Horned Frogs.
Under new head coach Jamie Dixon, the Frogs are off to one of their most successful starts to the season since joining the Big 12. TCU enters Saturday's 4:30 p.m. tip in Fort Worth with a 12-3 overall record, 2-2 in Big 12 play, and riding high after a 64-61 win against Texas earlier this week.
Here are four points to get you ready for Saturday's battle between the Cyclones and the Horned Frogs.
1 — Another marquee point guard matchup
After out-dueling Oklahoma State's Jawun Evans to the tune of 30 points, five rebounds, five assists and four steals, Iowa State's star point guard Monte Morris gets another challenge in the form of TCU guards Jaylen Fisher and Alex Robinson.
Fisher, a 6-foot-2 freshman, is averaging 10 points per game so far this season and adds more than four assists per game to his team's offense. Robinson, a 6-foot-1 junior, is the team's leading assist man at 5.3 per game and second-leading scorer at 11.3 points.
Fisher is a player that has especially stuck out to Morris in his times watching the Horned Frogs.
"They all seem to run really fast as far as transition and pushing," Morris said. "That's got a lot to do with the point guard they have."
Morris has played like one of the league's best players since the start of conference play. His 132.5 offensive rating in conference games is currently fifth in the Big 12. He's put up that number while playing a league-high 95 percent of minutes possible in Big 12 play.
His 52.6 percent shooting from 3-point range is also third in the Big 12 since the start of conference play.
Safe to say, Morris might be settling into his role as "the man" for this Iowa State team.
2 — Vlad
TCU's offense has been led by 6-foot-11 junior Vlad Brodziansky, who is averaging a team-high 11.9 points per game. He's also the team's leader in blocked shots with more than two per game and is in the top-20 nationally in block percentage.
He scored a season-high 28 points in the Horned Frogs' 86-80 loss to Kansas in their Big 12 opener.
3 — Keeping them off the glass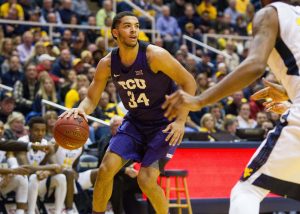 Junior forward Kenrich Williams has been one of the most effective offensive rebounders in college basketball so far this season. Keeping Williams, who has corralled 52 offensive boards, off the glass will be an important key for Iowa State's defense on Saturday.
TCU as a team is 25th in the country in offensive rebounding percentage, which makes boxing out even more important, especially when the Cyclones go to their four guard lineups. It is this hard-nosed, doing the dirty work mentality that has made the Horned Frogs successful this season.
"Coach Dixon has done a great job of getting his culture intact," Iowa State head coach Steve Prohm said. "They look really, really good. They went to West Virginia and played a close game. They had Kansas down to the wire at their place. They've won on the road. They've had some good non-conference wins. I'm sure it's going to be a great environment. Their guard play is really good. They run good offense at a great pace and then they're tough-minded defensively and that's what he's known for."
4 — Applying pressure
Over the past several games, we've seen Iowa State's guards putting more and more pressure upon the opposing teams. They've done that in a multitude of ways with their three-quarter court press and allowing Donovan Jackson to pick up his man full-court.
That trend likely won't end on Saturday as TCU has been one of the more turnover prone teams in the Big 12. Both Fisher and Robinson have turned the ball over more than 40 times and have struggled when put into pressure situations.
That became especially apparent in the team's loss on the road at West Virginia last Saturday when the Frogs had 18 turnovers against the Mountaineer press.
Don't be surprised if Iowa State's defensive pressure is ramped up another notch in this game.