Dec 17, 2016; Des Moines, IA, USA; Iowa State Cyclones guard Nazareth Mitrou-Long (15) shoots a three point shot as Drake Bulldogs guard De'Antae McMurray (4) and guard Ore Arogundade (23) defend during the first half against the Drake Bulldogs at Wells Fargo Arena. Mandatory Credit: Jeffrey Becker-USA TODAY Sports
DES MOINES — It is a fairly polarizing event that a lot of vocal folks out there like to hound against.
The Hy-Vee Classic – formerly the Big 4 Classic – just wrapped up its fifth year of life inside of downtown Des Moines' beautiful Wells Fargo Arena.
Led by a 21 point performance by Peter Jok, Iowa throttled UNI 69-46 in game one.
On the back of Naz Mitrou-Long's career-high 37 points, the Cyclones kind of got back on track via a 97-80 victory over Drake in game two.
Cyclone Fanatic's Jared Stansbury will have complete coverage of that game later tonight.
A little backstory to why I am writing this column…
I was preparing for my radio show on Friday where the lead topic was going to be about my beef with the television situation for Saturday's games.
Full disclosure: I realize that Iowa vs. UNI and Iowa State vs. Drake isn't exactly seen as "sexy" nationally on a day where the bowl season began along with a handful of appealing high-major vs. high-major hoops matchups.  And unless Drake gets its act together, television networks are never going to be lining up to land both games in this event.
My assumption was that Mediacom Channel 22 getting Iowa State/Drake and the other being online only had something to do with UNI and Drake's television rights. My opinion was, "Well that is utterly ridiculous."
This is why a guy should never assume anything before blasting it on the radio.
I made a few calls and ended up learning way more about this event than I had intended on. A few of the details actually shocked me.
Starting with television…
Drake and UNI have next to no power here from what I understand.
According to a source that has direct knowledge of the contract, the Big Ten has rights to whatever game Iowa is in, as does the Big 12 with Iowa State. This also means that the Big Ten and the Big 12's television partners declined both games this year, which dropped it all of the way down to Mediacom.
In theory, Cyclones.tv could have produced and broadcasted the game, but Iowa State chose to go the neutral setting on MC22 for fairness to Drake. Plus, it just made sense to put both games on the same channel if possible.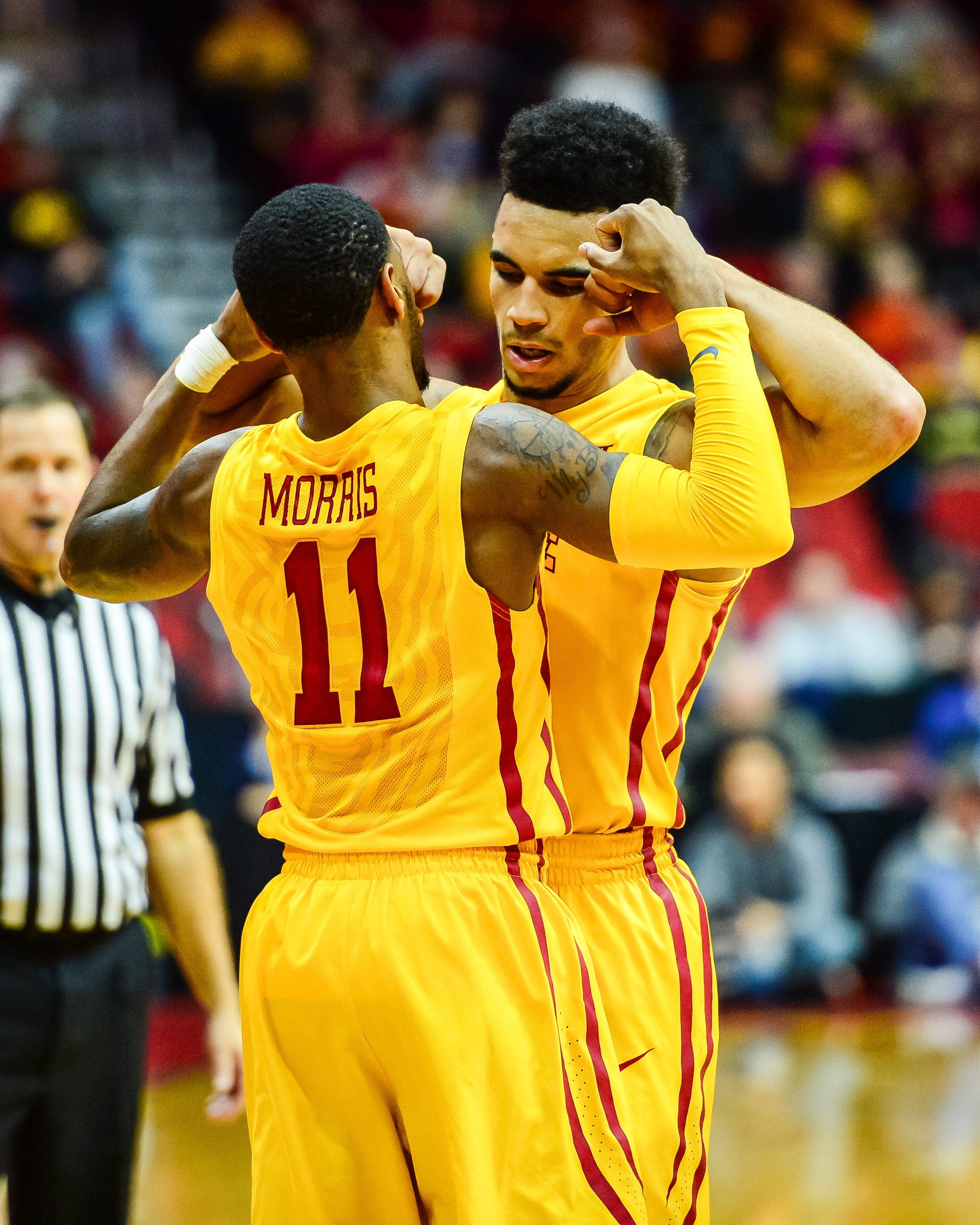 There has been one exception to this rule, which occurred in last year's Iowa State/UNI game. The Big 12 passed on it, however thanks to a call to ESPN/The MVC from then UNI athletics director Troy Dannen, the Missouri Valley's deal with ESPN opted to televise the game on ESPNU.
Just a final note on how television works for the event: There is no money being made by Iowa or Iowa State on this as media rights are already handed over to the league via the Big 12/Big Ten television contracts before the season.
As for Drake and UNI, they are generally happy with the exposure they get when these games do get picked up nationally. It's a win-win for everyone.
Here's a juicy detail on the origin of this event that I never knew.
Remember back in the mid 2000's when Iowa State started scheduling random neutral court games in Wells Fargo Arena?
Iowa State played Ohio State (had a return game to Columbus the following season), Bradley (a 2-for-1 that included a trip to Peoria, the game in Des Moines and another in Hilton) and Creighton (one time deal) in Des Moines that decade in a marketing effort to have more of a presence in the Capitol City.
However Iowa State wasn't seeing the type of action it wanted from ticket sales. Wells Fargo was far from empty in those games, but never close to full either. The Creighton game was by far the most attended, but that likely had to do more with that specific program's following than anything.
By this point, talk of the big programs wanting to get out of their current home and home dates with the Valley schools had begun to surface. Iowa and Iowa State had both been on major NCAA Tournament droughts and conference realignment had drastically changed the landscapes of both the Big Ten and Big 12 from a scheduling standpoint.
Here's a tip of the hat to Drake and UNI, who had both been kicking the big school's rears for nearly a decade.
Change was coming to the old school way that non-conference basketball had always been played in this state.
Before the Big 4 Classic was even brought up, my source says that Iowa State offered Drake to play an annual game at Wells Fargo Arena. Drake, in return would never have to play in Hilton. Iowa State obviously wouldn't be going to the Knapp Center either.
Curiously, Drake declined.
Shortly after, Iowa State and Iowa united to make changes and the Big 4 Classic was born.
Another note: Iowa and Iowa State were both interested in paying Drake and UNI to come to Iowa City/Ames for traditional non-conference games, but neither Valley school was interested.
Some myth busting
I hear this a lot: "The big schools are robbing the little schools of important paydays."
As far as I know, this is actually false.
The Big 4 Classic is set up the following way in terms of revenue: 25-25-25-25. It's dead even, which is a little ridiculous when you look around and see the amount of purple and blue (not much) at the event every year.
Regardless, it's actually generous on the part of Iowa and Iowa State to have set this thing up they way that they did.
My source, who again has direct knowledge of the event's details, is confident that Drake and UNI are now both profiting more from the Big 4 Classic (that sold out the last two years and nearly did this year), than it did on those annual home games vs. Iowa or Iowa State.
Financially, this is likely BETTER for the small schools than the old way of doing things.
The small schools have absolutely lost out on a big campus game vs. a high-major opponent though, and that hurts.
A final thought 
This isn't perfect.
I too loved it when Iowa State would travel to Cedar Falls and Des Moines. I looked forward to watching the Hawks play these teams as well. It was special to our state and I'm an Iowan, so it was special to me.
But that's nostalgia talking. If we're being realistic, the days of Iowa and Iowa State traveling to Drake and UNI were never going to last forever. It's a major upset that the old way lasted as long as it did. Kansas isn't making any road trips to Wichita, nor is North Carolina to Davidson.
And to the "Indiana went into Fort Wayne" crowd, that's a one-time deal, much like North Carolina traveling to Cedar Falls last year.
Iowa State and Iowa were very generous with how basketball worked in this state for a really long time.
Unfortunately, sometimes when sports evolve some traditions have to go by the wayside. That's exactly what happened here.
I used to be against this event.
The atmosphere is pretty dry and is way too corporate but honestly, it's a day I look forward to every year. I'm a basketball nut and if I can get an eye on every program in the state in one afternoon every December, then count me in.
All four of the participants – even the small schools – have really begun to embrace it.
It's better than nothing and I say it's time we all do too.