Dec 17, 2016; Des Moines, IA, USA; Iowa State Cyclones guard Monte Morris (11) drives to the basket as Drake Bulldogs forward T.J. Thomas (10) defends during the second half at Wells Fargo Arena. Iowa State won 97-80. Mandatory Credit: Jeffrey Becker-USA TODAY Sports
DES MOINES — Rebound, run the wings, push the tempo and repeat.
When Iowa State is playing well this season, that's the pattern.
Rebound, run the wings, push the tempo and repeat.
When the Cyclones are getting good looks at the basket — like they were during a 97-80 win over Drake in the Hy-Vee Classic at Wells Fargo Arena — that's the pattern. It is the formula that has allowed Iowa State's offense to be successful and explosive at times during the first 10 games of this season.
"You saw (on Saturday), our perimeter guys ran wings," Iowa State head coach Steve Prohm said after the win. "The ball got kicked ahead. That's how we have to play. I've got to go back to just yelling run, run, run every possession, because that's just how we have to play. We have to sink the defense right away."
Getting away from that pattern is what causes nights like two Thursday's ago in Iowa City. Those are the times when the Cyclones start taking bad shots, the ball stops moving and players start standing.
Even though the Cyclones struggled to shoot at times on Saturday (they shot 44.2 percent from the field for the game), they were getting good looks at the basket almost every time down the floor. The number of contested long-twos was much smaller and things didn't seem so forced.
Iowa State sticking to the pattern allows players like Naz Mitrou-Long,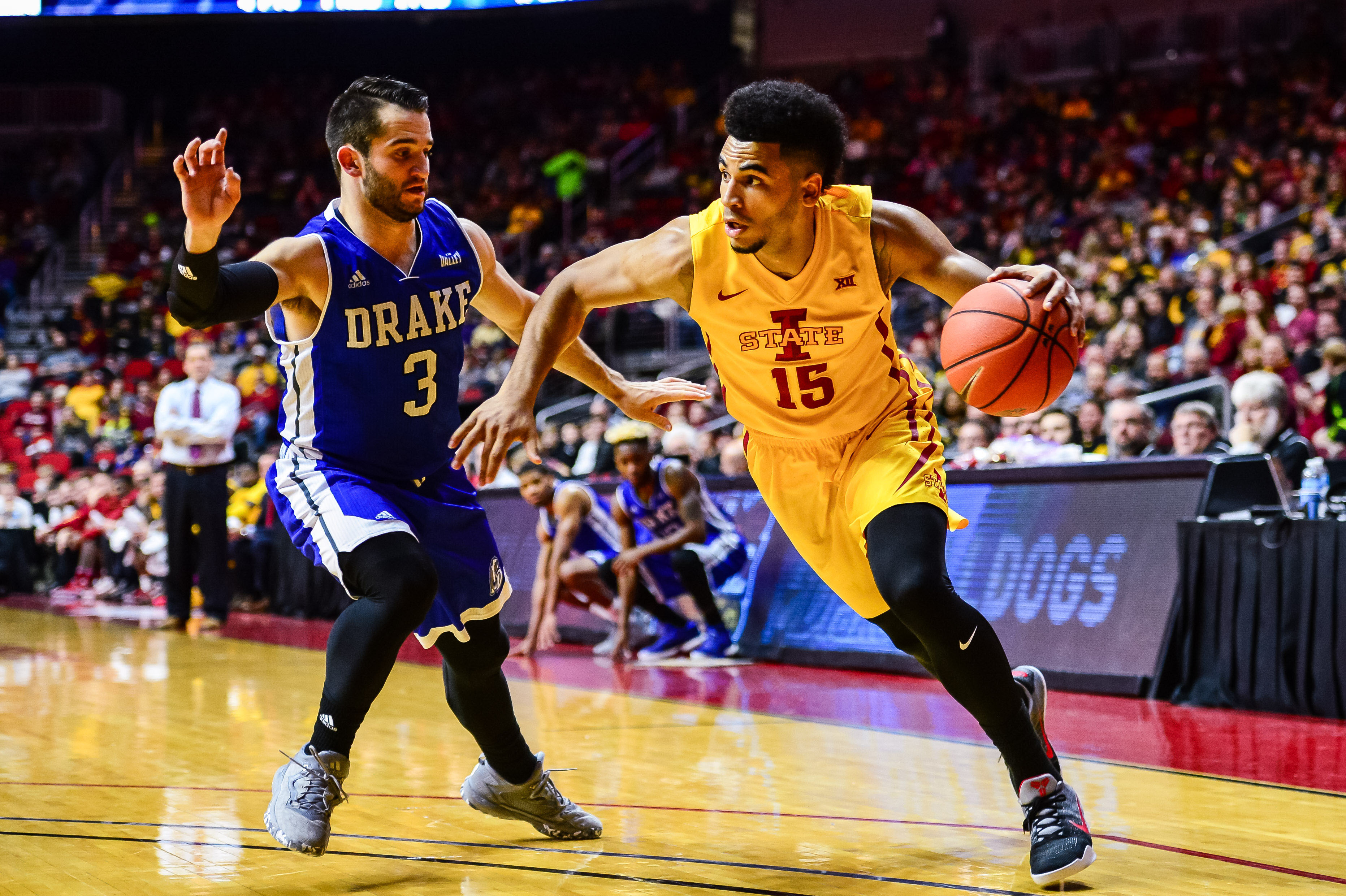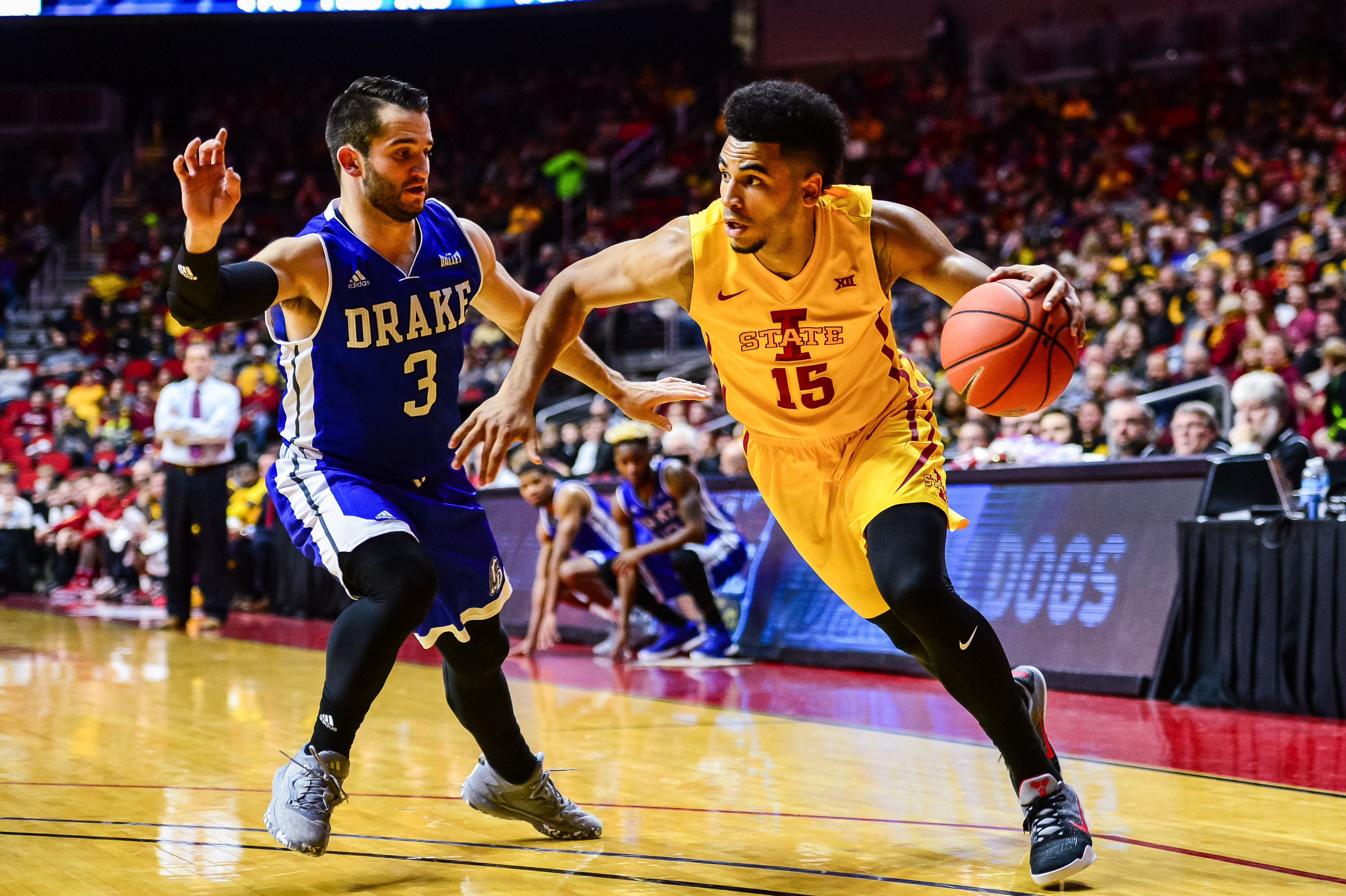 who finished with a career-high 37 points (on 14-of-18 shooting) and tied his career-high with eight 3-pointers, to get open looks. Pushing the tempo keeps the defense honest and forces them into more scramble situations.
On this day, it kept Drake from being able to set their 1-3-1 zone defense on every possession. Not allowing that defense to set and locate shooters every time down probably played a role in Mitrou-Long's big day.
"I thought Naz got better looks and I thought we made extra passes," Prohm said. "You can find those pockets in the 1-3-1, but his shot selection was a lot better. He shoots it at a high, high level. When you hear him talk, he understands part of it's shot selection and that's got to get better. As that improves, my percentages improve."
Finding his groove
Mitrou-Long entered Saturday's game shooting just 26.7 percent from behind the 3-point line this season. All week there were lingering questions of whether or not he has lost his shot after sitting out last season while recovering from double hip surgery.
I'd say Saturday night's performance answered a lot of those questions. Sure, it wasn't against a Big 12-quality opponent, but "Threesus" can still make it rain when he gets hot and some confidence.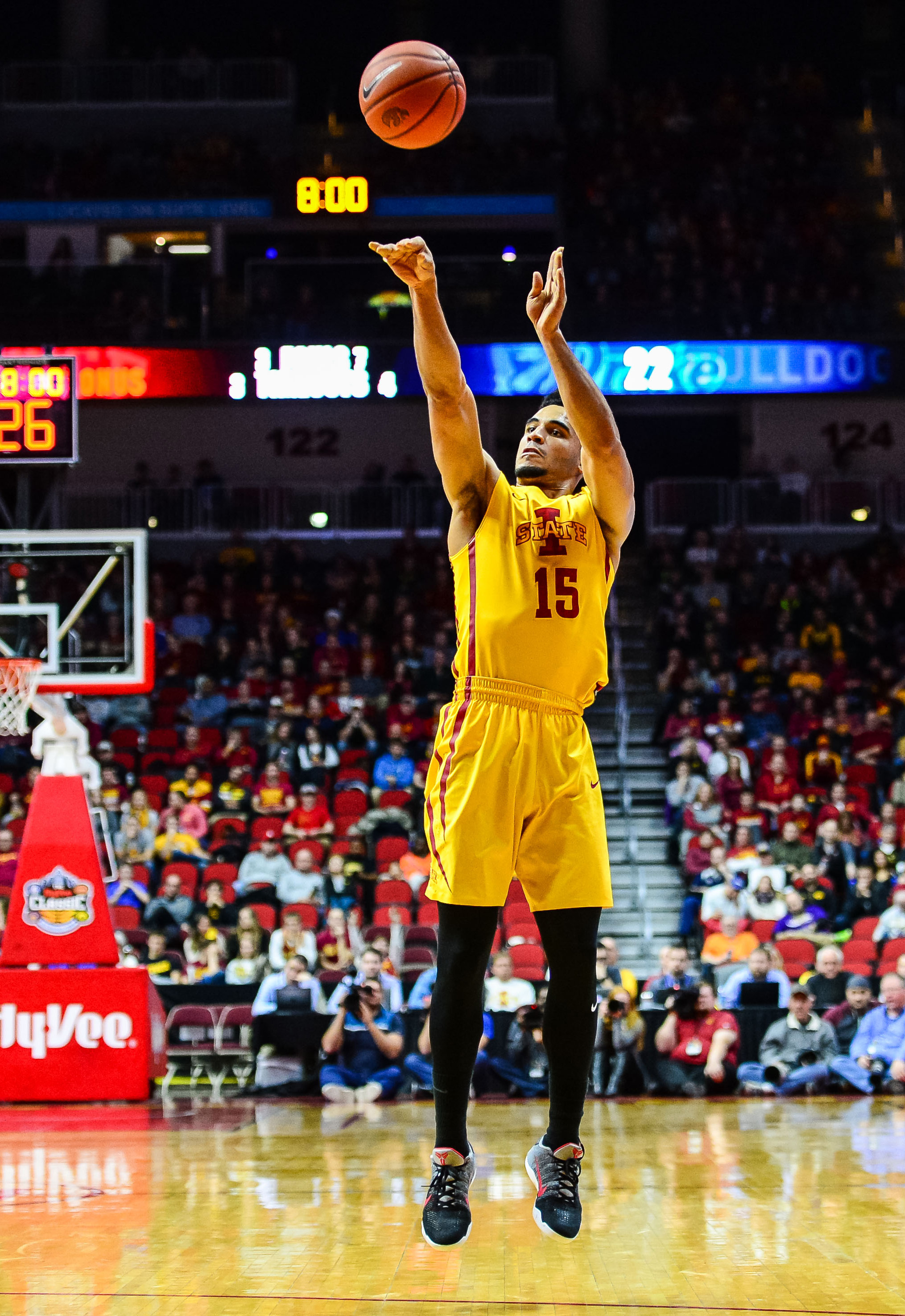 "Coach said, 'You've just got to trust the process. That's all it comes down to,'" Mitrou-Long said. "Some days I'm going to make shots, some days I'm not. We put in enough work that we've just got to keep believing it. I believe in the guys around me. I believe in this program and that's all it comes down to."
Iowa State's heart-and-soul was clearly fired up from the jump and scored 22 of points during the first half. He was back to playing with the same swagger Iowa State fans fell in love with two and three seasons ago.
He wasn't falling away or recoiling on his jump shot like many people have pointed out during the team's first 10 games. Mitrou-Long was jumping straight up rather than fading and was holding his follow through.
It is hard to say he's fully back considering the opponent, but there's no doubt it looked like the Naz Mitrou-Long of old was in the building on Saturday.
"He put on an epic performance," senior point guard Monte Morris, who finished with 20 points and four assists, said. "I knew he was capable of shooting the ball well. Like I told you guys, I've seen the guy make 25 threes straight before, so him missing wasn't a big issue for me. It was just a matter of time and tonight was the night."
Defense takes a step back
Much has been made of Iowa State's improved defense during the non-conference slate, but Saturday's game against Drake was one of their worst performances of the season on that end. Time and time again the Bulldogs were able to get open looks and clear shots at the rim.
Some of those struggles could be attributed to the fact that the Cyclones focused primarily on offense this week during practice after their performances on that in the last few games.
"Worked on offense all week, but then I thought we regressed today a little bit defensively," Prohm said. "Too many easy baskets. Too many paint touches, layups. When we get it all put together I think we've got a chance to do some good things."
Drake was able to catch Iowa State napping on some ball-screen hedges, especially early in the game. Later in the game, the Cyclones tightened up and the Bulldogs' good looks started to go away.
Once that point came, Iowa State unleashed a 21-4 run over the last 6:05 to turn a 76-76 tie into  a 17-point win.
"They were really executing," Mitrou-Long said about the Bulldogs' offense. "Coach gave us the perfect gameplan. At the end of the day, we were kind of slipping up on the ball-screens not hard hedging sometimes. Guards weren't getting into their guards and they were executing their stuff. They did hit some tough shots."
Starting lineup change
Darrell Bowie moved into the Cyclones' starting group for the first time this season on Saturday, replacing fellow graduate transfer Merrill Holden. According to Prohm, Holden has been dealing with a shoulder injury over the past few days that held him out of practice for part of the week.
Holden's lack of production over the past couple weeks probably made the decision a little bit easier. Bowie, who scored 12 points and grabbed eight rebounds, also adds some more playmaking ability to the Cyclones' starting five.
"Drake does some things I think if you're not in practice understanding positioning, where to be, I just thought he kind of needed to watch for a little bit," Prohm said. "Also, Bowie's been really productive and just wanted to see what that gave us."
Will the change be a permanent one? That remains up in the air.
"I'll look at it," Prohm said. "I'll probably stay and finish out the semester like this then get back to work when we get back from Christmas."
Deonte's struggles
Deonte Burton's inability to put the ball in the basket on Saturday will likely be one of the biggest talking points moving forward into Tuesday's game against Mississippi Valley State (6 p.m. on Cyclones.tv).
Burton, who finished with seven points, on 1-of-9 shooting from the field and 10 rebounds, wasn't struggling to find good looks at the rim throughout the game. In fact, he missed six of the seven shots he took in the paint.
"He'll make those," Prohm said. "He's all around the rim. Even the first play of the second half, we get him in there to post him up and he just had one of those games, but he finished the last five minutes really strong. He rebounded, had some big rebounds down the stretch, got to the free throw line. I thought he had some open elbow jumpers, open threes, I thought he had plays around the rim that he's got to finish stronger, but I thought he had good looks."
It does seem likely this could be a one game struggle for Burton when it comes to scoring around the rim. Everybody has games where the ball just doesn't seem to go in the hole.
At the end of the day, Iowa State won and they got back to the pattern of play that's allowed them to be successful. Now, the key becomes keeping the pattern.