Dec 1, 2016; Ames, IA, USA; Cincinnati Bearcats forward Kyle Washington (24) dribbles as Iowa State Cyclones forward Darrell Bowie (left) and forward Merrill Holden (right) defend during the second half at James H. Hilton Coliseum. Cincinnati won 55-54. Mandatory Credit: Jeffrey Becker-USA TODAY Sports
AMES — Well, that was ugly.
That was my first thought as I walked back to the media room from my press row spot at Hilton Coliseum after Iowa State's 55-54 loss to Cincinnati on Thursday. I wasn't really thinking of anything in particular.
Ugly could describe Iowa State's defensive rebounding, its shooting, its final possession, its shot selection for close to 40 minutes or its lack of ball movement. Take your pick. This whole game was ugly and that's exactly how the Bearcats wanted it to be.
The only thing that wasn't ugly was the Cyclones' half court defensive effort, which was outstanding for most of the night.
Here's my five takeaways from Iowa State's loss to Cincinnati:
1 — The last possessions couldn't have been worse
Iowa State's last offensive possessions in regulation and overtime probably couldn't have gone any worse. Both possessions ended in long 3-pointers by Naz Mitrou-Long, who didn't score in the game, and were initiated with very little ball movement.
Now, it would've been tough to do anything too crazy with the regulation possession. There were only five seconds left on the clock when Gary Clark's jumper in the lane fell to tie the game.
That said, the emphasis in that situation should be to attack the rim. The same thing goes for the Cyclones' last chance in the extra period.
Iowa State had the ball with a little more than 20 seconds on the clock and the shot they got was a contested 30-footer. There wasn't really any ball movement from one side to another.
There was just a lot of standing around before throwing up a desperation heave.
"I got to make sure that we're moving the ball in those situations," Iowa State head coach Steve Prohm said. "Even if you want it in certain guys hands. Just to shift the defense a little bit."
We all knew losing Georges Niang was going to have a big impact on this team, but I don't think we've fully seen it until these late game possessions. He was the Cyclones' guy in those situations for three years.
This team has to learn how to play without Niang as a crutch during the crucial situations and that couldn't have been more obvious on Thursday as the Cyclones fell to 5-2. 
2 — Rebounding was one of the biggest differences
Cincinnati's ability to control the glass in the first half of the game was the difference between Iowa State holding a comfortable lead or trailing, like they did heading into halftime. The Bearcats outscored Iowa State 10-0 in second chance points before the break and grabbed eight offensive boards.
Time and time again, they were able to move Iowa State's players out of the way and get position on the offensive glass. At times, it seemed like Cincinnati's players just wanted the rebounds more.
"It just came down to boxing out," senior forward Darrell Bowie said. "I don't think size really mattered. They were just tougher than us when it came down to it."
I'm not ready to hit the panic button on Iowa State's rebounding just yet.
The Cyclones had been really solid on the glass during the team's first six games. They just ran up against an opponent that made attacking the offensive glass an emphasis every time a shot went up.
After this game, I'd guess they won't be the last team to do so.
3 — Iowa State's offense has gone stagnant
This wasn't just a problem at the end of the game.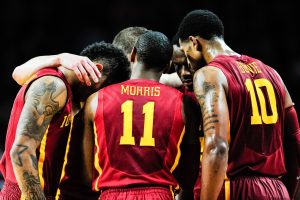 It was definitely the most notable near the conclusion, but Iowa State's offense was really stagnant all night long. Heck, they were stagnant for a lot of the loss to Gonzaga on Sunday.
The Cyclones have a tendency to fall in love with dribbling the basketball. When they're swinging the ball back and forth and making the defense shift, Iowa State's offense is incredibly explosive.
It almost seems like Iowa State gets into my-turn, your-turn mode sometimes and just stands to watch their teammates go to work off the dribble.
Cincinnati's defense was spectacular all night. They were very, very good at keeping Iowa State out of the lane and surrounding them when they did. But, Iowa State needs to do a better job of keeping the defense off-balance with the pass.
"They don't give you great looks all the time," Prohm said. "The biggest thing is you've just got to continue to get ball movement. Continue to get ball movement. I thought when got ball movement, we ended up getting some good things. Just the way you screen, the angle of your screen and the ball movement. It has to be really good against them because you have to shift sides."
This Iowa State team is so, so fun to watch when they're moving and sharing the basketball. That didn't happen frequently enough against Cincinnati.
4 — Have to find a way to get Naz Mitrou-Long going
Frankly, Iowa State probably isn't going to win when Mitrou-Long goes 0-of-7 from the field and 0-of-5 from behind-the-arc. They might be able to get away with it against lesser opponents, but it won't work against quality teams.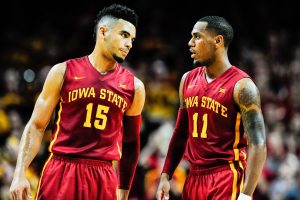 I don't know what it will take for Mitrou-Long to get going, but he's shooting just 25 percent from 3-point land through seven games. That flat-out is not going to cut it from a player that's not only a starter, but one of the team leaders.
"We just got to get him going," Prohm said. "He's a senior. He's won big games. He's made big shots. He'll get himself going."
I really hope he finds a way to turn it around. When he's playing well, Naz is as fun to watch as anybody on Iowa State's roster. There is still a lot of season left and basketball to be played.
I'm still confident we'll see a really good version of Naz at some point this season. Hopefully, we see it sooner rather than later.
5 — On the bright side, the defense was awesome — again
Iowa State held Cincinnati to just 35.5 percent shooting from the floor and 14.3 percent from behind-the-arc. They were able to keep the Bearcats off-balance offensively most of the night and forced them to take some really tough shots.
They were able to do the same thing that Cincinnati did to them.
There were multiple times when the Cyclones' defensive effort was so good it just made me shake my head. Their rotations are so crisp and the increased effort is almost always evident.
Specifically, there was one play when Iowa State's press was broken during the first half. Nick Weiler-Babb sprinted back to tip away a pass to a cutting, and open, big-man into the hands of Matt Thomas.
It was a pure effort play that we haven't seen from Iowa State defensively in past seasons. It was part of the Cyclones' defensive effort that was the biggest bright spot on Thursday.
Unfortunately, it might've been the only one.