Oct 29, 2016; Ames, IA, USA; Iowa State Cyclones running back Mike Warren (2) is tackled by Kansas State Wildcats defensive back DJ Reed (2) and Kansas State Wildcats defensive back Dante Barnett (22) at Jack Trice Stadium. Mandatory Credit: Reese Strickland-USA TODAY Sports 
AMES — By now, we have all come to grips that the 2016 Iowa State (1-6, 0-4) football team just isn't very good. If the 1-6 start wasn't enough, Saturday's 31-26 defeat that Bill Snyder and Kansas State (5-3, 3-2) handed the Cyclones likely did the trick.
There is a lot that we can analyze here and between now and Thursday (when Oklahoma comes to town) and trust me, we will.
Some very quick cliff notes before getting to the main point:
— Iowa State can't run the football (154 yards on Saturday but only 73 came from running backs).
— Iowa State can't stop the run (247 for the Wildcats).
— Up and down the roster, there is little to no depth and overall talent is sketchy for a Big 12 program.
The very core of the problem though has been self-inflicted dating back to the season opener against UNI.
When one guy steps up, another makes a mistake to negate it.
I'll credit Cyclone Fanatic Alex Gookin on Twitter for summing this up perfectly in the second quarter of Saturday's loss.
Iowa State has shot its foot into a bloody stump.

— Alex Gookin (@_AlexGookin) October 29, 2016
That was the story of this game – two that directly resulted in taking touchdowns off the board.
The first: Jacob Park's perfect throw that hit Trever Ryen in stride midway through the second quarter. The throw was a beaut. Some simple execution – also known as catching the football – would have resulted in a touchdown leaving Iowa State down only a touchdown at the half. But Ryen dropped it and the Cyclones trailed 17-3 at the break with Kansas State set to get the ball to start the second half.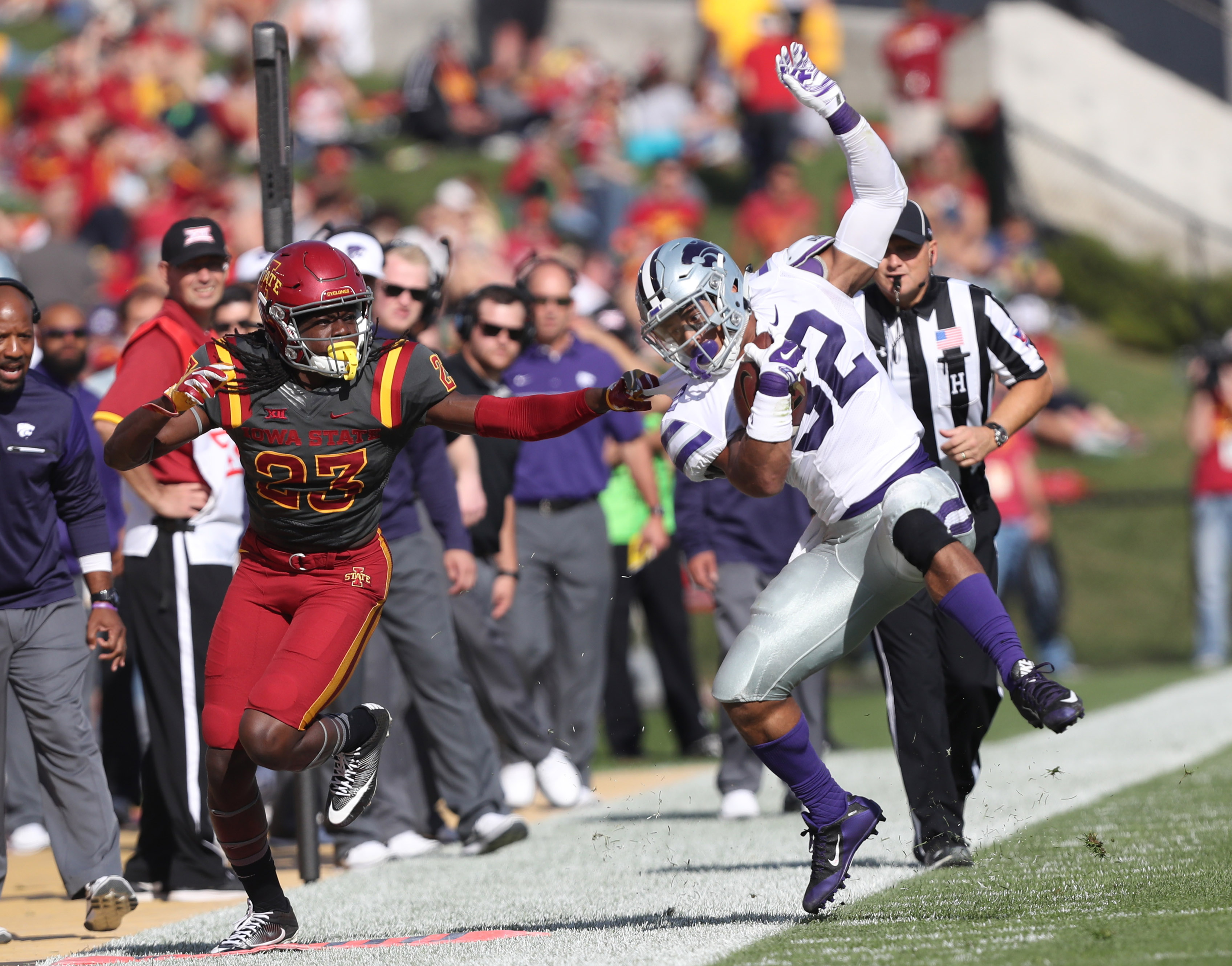 No. 2: Somehow (How awesome was the onside kick call to start the second half?), Iowa State was in a position to make this a one score game with seven minutes to go in the fourth quarter. After failing to convert on the one-yard line three plays in a row (Why not line up under center?), Park rolled out and overthrew a WIDE OPEN David Montgomery that would have pulled the Cyclones within seven.
Joel Lanning missed Ryen on a similar third and goal throw in the first quarter that Iowa State eventually turned into a field goal.
Also, does Ryen have a thing against diving to catch a pass?
At the core, can we agree that this (along with the other shortcomings I mentioned before) has been the story of the season?
Players have to make plays. 
If Lanning doesn't fumble inside the five to end the first half against UNI, do the Cyclones win that game?
What about all of the dropped passes (I'm now looking at you Allen Lazard and Mike Warren) on third down vs. Baylor and Oklahoma State?
What about Carson Epps' fumble at Oklahoma State?
There are others and there is plenty of blame to go around but I have a radio show to get to.
Iowa State's offensive line is basically a butter knife in a machete fight, the defense can't stop the run, the roster lacks talent and has virtually no depth. It's an awful combination.
Still, despite all of the setbacks, Iowa State has had chance after chance after chance to win Big 12 football games against good teams in a season that it probably shouldn't.
That's disappointing, but also kind of exciting for the future.
It's maddening and honestly, I don't know what the answer is other than the most pedestrian analysis of all.
Against a good team when the opportunity presents itself: Players. Have. To. Make. Plays. 
I'm not sure what more I can add.
What's going on at quarterback?
Joel Lanning started and played the first two drives, which ultimately resulted in three points.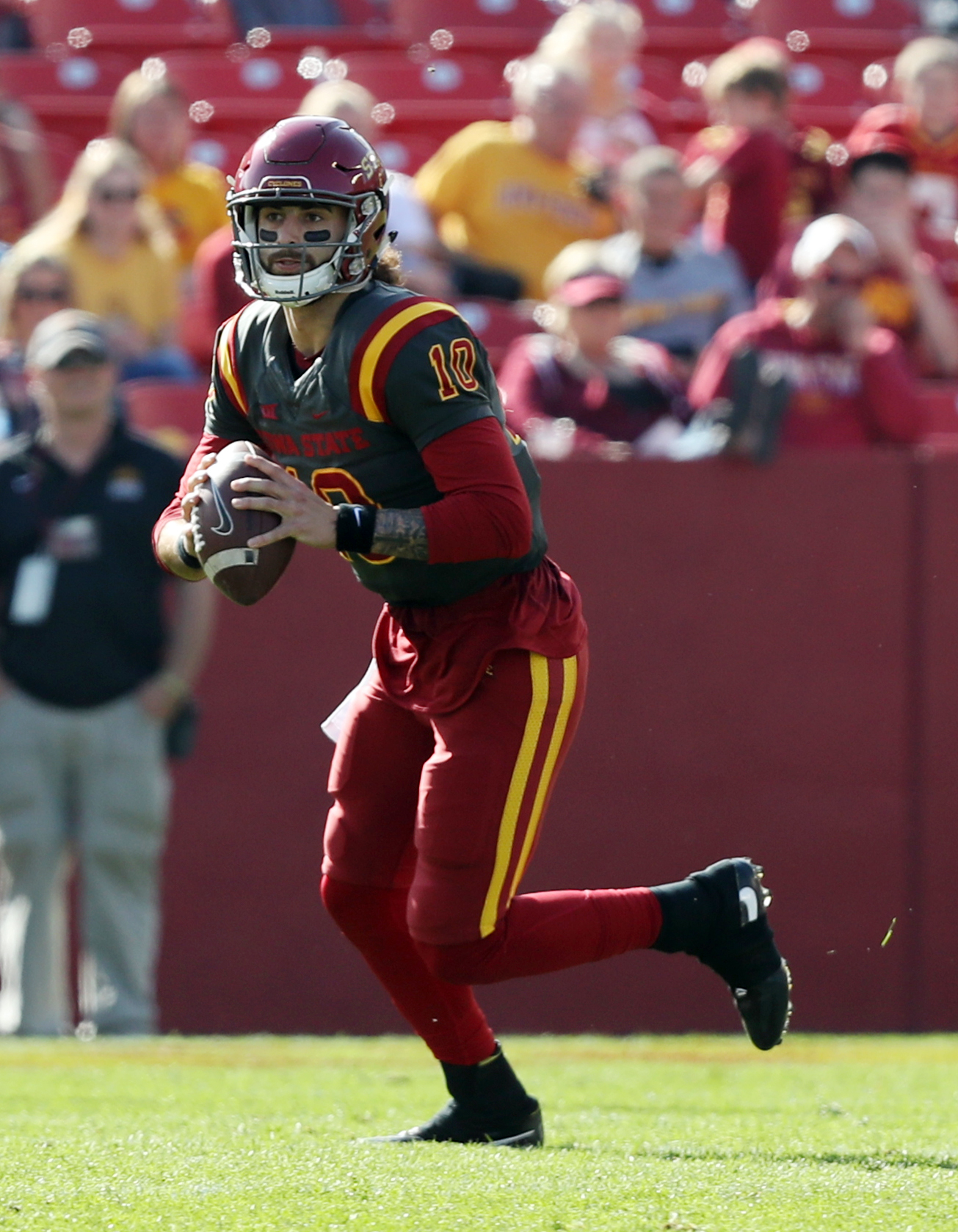 Then Jacob Park came in, threw an awful interception on his first series, and play the majority of the rest of the game.
HOWEVER – and this is what I'm hoping for – it finally seemed like Iowa State knew what it wanted to do with the two-headed monster (or something like that) at quarterback in the fourth quarter.
We were finally seeing Park in the middle of the field and Lanning inside the 20 and in short-yardage situations.
If you're going to play both of these guys (which Campbell seems hell bent on doing at this point), this is the way to do it going forward.
Park ended the day 19-for-35 throwing for 301 yards and two touchdowns. Lanning was 4-for-7 for 28 yards, but also led the Cyclones in rushing with 74 yards and a score.
Now bring on Bama.
I mean, Oklahoma, on Thursday night at 6:30 on ESPN.