Lots to get to this week.
Let's start with football and the quarterback position with a question from CycloneG.
CycloneG writes: Does Joel Lanning start every game this season?
CW: My gut says yes and in addition to that, I know how much the Campbell staff thinks of Iowa State's junior quarterback. I love Lanning's attitude. He's a bad ass. The kid is a winner.
Even so, the pessimist in me thinks that we still don't REALLY know if Lanning is a Big 12 quarterback or not. I don't blame his 1-5 record as a starter last season on him – not in the slightest. But like Sam Richardson had to own his record at Iowa State, so too does Lanning.
So how confident am I that he'll start every game? I'd say 75 percent or so. I have a lot of confidence in Lanning. But rumor has it Jacob Park has been impressive so far this summer according to one source, "didn't come her to sit on the bench."
Still, Park has been out of the game for going on two years. Lanning eat, sleeps and breathes football. That's why if healthy, Joel Lanning is my pick to be the guy for the entire season. 
CysRage writes: How different (if any) will Allen Lazard be used this year now that we have a whole new offense and Lanning is starting at quarterback this season? Will we see some downfield tosses unlike last year? 
CW: Because I think the new system will much more predicated on running the football, expect to see a lot more play action from the Cyclones in 2016. So yes, you might see more downfield shots because of that. I have my questions if Iowa State's offensive line will be good enough to consistently protect the quarterback for that long though.
I bet you will see Lazard in all sorts of situations though. Campbell is obsessed with "getting playmakers the ball." Hell, he could even line up as a tight end from time-to-time. The more touches Allen Lazard gets, the better off Iowa State will be. I think the new staff knows that and is making it a priority.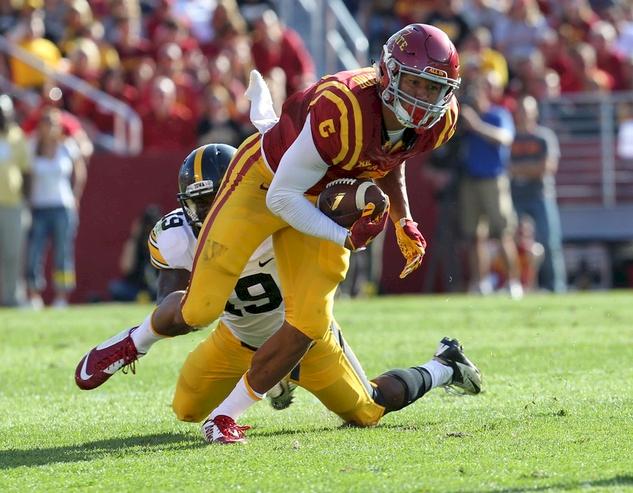 MeowingCows writes: Realistic expectations from Mike Warren this season?
CW: People forget that in his 1,339-yard freshman season, Warren barely played in Iowa State's first two games. When you consider that, a 1,500-yard sophomore campaign is very realistic.
I do worry about his durability though, mainly because of concerns with the line and Iowa State's lack of depth at running back. 
Realistic expectations? Probably stats similar (with hopefully more than five touchdowns) to last year.
Does the decommitment of Chandler bode poorly for others in next year's class, or is there no anticipation of a sort of "domino effect"?
CW: No. From what I understand, this was an isolated incident where a kid simply jumped the gun on his decision. I don't see a domino effect coming at all.
Gunnerclone writes: Realignment question: If ISU could jump to another conference such as the PAC-10 or the Big 10 but it would require us to take a "pay cut" for a certain number of years (let's say 5), plus pay an out fee to the Big 12, would ISU jump at that chance with the uncertainty that seems to hang over the Big 12 all of the time? Could we afford that if we did want to make the move?
CW: I think that Iowa State would be stupid to ever turn down an opportunity to join the Big Ten. Ever. But that Pac-12? That league arguably has more issues than the Big 12 right now. It's network – or lack thereof – is a total disaster. It's revenue is substantially behind the Big 12's. Plus, the geography would be a total pain in Iowa State's ass. 
In your hypothetical, yeah, I think Iowa State would have to take a long and hard look at a Big 10 offer (and jump at it). Depending on other scenarios (Big 12 future, who else is going, etc.), the Pac-12 option seems pretty unattractive to me (in addition to very unrealistic). 
Srjclone writes: What are the chances that Prohm reels in either Colin Sexton or Nick Weatherspoon?
CW: I wrote a pretty extensive column about Iowa State's basketball recruiting forecast earlier this week. If you guys missed it, please CLICK HERE.
I think Iowa State's chances with both of those young men are awfully slim though. Sexton won't be a Cyclone. It's just not going to happen. My guess is that Weatherspoon ends up at Mississippi State with his big brother.
Cmjh10 writes: If ISU went away, who would you rather cheer for. Iowa, Kansas, Mizzou, or Nebraska?
CW: Can I go with the Minnesota Vikings? 
Jcyclonee writes: If Busch Light changed its name to Hawkeye Light, what would you do?
CW: Quit drinking it. 
Im4cyclones writes: Where do Brad Paisley and Kenny Chesney rank in your hierarchy of country music? Do you consider them to be douchey?
CW: I have fond memories of both artists from my college years. In fact, I named my first dog, "Paisley." I think both artist hit the top of the mountain a long time ago and have had troubles staying relevant ever since. But not, those guys aren't douche country. Chesney is kind of playing in his own little genre these days. Paisley's new stuff is just plain bad. But when those guys were on, they were really good.
Maybe just a ranking of your top 10 country singers/groups.
CW: Off the cuff (current, not all-time)…And I'm going to do a top five as I really don't have 10 national acts that are deserving right now.
1 – Eric Church
2 – Justin Moore
3 – Chris Stapleton
4 – Dierks Bentley
5 – Jamey Johnson
501Clone writes: Can we get a picture of your jorts from this weekend?