Change can be a funny thing. It can be good, or it can be bad. On Monday morning, I encountered some change. 
My routine was thrown off when our publisher, Chris Williams, needed a ride while his truck got serviced. His needs coincided with the start of the Big 12 men's basketball teleconference, which started half an hour early this week. 
You might be (but probably aren't) asking yourself, "How did Jared get himself out of this conundrum?" 
Well, my friends, the answer is simple. The teleconferences are archived. 
Change is no match for me or the powers of the internet. Tie up your running shoes. It's time to take our weekly lap around the Big 12 teleconference. 
1 — How do you stop Georges Niang?
All nine coaches in the Big 12 not named Steve Prohm are asking themselves that question right now. It's starting to seem like a quesiton that doesn't have an answer. 
Niang put together one of his best performances in Cardinal and Gold on the road in a loss at Oklahoma on Saturday night. It feels like he's putting together a lot of games like that lately. 
Texas Tech's Tubby Smith and Baylor's Scott Drew are the next two coaches posed with stopping Niang, and they were asked that very question on the teleconference. 
"Normally there's not guys that are his size that handle and pass, and can score it inside and outside like he can. He has an unbelievable feel for the game. It's a tough matchup for you no matter what you do," Drew said. "If you put a perimeter guy on him he takes you inside. If you put a bigger guy on him he takes you outside. Because of that uniqueness it makes him very hard to defend. The other thing is he's an emotional guy, a great leader and passionate. I think he inspires his teammates. When he's going he's getting his teammates going and they're very tough to stop, and that's usually what's happening."
While that is very high praise for Iowa State's All-American, I think Smith took it a step further with a pretty interesting comparison. 
"He reminds me a lot of a guy I had by the name of Tayshaun Prince, who is still playing in the NBA. He was so versatile and could knock down outside shots," Smith said. "He's a real nightmare matchup for a power forward or a small forward. Then his ball handling skills, his passing skills, just his all around game, I've been more impressed with him than just about anybody we've watched this year. It will be a real challenge. Just have to hope he's not on top of his game."
In case you don't know, Prince is a 14-year NBA veteran with one NBA championship, an Olympic gold medal and four NBA All-Defensive second team selections. 
So yeah, that's pretty high praise.
2 — The West Virginia Mountaineers were one of the best teams in the league during non-conference play and hung around the top 15 for most of the first two months of the season. While that could have to do with a solid group of players, the league's coaches think it's about the greatness of Bob Huggins.
This year's nucleus of players got their first taste of the spotlight last season after Juwan Staten and Gary Browne both went to down with injuries. 
They took advantage of their opportunities by pushing Kansas to overtime at Allen Fieldhouse, and beating Oklahoma State at home. 
Monday, Bill Self was asked if he saw this team being good after what the saw from the group last season. He prefaced his answer by saying he did, but I'll let his words explain the rest. 
"I think that's a tribute to Bob as much as anything. The way that they play and his system allows guys to step in and play the role and be just as effective or almost as effective," Self said. "So that doesn't surprise me at all that (Jevon) Carter is terrific. I knew he's be terrific watching him in that game last year, and those other guys. I think that's a tribute to Huggs as much as anything."
OSU's Travis Ford was a little more direct with his answer. 
"Coach Huggins is going to do a great job with his team," Ford said. "It's not about personnel really."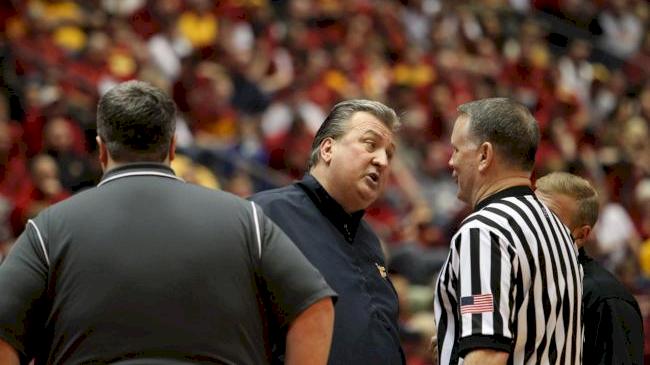 3 — Speaking of Coach Ford, he is a guy that is looking for someone to fill some pretty big shoes. 
The Cowboys will most likely be without senior guard Phil Forte for the rest of the season with an elbow injury that's held him out since Nov. 19. Forte was leading the team with 13.3 points per game when he went down, and likely would have raised that as the season went on. 
The injury is even worse for the Cowboys since they don't have many ways to turn. They are one of the most inexperienced teams in the conference, and were even with Forte. 
"There's not even a close second as far as experience on our team," Ford said.
OSU is 9-4 going into their game with Baylor on Tuesday night, but they'll need someone to step up if they hope to be a challenger in the Big 12 race.
"It's never the greatest scenario but you don't sit around and whine about it, cry about it," Ford said. "Nobody's going to feel sorry for you. It's never the greatest scenario but you move on and keep competing. I'm proud of our guys for doing that."
Look for senior guard Jeff Newberry to be the one the Cowboys lean on going forward. He had 23 points in their win over TCU on Saturday. 
Speaking of TCU…
4 — Remember a couple weeks ago when I wrote in the first lap around the Big 12 teleconference that Trent Johnson is one of my favorite human beings? It still holds true. 
I'm still asking myself if this guy likes his basketball team. This week, his issue was turnovers. 
"One of the big concerns for us coming into the year was our inability to take care of the ball and pass the ball," Johnson said. "Obviously if you look at our statistics we're holding true to form. We still have a long way to go in that regard."
The Horned Frogs lead the league in turnovers (198, 15.2 per game). They're eighth in turnover margin (surprisingly Oklahoma is last). Plus, they're last in assist-to-turnover ratio. 
Hey, at least the Frogs were able to move into their newly renovated gym!
5 — We're coming down the home stretch of our lap and we'll finish up in Morgantown, W.Va.
I must not have been the only one thrown off by the change in the start time for this week's teleconference as it took close to 10 minutes for Bob Huggins to answer his phone. 
It's not uncommon for a break in between coaches while they dial the next guy in, but there were several announcements saying they were still trying to reach Coach Huggins. 
Once he arrived, he was his usual self. He started by jokingly (I think) telling a reporter his team's week long road trip was "too long," but still a good trip as they picked up wins over Virginia Tech and Kansas State.
"We've tried to take them the movies and they enjoy each other. That part of it's really good," Huggins said. "They've gone to the movies together, they hang out together. But, it's been a business trip and they've been pretty good about taking care of business."
As any self-respecting human would ask two weeks after the release of Star Wars: The Force Awakens, the next question was if Huggins saw the movie with his team. 
"I didn't go," Huggins said. "I was watching my own film."
Probably for the best. I'm not sure the world is ready for Bob Huggins Star Wars conspiracy theories. 
Huggins only took two more questions during his time which allowed him to drop this line before he signed off. 
"That kills me that we have to cut it off this quick, but I understand," Huggins said. 
I feel the same way, Bob.