Immediately following Iowa State's 99-70 victory over Auburn on Monday night, I asked head coach Fred Hoiberg the following question:
"What does it say about your team when you score 99 points with Georges Niang and DeAndre Kane having relatively tame nights?" 
Niang only played 17 minutes (he fouled out) and collected a measly four points I the outing. Kane struggled from the field by going 2-for-9 with eight points. Both men notably recorded their season-lows in points. 
"I look at 28 assists on 33 baskets," Hoiberg said. "That's an unbelievable stat right there. It shows the unselfishness of this group and if we continue to play like that we are going to be a pretty darn tough team to beat."
"Unbelievable," I'd go with "mind-boggling," but whatever. Let's go with the Mayor's description. Unbelievable it is.
How this all occurred on Monday was fairly simple, really. Iowa State's top two point guards, Kane and freshman Monte Morris (below) combined to dish out 16 assists in the game. Meanwhile, neither man committed a turnover. Iowa State's 28 assists were a season-high. Iowa State's nine turnovers were a season-low.
Welcome to Basketball 101 people. Take care of the ball, share the ball, get better shots and score more points. It's that simple. 
"A coach likes to see that after the game," Hoiberg said about his point guard combo's 16-to-0-assist/turnover ratio. "Monte has got such a great feel. You look out there and our two freshmen are as poised as anybody on our team. He just is so good at getting the ball and pushing it down the floor. It's good to see DeAndre off the ball a little bit where he can attack." 
The impressive assist-to-turnover ratio wasn't just a one-time deal on Monday though. The numbers show that this has been the case throughout Iowa State's first six games this season, especially when you compare them to the first six games from last year's team that struggled early, but was a bad call away from going to the Sweet 16.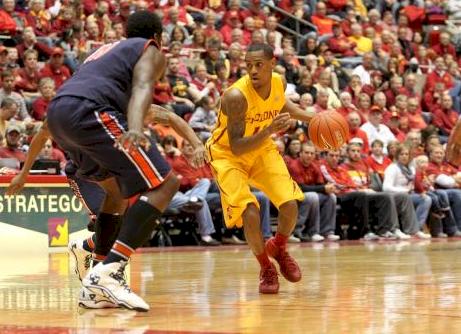 Consider the following: 
*** At this time last year, 51 percent of Iowa State's field goals had been assisted (93-of-183). This season, 63 percent of Iowa State's field goals have been assisted (123-of-195).
*** At this time last year, Iowa State had actually committed more turnovers, 96, than assists, 93. This year, the assist-to-turnover ratio currently stands at 123-to-67.
*** This year's team has dished out 30 more assists through six games compared to last year's. This team has also turned the ball over 29 fewer times.
*** The schedules from the two seasons are somewhat comparable, although I'd argue that this 2013 slate has been a bit tougher. In the first six games last year, Iowa State played Cincinnati (neutral) and UNLV (away) along with four cupcakes (two which were really, really bad). This year's schedule has played three cupcakes (all pretty bad), Michigan, at BYU and a home game against a bad SEC team.
But compared this year's Cyclones against the bad teams compared to last. For instance, last year's team had a 12-to-21 assist-to-turnover ratio in its opener vs. Southern. This year's team posted a 21-to-11 mark against UNC-Wilmington. Last year's team committed 17 turnovers to only 15 assists against North Carolina A&T. This year's team committed only 11 turnovers to 24 assists against UMKC. 
What does it all mean?
Night in, night out, this group has been focused, which I don't think we can honestly say about the 2012 bunch. When awful low-major programs roll into Hilton in the month of November, it is somewhat easy to take the first 15 minutes of a game off and put her on cruise control the rest of the way. With its razor-sharp focus, this year's team simply hasn't done that. It is an unselfish group that apparently has superb chemistry within it.
That, and I haven't once heard Hoiberg talk about the need to cut down on "home run plays."
None of the above guarantees a deep run in the NCAA Tournament come March, but it does prove that the 2013/14 Iowa State Cyclones are starting at a higher level than last year's team did.
If Iowa State keeps sharing the basketball at this pace, Fred Hoiberg's bunch is going to be a tough group to beat.