On last week's U.S. Cellular/Cyclone Fanatic Radio Show, I asked my co-hosts Brent Blum and Tron Smith who they thought would start at quarterback for Iowa State vs. North Dakota State in August of 2014.
As expected, the always conservative (and reasonable) Blum went with soon-to-be junior Sam Richardson (as did I).
Tron, the Alan Garner (pictured below) of our group (please tell me you've seen the Hangover movies), went on an entertaining rant about bringing in a junior college quarterback. Tron even came up with some wild and crazy name that this imaginary signal caller would go by (I fully admit to being too lazy to go back, listen in the podcast and figure it out – sorry).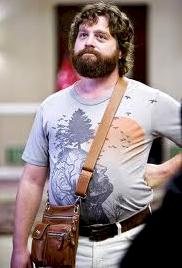 I don't know if Blum and I will end up being right, but I do know that Tron was wrong (take that big dude).
During his weekly Monday press conference yesterday, Paul Rhoads was specifically asked if he would go the JuCo route at the most important position on the field this winter. 
"No," the head ball coach said.
There you have it.
A week ago, Rhoads was very honest about the fact that an all out four-man quarterback competition is set to take place in Ames this spring. Richardson and Grant Rohach will be in the mix. As will freshmen (both are redshirting) Joel Lanning (pictured below) and Trevor Hodge.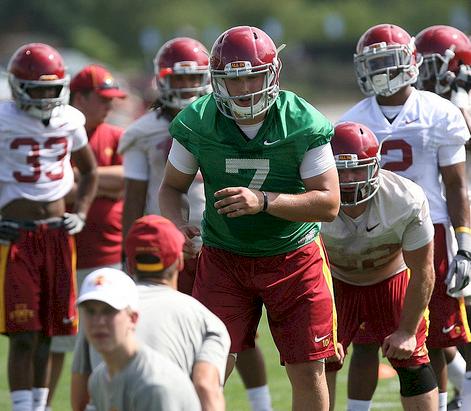 Rhoads was also asked to grade the development that has taken place at the quarterback position during his tenure at Iowa State. He gave a lengthy and detailed answer:
"The development is taking place at the position. You have to talk about the level of player and what we have tried to accomplish with the offense and what they have been surrounded with. Austen (Arnaud), I think when you look back, Austen gave us as much production as anybody. He was a starter that we inherited, had his deficiencies but led us to a lot of positives. Jerome Tiller, who was next in line, didn't quite have it in the end to be handed the reigns and be the guy. We went out and got a junior college player (Steele Jantz), got some inconsistency out of that. When you talk about development, you're not talking about a guy that you had as a true freshman when he came in. Jared (Barnett) came in and provided some sparks in his time and at the end, there were certain things that he maybe couldn't do as effectively as you need them done at this level. Sam (Richardson) got his opportunity and has made some things happen and at times hasn't and still is in that development phase that you are asking me to grade as a sophomore and Grant certainly as a redshirt freshman. I think it is an ongoing grading period. I don't think it is a high grade right now but I don't think it is a failing grade right now." 
This conversation of musical chairs and the quarterback position at Iowa State has become nauseating to some. If you are one of those people who is about to lose your lunch, go ahead and load up on the Zantac because you are going to need it. This quarterback chatter isn't going anywhere, anytime soon.
Unless it is Cam Newton…
…I am fine with Rhoads' plan to go with what he has got.
We all know that this year has been a disaster. But in his defense, Richardson hasn't been healthy all season. He's been hurt and playing with a patchwork offensive line in front of him. Rohach shouldn't even be out there right now and it is way too early to judge what he may or may not be two years down the road.
Then, there are the two kids sitting it out that nobody knows anything about other than the fact that they both put up some gaudy stats in high school (it is important to not that every Big 12 quarterback put up gaudy stats in high school). 
An important point to make about both freshmen: If Rohach isn't ready (which he clearly wasn't a month ago) as a redshirt freshmen, then how will Lanning and Hodge be good to go? The only way I see that happening is if one of the two is head and shoulders just a better football player than the guys in front of him. That would be an ideal situation for the program (you should always be recruiting over everybody, especially at quarterback) but hardly one that the program should rely on happening. 
Rhoads obviously believes in what he is doing at Iowa State. If that is the case, then there is no reason to bring in another Steele Jantz. That isn't the long term answer. Development is the answer. 
As noted, if you can get a Cam Newton (which Iowa State will not), then hell, go for it. But that isn't going to happen.
This offense has the off-season to figure it out because in 2014, the excuses are gone. This group has to produce and it all starts with the one guy who touches the ball every play.