By Brent Blum, CycloneFanatic.com ColumnistFollow Brent on Twitter @BrentBlum
The NBA Draft is unquestionably one of my favorite evenings of the year. It is part reality show, part soap opera. It is essentially a poker game with 6'8 dudes – gambles, bluffs and drama.
During the 2009 NBA Draft, I was working for the Orlando Magic in their broadcast department. The Magic had just completed their season, losing to Kobe and the Lakers in the NBA Finals the week prior. (Derek Fisher, who I think was 47 at the time, made a dagger of a three in Game 4 that changed the entire series, I still have nightmares of that south pawed old man.)
Orlando didn't have a pick during the '09 draft so the office was pretty quiet during draft day. It was about 4 p.m. and I was about to take off for the day when I got a call from my pal in the Basketball Operations department.
"Hey Blum, I'm thinking you guys should hang out at the offices for a bit longer, some (stuff) is going down."
Indeed some (stuff) was going down. This was in the early stages of Twitter, so those of us in the broadcast department usually knew big moves ahead of time so we could set up for the press conference that would assuredly follow. That's when the email headline came: "We just got Vince Carter."
In a swing for the fences move, Orlando traded Courtney Lee, Tony Battie and Rafer Alston to New Jersey for Vince Carter (and his massive contract) and Ryan Anderson.  What most didn't realize is Courtney Lee was one of Dwight Howard's best friends and this was the first of many moves that upset the big fella – yes NBA players can act like teenage girls – three years later Dwight is still angry and the Magic are in the process of starting from scratch.
Long story short, on NBA Draft night (stuff) goes down.
So what does this mean for Royce White? The Draft is a crap shoot. Unless you are Anthony Davis, nobody can be 100 percent sure where they will end up. It's an unsettling thought to not know where you are starting the next chapter of your life, but I'm sure Royce is embracing the uncertainty and will take this challenge head on like he has everything else thrown his way.
Royce signed with Iowa State on July 12th, 2010 amidst a heap of uneasiness from many. In less than two years, he has gone from message board question mark to Cyclone legend.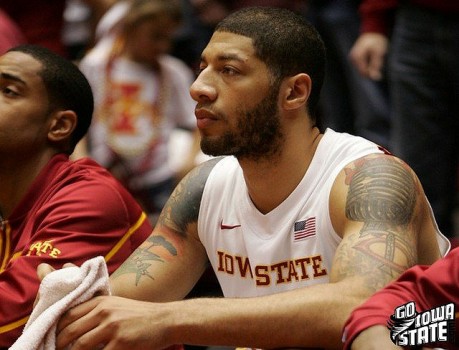 It is hard to find another player who made a greater impact at Iowa State in such a short period time. Royce was the first Cyclone mega star of the social media era.
When he first stepped on campus, the rumblings began – this kid is different, this kid is good. Then followed the emerging tales of the fabled '10-11 scout team, AKA "The best scout team in America," destroying the starters in practice and Royce doing things you had to see to believe. The drum beat grew louder and the public finally got to see Royce during last summer's Capital City League. During the first few weeks of the CCL, he pretty much refused to shoot. At one of the early games I was at, he told a member of the basketball staff, "My goal is to get 18 and 10. Eighteen rebounds and 10 assists."
Who does that? Nobody knew whether to be baffled or encouraged. But the talent was evident.
It was if he was toying with all of us; this was just a preview, the big show began in November.  Still the questions remained. Will Royce live up to the hype? What is this guy really like?
On one of the first possessions of the exhibition game against Grand Valley State, Royce got a rebound and began his freight train move down the court with the Grand Valley big guy backpedaling like he was Jeremy Reeves. Royce crossed him over, flipped in an easy layup and drew a foul. The crowd took a second to gather themselves with a collective astonishment; "Whoa, did that just happen?"
And those moves became the norm. Every game you expected the absurd and Royce delivered. Royce and Seneca Wallace are the only two Cyclones I can recall who had the biggest, "I don't want to go to the bathroom and miss something" quality. He had more highlights in one year than pretty much any athlete has had in their entire career in Ames. And he did with a personality that was equally fascinating.
People use words like "enigma" to explain something they can't easily explain. "Different, strange, eccentric, mysterious, odd" all fit into this category as well. When I first saw Royce play and listened to his interviews, I used these same code words. He didn't fit into anybody's mold. He did things that didn't make sense. Who is this guy? I even threw out a Manny Ramirez comparison at one point, "Just Royce being Royce." I now regret doing that. It was the easy way out and completely unfair. We need more athletes like Royce White. Heck, we need more people like Royce White. Not to be overly dramatic, but in some way, Royce challenged Cyclone Nation to reassess how they view "unconventional" things. He challenged the normal and paved his own path.
There have been very few who have played in Hilton that endeared themselves to the fans as much as Royce did. Good luck finding one Cyclone fan who isn't a Royce White fan. Regardless of his NBA success, his short stay in Ames will be warmly remembered by all of us who got to experience it and then re-experience it with the multitude of YouTube videos. It was truly an awesome five months.
Royce White is about to begin his next chapter in his professional basketball career. NBA personnel and the talking heads on ESPN will undoubtedly label him as unique and quirky. They will bring up the same question marks Iowa State fans had when Royce first stepped on campus. They will attempt to find NBA comparisons for him – the closest I can come up with is a giant Rajon Rondo. But those who got to see him wear the Cardinal and Gold know that boxing Royce into a neat packaged label is a waste of time. He can't be defined so easily. No matter where he ends up or how much success he has, Royce White will carve his own aisle, he will do it his way.
But there is one label that I hope Royce can get accustomed to; Forever a Cyclone.
Good luck Royce, we all are watching.