By Chris Williams, CycloneFanatic.com PublisherFollow Chris on Twitter @ChrisMWilliams  
Spring football 2012 is behind us. The "off" season of college athletics (well, at least the ones that we cover significantly on this site) is now officially upon us.
That's that. I'll see you all in August….
T
H
A
T'
S
A
J
O
K
E
Relax. CycloneFanatic.com isn't going anywhere. In fact, we're going to use this "off" season to make the site bigger and better for you in 2012. All for free of course. I'll touch more on those details at a later time. I've got a lot on my mind today. Let's start with my thoughts on…
CYCLONE FOOTBALL…
— If I came on here today and told you that Saturday's spring game was exciting, I'd be a flat lying cur dog. (That genius line comes from the American cinema classic Pure Country featuring King George Strait. Thank you very much.)
To call Saturday's scrimmage "boring" would be bit of a stretch. It wasn't boring. I mean, we did still all get to finally see the Sam Richardson's, DeVondrick Nealy's and Quenton Bundrage's (This is why I love spring football. Because the young guys are very relevant. We won't be discussing the 7th and 8th wide receivers on the team when fall camp arrives in August) of the world in person for the first time.
Bland is a better word to describe what the estimated crowd of 5,000 fans saw at Jack Trice Stadium on Saturday afternoon. That's not a bad thing either. I mean come on. Did you really expect anything else? Bland is what you should expect in a spring game. The only person who should be upset about this is the Tulsa wearing an Austen Arnaud jersey in the stands (Don't laugh. It probably happened).
To sum up the spring game, the defense looked sharp. Iowa State's secondary flew to the ball. The linebackers looked fast and athletic. The line constantly put pressure on the quarterbacks and running the football was next to impossible.
Having said that, since the end of the scrimmage I've heard over and over again about how Saturday wasn't a great representation of what the spring was actually like. This is a good thing considering that the defense has been playing without the likes of Jake Knott and Jeremy Reeves for the last three weeks. You'd hope that the offense would have the upper hand right?
I'll write more about spring ball and kind of put a cherry on top of it in the coming days.
— Two coaching moves that I love from the last 365 days are…
1) Redshirting Ernst Brun (below) at tight end and…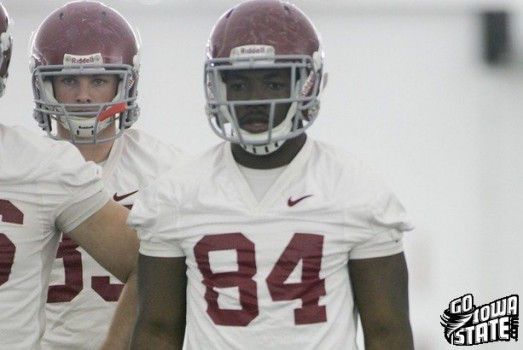 2) Playing defensive end David Irving as a true freshman.
Brun wasn't ready last season. He's developed mentally and physically over the last year and by all means should be a contributor in 2012.
Some might look at the amount that Irving played as a true freshman and ask, "Was that freshman campaign wasted?"
No it wasn't.
Paul Rhoads knew that guys like Pat Neal and Jake Lattimer would be gone for 2012. He knew that he would need Irving to be a player this fall. Irving, who didn't start playing football until his junior season of high school, saw the speed of the Big 12 in 2011. With a player this raw, it's hard to make any guarantees for next season but now that he's been to the show, the chances of him being a difference maker are a lot higher than if he was coming off of a redshirt.
CYCLONE BASKETBALL…
— This is why there is no "off" season in this business. It's about to get busy when it comes to basketball recruiting. Let's start here.
Jarrod Uthoff. What in the world is going on Wisconsin?
I heard this rumor (I didn't report anything. I chose to wait and see.) on Friday and it was confirmed over the weekend that Uthoff, the state of Iowa's 2011 Mr. Basketball, was given a restricted release by Wisconsin that kept him from going to any Big Ten school along with Marquette and you guessed it, Iowa State.
Iowa State? Excuse me?
Iowa State and Wisconsin don't have any games scheduled in the future (that we know of). Does the recruitment of 2013 stud Matt Thomas (This one will likely come down to Iowa State and Wisconsin in my opinion) have anything to do with it? That's the only relevant connection between the two schools that I can think of.
Uthoff can appeal the restrictions if he wants to.
Stay tuned.
Meanwhile, in news that shouldn't surprise anybody, Uthoff already has a visit scheduled to Creighton. Greg McDermott heavily recruited Uthoff while he was at Iowa State.
— I'm hearing that Norvel Pelle is close to scheduling a visit to Iowa State.
— Over the weekend, the New York Post reported that Iowa State has offered Hassan Martin, a small forward out of Curtis High School in New York.
— On Friday, I wrote that Iowa State was a long shot to Marquette regarding Arizona State transfer Trent Lockett. After the weekend, I'm writing that Iowa State is in a better position today. I won't go as far to call Iowa State the favorite though. How's that for vague?
— Here's a non recruiting thought for you. I saw a thread a few weeks ago where the poster asked if incoming Cyclone Georges Niang would "replace" Royce White next season. Please do yourself, Fred Hoiberg, Niang and everybody a favor and quit thinking this way.
Royce White cannot and will not be replaced. Putting those expectations on a true freshman isn't fair.
Is Niang good? Yes. But he's not a 6-foo-7, 270-pound point-forward with Derrick Rose's ball handling skills like Royce.
Royce White was the perfect basketball player at the perfect time for this program. No point guard? No problem. Give Royce the ball. The point is, even if Royce would have returned for his junior season, he wouldn't have had the ball in his hands nearly as much with Korie Lucious' (below) presence. So to expect anybody to "replace" him is a dangerous thing to do.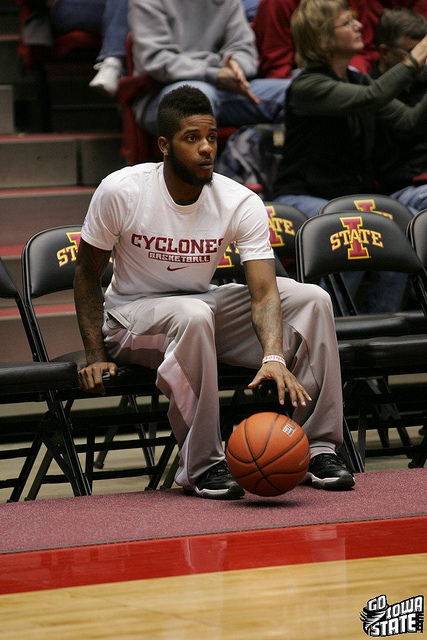 RANDOMS…
 — Cy's House of Trivia is one of my favorite nights of the year. What an incredible event! I'm proud to report to you today that team CycloneFanatic.com/Wilson Toyota improved this year. After finishing a disappointing 87th of 88 a year ago, we worked our way up into the top 65 this season, with a strong 63rd place finish. Props to Bryant from Buffalo Wild Wings. Dude is a trivia guru. He carried us…
— The most pointless column in sports journalism is? The way too early preseason basketball top 25 the day after the national title game. As the kids like to write on Twitter, SMH….(That mean's shake my head old timer).
— Does former American Idol winner/country singer Scotty McCreery drive anybody else absolutely bonkers?
That's a perfect note to end this thing on. Later gators.