By Chris Williams, CycloneFanatic.com PublisherFollow Chris on Twitter @ChrisMWilliams 
AMES — The following statistic should bring a smile every Iowa State football fan's face.
Through the program's first seven spring practices of 2012, Steele Jantz, Jared Barnett and Sam Richardson are completing over 60 percent of their passes in scrimmage situations, 7-on-7's, etc.
"You have to do that I think today in any offense and certainly in an offense like ours where a number of those passes are what should be gimmes if you will," said Paul Rhoads after Saturday's scrimmage at Jack Trice Stadium. "The thing I am looking for is the decision making in both the run game and the pass game to go along with that throwing accuracy. All three of them are capable of doing things with their feet. I don't think that is something that is going to separate any of them."
Last season, Jantz completed 53.3 percent of his passes while Barnett's completion percentage was right at 50.0.
As far as the quarterbacks go this spring, it's a so far, so good type of situation. In fact, the competition to be Iowa State's starting quarterback against Tulsa on Sept. 3 is so tight that Rhoads stated, no, Rhoads guaranteed what most of us already knew.
"I can guarantee that I won't have any kind of an answer at the end of 15 (spring practices) either," said Rhoads.
So there you have it. Steele Jantz, Jared Barnett and Sam Richardson will take "Quarterback Competition 2012" into fall camp.
"Making the right reads in the run game and making the right reads in the pass game and directing the other 10 guys is what I'm looking for," said Rhoads. "I think they are all doing a good job. Nobody has certainly separated themselves right now."
WR'S STOOD OUT: Rhoads surprisingly singled out Iowa State's group of banged up wide receivers as a group that impressed him on Saturday. With only five scholarship receivers able to practice because of a rash of recent injuries, Rhoads said that Iowa State's offense didn't miss a beat.
"You've got a number of guys who are trying to earn spots on the travel bus whether it be via special teams or as a receiver who can catch passes," said Rhoads. "Those guys showed up and allowed us to run our offense and not just say okay we don't have this or we don't have that, we have to limit our play selection."
After a rocky beginning to the week, walk-on/Nebraska-Omaha transfer Justin Coleman had another impressive day.
"He's been dropping a lot of passes," said Rhoads. "I just had a very blunt comment for him the other day as we walked off of the practice field. I said: 'Are you going to be a special teams player because you can't catch the ball or are you going to be able to help us in multiple spots?' He went out today and Thursday and caught a bunch of passes. That was very pleasing to see him do that."
Rhoads also mentioned redshirt freshmen Quenton Bundrage and Tad Ecby (pictured below) as names that were impressive during the scrimamge. He praised former quarterback, now wide receiver Jerome Tiller as well.
"Jerome Tiller I thought made a couple of nice concentration catches," said Rhoads. "Sometimes when you are still young at the position like he is, you can turn to the guy who is trying to tackle you first instead of catching the ball. I thought that he had great concentration out there."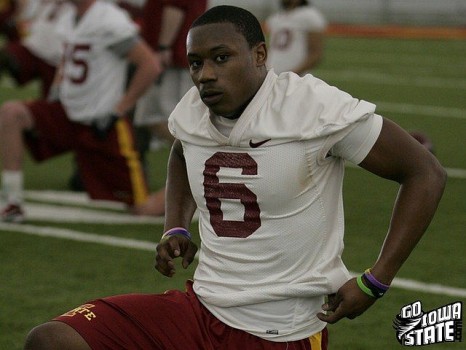 THE DEFENSE: In a day when the offense dominated the post-scrimmage conversation, Rhoads praised his defense for its efficient tackling.
"I don't know what the total number of misses is going to be but I thought we tackled pretty good," said Rhoads.
Iowa State's defense only forced one turnover in the scrimmage but keep in mind that guys like Jake Knott (LB), Jeremy Reeves (CB) and Roosevelt Maggitt (DE) did not practice due to injuries.
"We didn't create turnovers," said Rhoads. "When you're playing against yourself, there's always a winner and a loser in that battle. The fact that the offense won pleases me more than that the defense didn't create the turnovers. The intensity on that side of the ball matched the offense and I thought it was really good."
RHOADS RECAPS THE SCRIMMAGE…
"There's so many things that take place on the field and so many things not to judge too quickly until you see the film but the thing I was able to address was that we had three total penalties with 120-some snaps, close to 140 if you count some pre-practice special teams stuff in day number seven. That's pretty impressive. One of those was a coach mistake on a substitution. We only turned the ball over once and that was the last place of the scrimmage in a two-minute situation where we were in a bad down and distance situation. Those things really stuck out to me today. I thought that we had great intensity."
INJURY REPORT
— Third string free safety Darian Cotton broke his thumb in Saturday's scrimmage. Cotton, a 6-foot, 172-pound redshirt freshman, will miss the rest of the spring.
— Rhoads said that he expects senior wide receiver Chris Young to be back and practicing at 100 percent on Tuesday after suffering a concussion last Saturday.
— Regarding redshirt freshman wide receiver Ja'Quarius Daniels, Rhoads said the he caught balls with the training staff after the scrimmage. That's usually a sign that a guy is close to being back. Rhoads expects Daniels to be back on the field sometime next week.
— Senior defensive end Roosevelt Maggitt appears to be making progress. Rhoads said that Maggitt is now participating in "football drills." Maggitt is recovering from multiple knee injuries over the last year.