By Chris Williams, CycloneFanatic.com PublisherFollow Chris on Twitter @ChrisMWilliams 
AMES — Iowa State (19-8, 9-5) swept Oklahoma (13-13, 3-11) on the season with an 80-69 win on Saturday and like the first time that these two teams met on Feb. 4 (a 77-70 Iowa State victory), Royce White was virtually non-existant on when it came to scoring the basketball.
White only attempted one field goal in the first win. Iowa State's leading scorer only tallied four points the second time around, but the Cyclones as a whole were unselfish, recording 20 assists (a season-high in league play) on 28 field goals.
Senior guard Scott Christopherson had a lot to do with that. Due to foul trouble, White only played nine minutes in the first half and as a result, much of Iowa State's ball-handeling duties were left to Christopherson, who scored 25 points in the win, including the 1,000th of his college basketball career.
"He gave us great leadership," said head coach Fred Hoiberg. "He did a tremendous job of getting the ball and moving it around. He did a great job using ball-screens. He really did a good job of picking and choosing when to take shots."
Chris Allen dropped a quiet 16 points for the Cyclones. Christopherson and Allen combined to go 9-of-15 from 3-point range in a game that the Cyclones went 11-of-22 as a team from behind the arc. Iowa State went 15-of-30 earlier this season in Norman.
White picked up his fourth foul with 12:17 to play and Iowa State responded by going on a 15-6 run to go up by 18 with 8:43 to play. That was all she wrote.
BOX SCORE: Iowa State 80, Oklahoma 69
PLAYER OF THE GAME
Chris Babb – How do you not give Player of the Game to the guy who dropped 25 and also reached the milestone of 1,000 points you ask?
When a guy holds a scorer like Steven Pledger to a 2-of-11 shooting performance and only seven points, you give that man some props.
Finally, junior Chris Babb is CycloneFanatic.com's Player of the Game.
"He was unbelievable in that first half to make Pledger take extremely difficult shots," said Hoiberg."He is definitely an All-Big 12 defensive player and he continues to go out and prove that on a nightly basis."
Babb's nasty defense is something that Hoiberg has come to expect throughout the course of this season. On a nightly basis, Babb is given one man (usually the opposition's top scorer) to shut down and for the most part, he's batting one-thousand on the year.
Pledger entered Saturday's game as the Big 12's fourth leading scorer, averaging 17.3 points per contest. Babb appears to have Pledger's number, as he held him to a 5-of-14 performance in round one.
Offensively, Babb went 2-for-3 from the field, scored five points and snagged six rebounds.
THREE UP
Scott Christopherson – His 25 points and five 3-pointers both totaled season-highs. Christopherson joined Iowa State's 1,000 point club on Saturday and played one of the best games of his career at the same time.
"He can do a lot of different things on the floor," said Oklahoma head coach Lon Kruger. "You have to certainly respect his ability to shoot the three because he does that very well. That make him even quicker off of the dribble and he does that very well. He's a guy who puts a lot of pressure on you defensively on every possession."
It was the eighth 20-point game of Christopherson's career.
After the game, Christopherson didn't talk much about his feat. His eyes are focused on a much larger prize.
"If we keep finding a way to be successful these last four games, I will definitely remember playing in the NCAA Tournament for the rest of my life," said Christopherson. "It's something that I take a lot of pride in and it is something that I am striving for."
Young frontcourt – Without White (foul trouble) and Anthony Booker (did not play) for the majority of the game, Iowa State used a patchwork frontcourt to not only dominate the glass, but keep Oklahoma's stingy big men in check as well.
Sophomore Melvin Ejim and freshman Percy Gibson scored 10 and 11 points respectively and with White only playing 23 minutes, both men were critical to Iowa State's success.
Ejim went down with a shoulder injury early in the first half, only to return to lead Iowa State in rebounds (14, an individual Big 12 best) and all but eliminate Oklahom'as Andrew Fitzgerald from the game.
"I really thought that he set the tone, him and Babb on that defensive end were awesome," said Hoiberg.
Fitzgerald scored a career-high 27 points against Iowa State the first time. The junior went 1-of-5 and was held to a measly two points on Saturday.
"A lot of that had to do with Melvin's defense," said Hoiberg. "Every shot that went up, Melvin was getting that rebound."
Ejim's game did hit a couple of rough patches on Saturday. There was the incident where he dinged up his shoulder in the first half. Most importantly, Ejim was ejected late in the game for putting a couple of forearms into the chest of an opponent. Hoiberg said that he does not expect any sort of a suspension to be coming Ejim's way from the Big 12 Conference.
"It was an incident that did not instigate a fight. There was no punches thrown and it was below the neck. We don't anticipate any further action with Melvin," said Hoiberg. "We talked after the game that it was a learning experience for our team. Usually they catch the second guy. You have to find a way to walk away from situations like that."
For more on Ejim's ejection and injury, CLICK HERE to view a video interview with the sophomore conducted by Randy Peterson of the Des Moines Register.
Meanwhile, rookie Percy Gibson is 8-of-11 from the field in Iowa State's last two games. In addition to his 11 points, Gibson snagged a career-high seven rebounds in the win.
"He just such a good job of finishing around the rim," said Hoiberg. "He's so crafty down there. I thought that his defense was solid today. That's an area where he needed to get better and he is definitely growing on that end of the floor."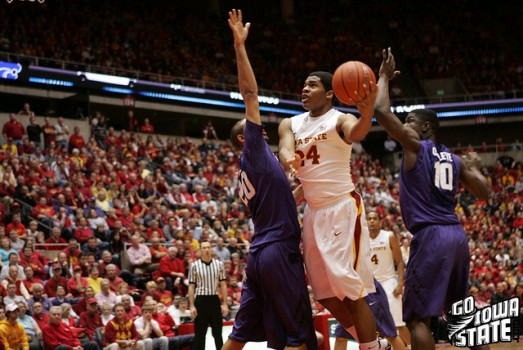 Rebounding –  The first time these teams played, Oklahoma won the rebounding battle 38-29. Round two couldn't have gone any differently as Iowa State dominated the Sooners on the glass 40-28.
Specifically, Oklahoma grabbed 12 offensive rebounds and 14 second chance points in round one. Iowa State limited the Sooners to seven offensive rebounds and only eight second chance points this time.
Note that entering the weekend, Oklahoma was statistically the Big 12's second best rebounding team.
THREE DOWN
Turnovers – If you want to get picky, Iowa State did look awfully sloppy with the basketball at times. The Cyclones turned the ball over 17 times compared to only 12 by the Sooners. The Sooners scored 17 of their points off of Iowa State turnovers.
Anthony Booker – Jordan Railey saw three minutes of action on Saturday. Junior Anthony Booker never left the bench.
Why?
"It was just a coach's decision," said Hoiberg.
Okay then.
Oklahoma's skid – With the loss, Lon Kruger's Sooners have now lost six straight games and things won't get any easier from here. Oklahoma will host rival Oklahoma State on Wednesday before taking road trips to Baylor and Texas.
NOTEBOOK
— Sophomore guard Bubu Palo (wrist) was cleared to play on Saturday but did not.
"We just decided that he probably needed a little more practice time and you know, use him if we absolutely needed him," said Hoiberg.
— Hoiberg said that Melvin Ejim's shoulder was "sore" after the game.
"He's iced right now and he'll see doc tomorrow to make sure everything is okay," said Hoiberg.
— Chris Allen's four steals totaled a career-high.
— Iowa State is now 15-1 when scoring 70 points per more in a game and 8-0 when reaching 80.