By Brent Blum, CycloneFanatic.com ColumnistFollow Brent on Twitter @BrentBlum
I am not exaggerating when I say that NBA Draft day is a holiday in my household. As one of the self-proclaimed four NBA fans in the state of Iowa, it is easily in my top three days of year. It is the ultimate reality show — complete with a rambling Stuart Scott and foreign shot-blockers named Bismack Biyombo, who may came from the Danny Almonte school of birth certificates. One of the many layers of intrigue in this year's draft.
So when Chris Williams gave me the opportunity to share my thoughts on the Draft festivities — it was like giving a cell-phone camera to former New York Congressman Anthony Weiner. I couldn't pass up that opportunity.
Back in the mid-90's while most children my age were playing with their GameBoy Color's or watching the Rugrats, I was stuck to my TV fretting over Vancouver selecting Bryant "Big Country" Reeves with the sixth overall pick in 1995 and wondering if Yinka Dare was really the answer for the New Jersey Nets at pick No. 14.
I tried to mimic Michael Olowokandi's jump hook on my nine foot tall basket before Draft night in 1998. I think I was about as successful as he was.
Now, I could be like every other generic blogger and do a mock draft of what I think will go down. But you all would probably rather read the Gene Chizik book. So here are a couple angles you probably won't hear from the very bouncy  Chad Ford.
Diante Garrett: NBA Draft Pick?
Garrett's climb from mediocrity to All-Big 12 performer has been well documented. As I wrote about at length in January, his maturation as an offensive threat was remarkable. Garrett's numbers are now littered throughout the Cyclone record books. He ended his Iowa State career with over 1,300 points and 600 assists — joining Kansas' Kirk Hinrich and Texas Tech's John Roberson as the only three in Big 12 history to accomplish that feat.
It is very likely that he will add NBA Draft pick to his burgeoning resume.
It also would continue a special streak for Cyclone basketball. If Garrett is selected, that means there has been a future NBA Draft pick on the Cyclone roster every year since 1981. (Barry Stevens '81-85, Grayer '85-88, Alexander '88-91, Hoiberg '91-95, Cato '95-97, Fizer '97-00, Tinsley '00-01, Vroman '02-04, Blalock '04-06, Johnson '06-07, Brackins '07-10, Garrett '11. Although no player on the 01-02 team played in NBA, technically Tinsley played in the spring '01 and Vroman the fall of '02.)
And you better believe Hoiberg and the 'fellas are using that as a recruiting tool. They may as well add this nugget of info as well:
Iowa State has had seven players drafted since the inception of the Big 12. Only Kansas (15) and Texas (11) from the Big 12 have had more players drafted in that time period.
It'd be fitting to see the 10th Iowa State player selected in the Big 12 era be none other than #10 himself — Diante Garrett.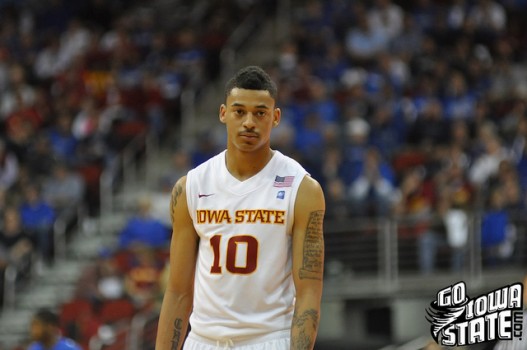 Big 12: Well-Represented
It appears the Big 12 could have anywhere from seven to 10 players drafted on Thursday. And the conference will most likely have five of the top 20 picks. (In this order — Marcus Morris, Tristan Thompson, Alec Burks, Markieff Morris, Jordan Hamilton).
For those curious, the Big 10 will probably not have a player selected in the first round. And this was supposed to be an "up" year in Big 10 basketball talent. (Yes — I'm aware Ohio State's J.J. Sullinger would have been a top five pick if he would have declared).
I'm sure the dynasty that is Nebraska basketball will fix this problem. (The last two Huskers selected in the NBA Draft were Tyronn Lue in 1999 and Eric Piatkowski in 1994).
With Kansas and Texas each losing two top 20 picks, it means the Big 12 race in 2011-2012 is wide open. But don't fret. There is plenty of talent staying in what will be a ridiculously tough basketball conference.
Baylor has potentially two top five picks in the 2012 Draft (sophomore Perry Jones and freshman Quincy Miller — think the Coke Zero version of Kevin Durant.) Unfortunately, Scott Drew is the Hugh Heffner of college basketball. Surrounding him with talent feels like such a waste.
Kansas returns forward Thomas Robinson (a borderline lottery pick) and a guard court of Tyshawn Taylor and Elijah Johnson- both NBA talents if they keep their head on straight.
Texas brings in Canadian Myck Kabongo who is perhaps the most exciting point-guard to enter the league since T.J. Ford. A definite lottery talent.
Oklahoma State quietly picked up the soon-to-be newest marquee name in the conference in 6-foot-7 freshman highlight-reel, LeBryan Nash. The Dallas native possesses stupid hops and is projected as a lottery pick if he can develop any semblance of a jump-shot.
And Texas A&M returns versatile junior forward Khris Middleton — a sneaky first round talent.
We are all aware of the infusion of depth Hoiberg and the gang brought on campus as well. Royce White and Chris Allen aren't anywhere to be found on 2012 Draft boards at the moment, but neither was Diante Garrett at this time a year ago. White has a higher ceiling than Allen. That said, Allen has the ability to put up some big numbers this season and at least get a look from some NBA scouts.
The initial reaction is the Big 12 will be "down" next season because of the loss of talent. But this league will be a 10 team, 18-game slug-fest. And Iowa State will be right in the thick of things. November can't get here soon enough.  Which is interesting, because of the looming NBA lockout, college basketball may be the only game in town.
I realize the NBA isn't the most popular sport in our great state of Iowa, and the LeBron drama certainly hasn't endeared many to the game. But treat yourself and watch the charade that is the NBA Draft. There will be a high volume of foreign born players selected this season which should only add to the entertainment factor. Just think in the first 10 picks we could have:
1. A Duke point guard who played all of 11 games in his freshman year.
2. A BYU gunner who has a Tebow-ian star quality and has generated extreme reaction from NBA decision makers because he may not be able to guard John Lickliter.
3. The star of the NCAA National Championship team who would measure as one of the top five shortest players ever selected in the top 10 of the Draft.
4. A couple foreigners that only Fran Fraschilla has ever actually watched — including a Lithuanian center that probably won't play in the states until 2012 — but may be the best player in the Draft.
5. The Timberwolves selection. They could select Arizona forward Derrick Williams — a solid 15 and 7 guy throughout his career. But they already have Kevin Love and Michael Beasley at essentially the same position. They are a big wild-card and could swing the entire draft. Heck, Timberwolves GM David Kahn may pick one of the 11-foot humanoid creatures from the movie Avatar. You just never know with him.
One thing is certain. It is sure to be an interesting evening.