By Chris Williams, CycloneFanatic.com Publisher
Follow Chris on Twitter @ChrisMWilliams
Welcome to what is about to be a crazy-busy week here at CycloneFanatic.com. I'll begin today by apologizing right from the start. If I am in a bad mood, it is because yesterday, I was forced to watch a flurry of chick flicks yesterday with my wife.
Bulls vs. Heat? Nope. NASCAR at Las Vegas? No sir. Missouri Valley Championship game? I don't think so.
"Dear John"? DING DING DING.
"He's Just Not That Into You"? Yeppers.
For the most part, that was my Sunday. Now, maybe you will understand my frustration. That my friends is what I get for heading to Kansas City this week for the Big 12 Championships. I'll be on the road bright and early tomorrow morning. Here's what else is on my mind today.
–       There seemed to have been a little bit of confusion regarding 2012 Iowa State men's basketball target Nkereuwem Okoro on Friday afternoon, when conflicting reports were published by CycloneReport.com's Paul Clark and myself. According to Clark's Twitter feed, Okoro told him that he didn't have any favorites at this time. As clear as day, Okoro told me two times that Iowa State is currently on the top of his list. I don't know why prospects do this, but it does happen from time-to-time. Telling two reporters two different things isn't uncommon at all in the world that we live in. I just thought I'd attempt to clear this up. Paul is sticking with his report. I am sticking with mine. Stay tuned.
–       Here's one more tidbit on Okoro. Why kind of a player is he? Think Melvin Ejim and Anthony Odunsi. He's a very smart, well-spoken, athletic prospect who is the perfect mix with the large amount of transfers that are about to begin playing for Fred Hoiberg's program. The men that I listed above are all solid, four-year players who Iowa State's coaching staff won't ever have to babysit in Ames. The best thing about it is that they're quality players who will fit perfectly in Hoiberg's system. Critics only seem to point out the transfers that Hoiberg has recruited. I rarely hear people point out guys like Odunsi, Ejim or Tavon Sledge.
–       Is Gary Payton's kid really coming to Iowa State? If he is, my sources don't know anything about it.
–       I've got one more men's basketball recruiting note for you today. One of the prizes of Iowa State's 2011 recruiting class, Cowley C.C. combo-guard Tyrus McGee, was recently named as his league's player of the year. McGee is currently averaging 20.4 points, 2.3 steals, 5.9 rebounds and 3.4 assists per game. CLICK HERE for more.
Join Tron Smith, Iowa State associate head coach T.J. Otzelberger, Iowa State women's basketball assistant coach Billy Fennelly and me tonight on 1460 KXNO/KXNO.com for the CycloneFanatic.com/Wilson Toyota of Ames Big 12 Tournament Preview Show. We'll be on the air from seven to eight and of course, I'll post the podcast here on CF shortly after.
–       I think that drawing Colorado in the first round of the Big 12 Tournament was a best-case scenario for the Iowa State men's basketball team. Some will argue that they would have rather seen Baylor on Wednesday at 2 p.m. Here is my reasoning as to why I'd rather see a matchup with Boyle's Buffs instead of the Bears.
o   Iowa State just played and beat Colorado a week ago. That game plan should be fresh. The Cyclones should be confident.
o   With all due respect towards Colorado, Baylor is the more talented basketball team, with a better frontcourt. Mixing it up down low is Iowa State's weakness. The Cyclones actually match up pretty well with the Buffs down on the block. Just ask Calvin Godfrey, who went off for 23 and 11 last Wednesday night.
o   No, I don't like Colorado's two big guards vs. Iowa State's backcourt, but I'm pretty sure that Diante Garrett can hold his own. All it takes is an off game from Alec Burks, a big defensive performance by Jake Anderson, or a big shooting night from Scott Christopherson to even things out.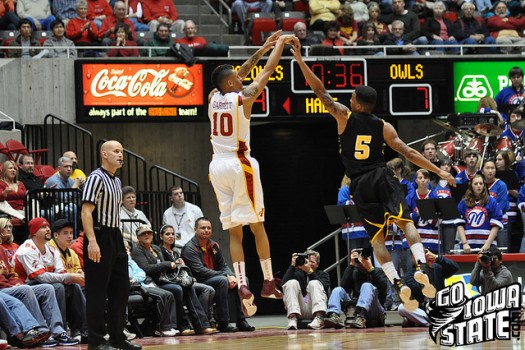 –       Is playing on Tuesday really a bad thing for the Iowa State women? After only scoring 48 points in Columbia on Saturday, I'm not so sure that getting their mojo back vs. 12th-seeded Nebraska Cornhuskers isn't a positive thing. Play or not on Tuesday, Kansas State was going to be Iowa State's quarterfinal opponent on Wednesday afternoon. You might as well have a little bit of confidence going into that game right?
–       The Iowa State women beat Kansas State twice this season. That whole "beating a team three times in one season is tough" line is just begging to be tossed around here. It is a good thing that Iowa State has Bill Fennelly in its corner. I'll take the Clones in this one.
–        Here's another ESPN.com women's basketball bracket projection update. This week, Charlie Creme has Iowa State as a seven-seed, taking on Michigan in the first round in the Dallas region. It is unlikely that Creme will nail this down exactly, but note that Iowa State has already played and beaten the Wolverines this season, 60-47 back on Dec. 5.
–       Here's a stupid question, but does anybody else have spring fever? I got my annual Atlanta Braves preseason catalog in the mail last week and I'm starting to go crazy in the tundra known as Ames, Iowa.
–       In a quick side note addressing the first paragraph of this piece, the movie "Dear John" actually wasn't that bad. I still cannot wrap my mind around why Savannah married that neighbor guy, but hey, it is Hollywood. In another note, I could not take "He's Just Not That Into You." We turned it off after about 15 minutes to play Mario Kart.