By Chris Williams, CycloneFanatic.com Publisher
No, I'm not blogging live from Dallas like some of my media colleagues who cover the Big 12 Conference. But I am live from my home office in beautiful Ames, Iowa, hooked up to that thing called the Internet, following the media days that began yesterday afternoon. That's as good as being there right?
Nebraska, Baylor, Iowa State and Texas A&M took center stage on Monday.
Today, Missouri, Oklahoma State, Kansas State and Texas Tech were featured. I'm not really going to comment or post much on the team's not on Iowa State's 2010 football schedule. Do you really care? That's just a little note for you in advance.
Starting with Mizzou
This was Gary Pinkel's opening line in his press conference. I couldn't help but chuckle at it.
"I'm excited about being here," Pinkel said.
I couldn't help but immediately turn into a wise guy at this point.
Why wouldn't you be excited to be here coach? Would you rather be in Chicago next week instead?
Don't you lie to me Mr. Pinkel!
In Pinkel's defense, this is how he ended that thought.
"I think it's the time of year that we're going to get going here next week. Our players report next Wednesday, a week from tomorrow, and then we get going on our first practice Thursday morning. We're excited about that."
So you see, he was actually excited about the time of year it is. But really, with Missouri's behavior since last winter, it's kind of hard not to let your brain take off the way mine did.
I'm not the only one thinking that way either. Here's an excerpt from Randy Peterson's blog for the Des Moines Register.
Missouri was 20 minutes late for its media appearance, leaving many reporters time to make cynical comments like:
"Did they defect to the Big Ten without telling anyone?"
And
"So, is this Missouri's attempt to hold the Big 12 hostage again?"
Coach Gary Pinkel didn't even apologize for being late.
Hilarious. Hey Mizzou…You made this bed. Time to sleep tight in it. Thoughts/comments like these will be plentiful in the future.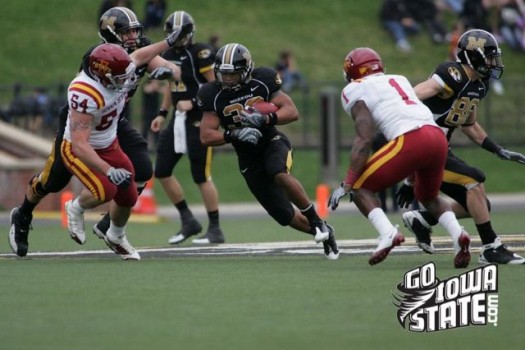 Kansas State doesn't have a QB…yet
What I am about to write makes me feel better about Iowa State's date with the Kansas State Wildcats on Sept. 18 in Arrowhead Stadium. Kansas State coach Bill Snyder told the media that right now, he doesn't have a number one quarterback. In fact, three Wildcats are going to battle for the starting spot when camp starts next week.
"We just do not have a clear-cut number one right now," Snyder said. "The first snap that the quarterback will take with our number ones will be Carson Coffman. Came out of the spring not necessarily as the number one, but that individual will take the first rep, and then Collin Klein and Samuel Lamur, and all three of them, I think, will compete diligently."
"I think all three of them were better at the end of the spring than they were at the beginning. I'd like to think that they are making improvements as the summer progresses. That will be determined when we begin on the 4th of August."
Generally, I am all for competition. In fact, as the saying says, competition generally does breed success. I'll buy that at any spot in the field, except quarterback. If I am a coach, I want to know who my quarterback is on July 27. The fact that Carson Coffman hasn't proven himself to be number one yet, tells me that Kansas State's passing attack will be less than deadly on the third weekend of the season, when they meet the Cyclones.
For those of you keeping track at home, Coffman went 71-for-117 with 860 yards passing last season behind Grant Gregory.  Coffman's touchdown to interception ratio was 2 to 4. Coffman started the first four games of the season for Snyder, before losing the job to Gregory, who has since graduated.
Kansas State's passing attack ended 2009 ranked dead last in the Big 12 and 106th nationally, averaging only 169.42 yards per game. Keep in mind though that the Wildcats attempted far fewer passes than any other Big 12 team last season at 298. Oklahoma State's numbers were the next lowest at 336 attempts.
So the good news for Iowa State on Sept. 18 is the fact that Kansas State should be somewhat one-dimensional. The bad news is that the Cats still have Daniel Thomas (pictured above), a guy who many consider the best running back in the Big 12. Thomas ran for 1,290 yards and 11 touchdowns last season. It is also noteworthy that Thomas is Kansas State's lead returning receiver, as he caught 25 passes for 257 yards last season.
K-State on primetime…twice
Believe it or not, but the team who many haved picked to place last in the North, will be on two Thursday night's this season (Oct. 7 vs Nebraska on ESPN and Oct. 14 @ Kansas on FSN).
Snyder gave this piece of scheduling a mixed review.
"Thursday night ball games, it's part of the TV-driven direction that college football has gone. I think it's great for the viewing audience. I can appreciate it in that respect," Snyder said. "I think for Kansas State, you know, considering where we're located and the distance that people have to come, it's not always my preference to do that. We have working-class people coming from western Kansas. It's pretty hard for them to make a Thursday night game and get back for Friday workday. So weekends are probably a preference in that respect."
And one more thing…Snyder wants a Big 12 title game
For me, this was a refreshing quote from Snyder. Agree or disagree with him, the man is telling you're his true opinion on one major decision that is looming for the Big 12.
"I just know, speaking on behalf of myself and our program, I think it's been very beneficial to Kansas State University," Snyder said. I see a lot of schools in our conference that it's been a great benefit too. I like the concept. I think it's great for our conference. You see other conferences now that are moving in that direction that didn't have a championship thing. I think they see the value of it. It's a little harder in the situation that we're in right now, and I can understand both sides of the discussion, but, you know, it's my personal feelings that I enjoy that. It's been good for Kansas State. I appreciate it and always have. I thought it was a great conference as well."
Stay tuned Fanatics. I will post some notes on Texas Tech later on this afternoon/evening.