By Chris Williams, CycloneFanatic.com Publisher

Are you ready for some football?
After last night, the gridiron is all I can think about.
As most of you know, we held our first ever CycloneFanatic.com recruiting party last night at 3-Bag in West Des Moines. Three Iowa State coaches including Bob Elliott, Courtney Messingham and Kenneth Pope made the trip down to meet with fans and talk about the 2010 football recruiting class.
The event lasted for about an hour. During that time, we watched the 2010 highlight video, performed a fan Q&A with the staff and hung around to shoot the breeze with the over 100 Cyclone Fanatics who were in attendance. We've got pictures of the event posted online right now at our CyconeFanatic.com Facebook page.
Here's the link.
Notes from the outing

– In my opinion, the most newsworthy piece of information that came out of the night was when we learned that Bob Elliott would in fact be Iowa State's recruiting coordinator, in addition to his duties as the secondary coach. I met Elliott for the first time last night and I must say, he is exactly what so many Cyclone fans described him to be. He's a very humble, soft-spoken and kind human being. He referred to Iowa State as "home" numerous times throughout the evening.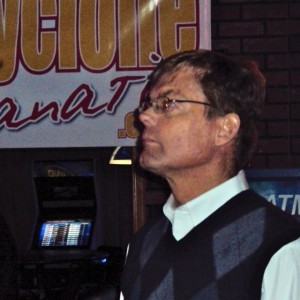 – Iowa State's running back coach, Kenneth Pope got flat out giddy while describing Shontrelle Johnson's highlight video. Obviously, Johnson will be a true freshman coming into camp, but based off of how excited the coaches got about describing him to the fans, I find it extremely difficult to believe that he won't at least sniff some playing time this fall.
– The coaches said some nice things about Iowa State's six offensive linemen in the 2010 class. One note that Coach Messingham pointed out was the fact that this is a good situation because Iowa State has so many veteran linemen in their program right now. These guys, along with last year's red-shirts are going to have time to develop, before throwing them out on the field.
– Speed…speed…speed. I couldn't count how many times we heard the coaches say that word last night when describing the class.
A wrap

It was a great evening. Thanks so much to all of you Fanatics who attended and for those who didn't, we look forward to seeing you next year. I am sure that the Cyclone fans who made the trip learned a lot about Iowa State football. The three coaches were all phenomenal. Not only did they speak about the class; they stuck around for close to two hours after the event to mingle with fans and talk football. All three men are truly great representatives of Iowa State football.