We all can look back on our lives and recall somebody we idolized during our childhood.
This person, in your not-yet mature mind, was larger than life. They looked cool when they walked. They exuded confidence, smiled with a swagger and captured the attention of all upon walking into a room.
Did you get your person in your mind? Think back to an elementary school version of yourself. Who was it for you?
….
Then you grow up a little bit. You're a sophomore in high school now. This person is still "cool" in the sense of the word but the larger-than-life aspect is starting to wear off. You admire them a little less and start to view them eye-to-eye a bit more.
Perspective is an amazing thing.
Now you're an adult. You've gone off to college, seen more of the world and experienced new people. You run into this person the night before Thanksgiving at your hometown bar.
"Wow," you think to yourself after catching up a bit. "This person I once admired is really just a narcissistic asshole."
….
When Texas and its brethren from the Southwestern Conference joined up with the Big 8 in 1996, Iowa State was a shell of what you all see these days walking around the corridor of Jack Trice Stadium.
To stick with the above analogy, back then, Cyclone athletics were maybe in third or fourth grade. Jack Trice wasn't a power five stadium. The football team practiced in front of random coeds at the Lied Rec Center (imagine that in 2021) while hoops prepared for the conference slate in State Gym. I've heard stories from those days about certain times during the week when the athletic department would shut off electricity in the Jacobson Building to save money.
The great Dan McCarney tells stories of visiting frat houses to beg ag business majors to attend next Saturday's game.
Texas, on the other hand, waltzed into our crumbling house and immediately took the place over. The Longhorns, under the leadership of head coach John Mackovic, stunned Nebraska in the new league's first championship game, eliminating Tom Osborne's powerhouse program from national title contention. It was a stunning upset. One of those games where you remember where you were watching (at the ripe age of 11, I was at a birthday party at Frontier Lanes in beautiful Clarinda).
As my late grandmother would have said, Texas was the "belle of the ball." The iconic burnt orange jerseys carried great meaning and watching the new kid on the block beat the hell out of the longtime Big 8 bully Nebraska was a thrill for all!
Texas was that guy to look up to.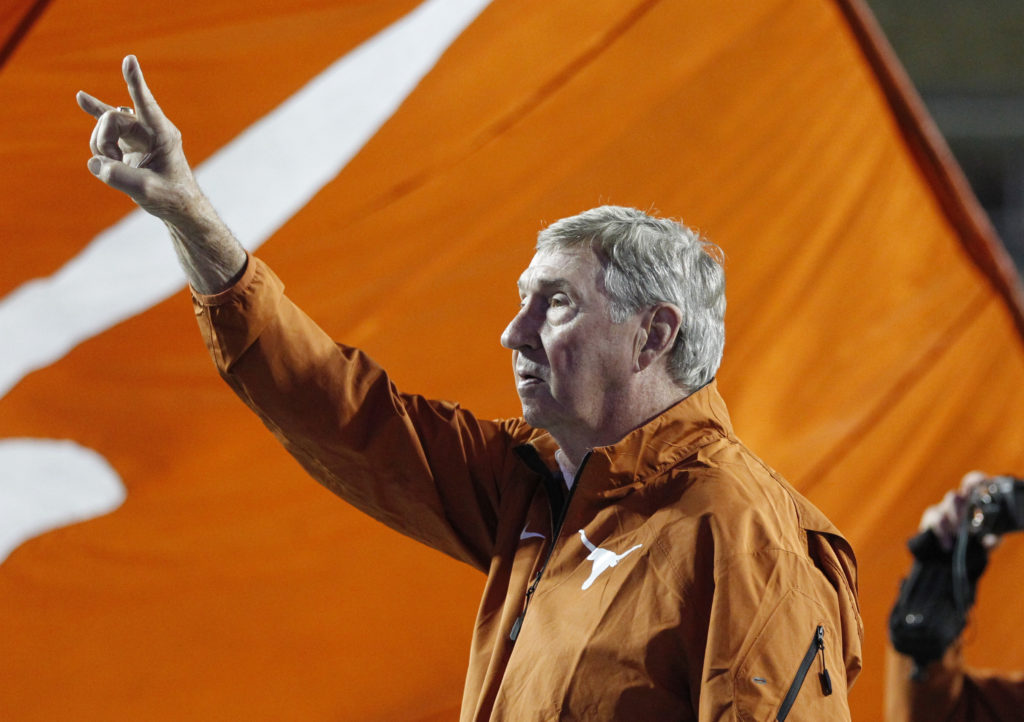 ….
It wasn't until the turn of the millennium when you started to see real growth out of Iowa State, specifically on the football field. The Cyclones won their first bowl game in program history on Dec. 28, 2000, over Pittsburgh. After decades of pain, Iowa State was finally escaping the shadow of in-state rival Iowa. Add to that some major success on the basketball floor and the Cyclone Nation was experiencing serious growth and momentum.
Let's call this Iowa State's puberty era. Nothing major, but the Cyclones had muscles of their own now and like many adolescents was attempting to grow a bad beard.
Playing Iowa State was no longer a complete and total pushover, to most at least. That was definitely the case in the North where the Cyclones were very competitive.
Cyclone football wasn't a polished product by any means. The epic collapse of 2002 and all of 2003 come to mind. That's when Iowa State's voice was changing, which led to some uncomfortable moments along the way.
The mighty Longhorns still owned Iowa State though and it wasn't close.
We still looked up to them.
Hell, there was a bad Tommy Lee Jones movie created about Texas Longhorn cheerleaders for crying out loud!
Iowa State went as far as to hire Texas' rising star defensive coordinator (Gene Chizik, which at the time was considered to be an out-of-this-world move by Jamie Pollard) at the end of the 2006 season in an attempt to capture some of that winning Longhorn culture.
Didn't matter.
The memory of watching Colt McCoy account for five touchdowns as Texas out-gained Iowa State 514-228 in a 56-3 rout of Chizik's squad in 2007 still makes me dry heave to this day.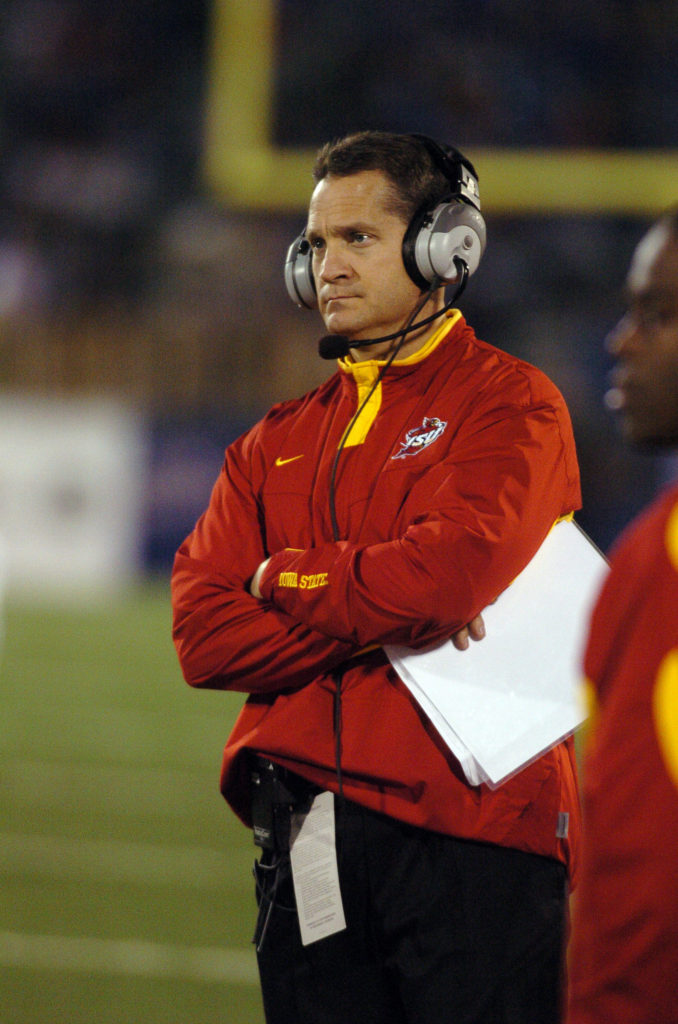 Mercifully, Iowa State did not play the undefeated, national championship 2005 Longhorn squad that beat Big 12 North champs Colorado 70-3 in the league's championship game.
It took until the year 2010 for Cyclone Football to notch its first-ever victory against the Longhorns. Hundreds of Iowa State fans showed up to a university-sponsored welcome home party for the team upon its arrival back in Ames. Texas went 5-7 that year.
However, since 2015, the series is even, with both programs amassing three wins apiece. Iowa State has won two in a row.
Texas hasn't won a Big 12 championship since 2009 and is on its fourth head coach in the last decade.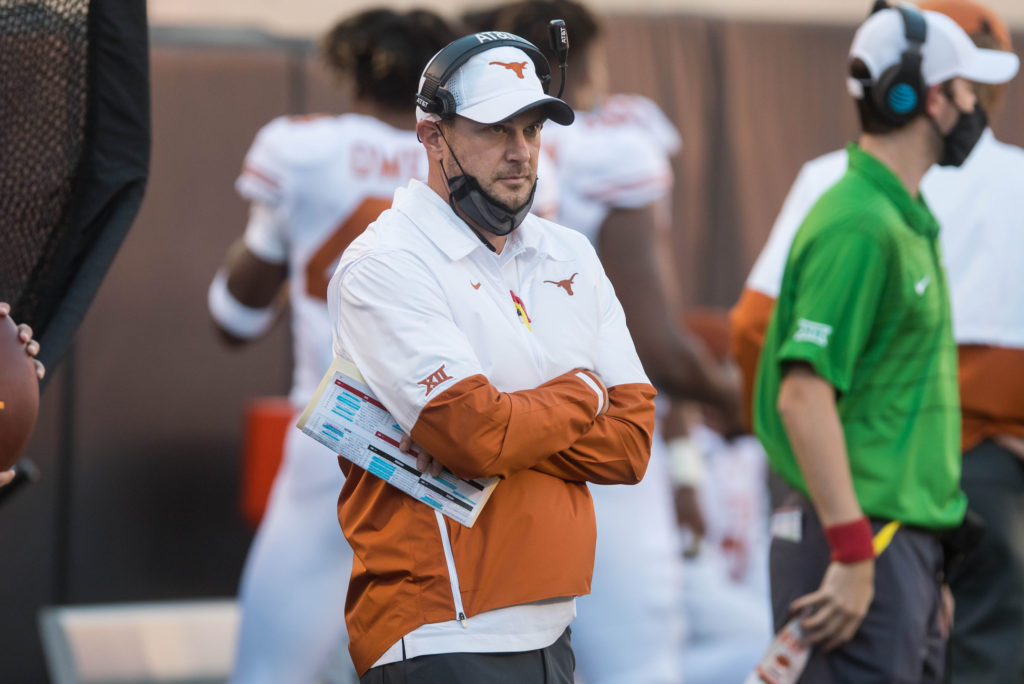 ….
My thoughts on Texas exiting the Big 12 are complicated.
For well over a decade now, the power brokers in Austin have swung their swords selfishly without caring who it hurt along that way.
That's really my problem with Texas and its entitled fan base. This isn't about football to me. It's all about decency.
I am thankful for Texas' presence over the years because Iowa State benefited from it greatly. I fully admit that.
But don't forget that in the mid-'90s, the geeks from the north saved their asses too.
….
In order for a relationship to work, it cannot be one-sided. If one side is constantly trying to appease the other – while that party is only looking out for itself – the partnership is destined for dysfunction.
That has been the story in the Big 12 for far too long.
When the Big 12 was created, the north and the south both desperately needed one another for the sake of expanded geography and television revenue.
But the union was a shotgun affair. Think of it as more of an arranged marriage than a story of childhood sweethearts who were destined to raise and love a family together.
Unlike Ohio State in the Big Ten or USC in the Pac-12, Texas never had any ambition to build anything special the Big 12. This was evident by the league's lack of television revenue sharing until the Longhorn Network saga hit us all upside the head in 2010.
Texas has been and always will be a terrible partner.
And Oklahoma … You are nothing but a convenient pawn in their game.
I am not at all sad that Saturday night (6:30 p.m., FS1) will probably be the last time these schools ever play in Ames.
Texas is your spoiled brat cousin who was born on third, thinks he hit a triple and never stops complaining. They say you can't pick your family, but eventually you get old enough where you can just ignore the ones you don't like.
Since 1996, the Big 12 has been a group of schools that was trying to build a great future. One arrogant member, the Uncle Rico of college football, was constantly a pain in the ass.
Iowa State and the rest of the new Big 12 might not make as much money going forward. It's unfortunate but not only have I come to peace with the current situation, I am greatly looking forward to this divorce being final.
I am ready to get the constant drama and dysfunction out of our lives once and for all.
This marriage is unhealthy.
It was once fun being in a league with the mighty Longhorns. We learned a lot and looked up to them for a good portion of our lives. But there is nothing mighty about Texas anymore.
Texas is pompous, past its prime, tired and ungrateful.
Good riddance, big brother. You will not be missed.