Nov 21, 2020; Ames, Iowa, USA; Iowa State running back Breece Hall (28) outruns Kansas State senior Defensive Back Jahron McPherson (31) during their football game at Jack Trice Stadium. Mandatory Credit: Brian Powers-USA TODAY Sports

ARLINGTON — Breece Hall finished sixth in the Heisman Trophy voting in 2020, so yeah, I'm not exactly stretching my legs as a football analyst by stating my bullish feelings towards Iowa State's running game heading into the 2021 season. 
These thoughts go much deeper than one man, though. There is more to it than No. 28, although it definitely starts there. 
Last week at the Big 12's media day event, Iowa State's All-American running back told me that he put on 10 pounds in the offseason and is running a faster 40-yard dash as well (you can also buy his new shirt here).
That's scary news for an opposing defensive coordinator.
"In the offseason, I really just tried to focus on refurbishing my body," Hall said. "I had some dings and some nicks, so I had to just get fully healthy, you know, just recover and then just work on kind of getting my body back. Shedding some body fat and getting leaner and put on some weight and really just still trying to get bigger, stronger, faster."
Hall led the country in rushing as a sophomore with 1,572 yards (tops in the country) on 5.6 yards per carry. His 21 rushing touchdowns were the second most by anyone in college football, only behind Alabama's Najee Harris, who won the Doak Walker Award and is now in the NFL. 
My optimism that the running game will take another step forward this year – if true – would be beneficial for everybody on the roster, from Brock Purdy to Jon Heacock. 
It starts on the offensive line and the return of a guy Iowa State coaches think has NFL written all over him, Trevor Downing. 
"With Trevor coming back, we have a lot more depth," Hall said. "He can play all positions."
Iowa State's offensive line was good last year, but it could have been great with the services of Downing, who suffered a season-ending injury in the first game of the 2020 season. 
For the first time in my 17 years of being around this program – Iowa State will have a true two-deep at every position on the offensive line.
Because of injuries, youngsters Darrell Simmons and Jake Remsburg emerged as high-quality Big 12 linemen in 2020 – a year or two earlier than expected. Colin Newell might be the best center in the Big 12. Veterans Sean Foster and Derek Schweiger bring a wealth of experience and will consistently be pushed by others vying for playing time. We have still yet to see what a guy like Joey Ramos can truly offer, and I have heard nothing but positives about last year's scout team. In fact, more than once, Matt Campbell has gone on the record stating that last year's offensive line class is the best that they have recruited to Iowa State. 
"This group of offensive linemen, they really are big on holding each other accountable," Hall said. "They're all really close. They don't accept mediocrity from anybody. They're always on each other's cases. They make sure everybody's doing the right stuff."
Now enter Jirehl Brock into the conversation.
Highly touted out of high school, Brock actually saw playing time at Iowa State before Hall. Brock was a bit more of a developmental prospect, though, which allowed Hall to fill the shoes David Montgomery left behind, ultimately breaking out during the 2019 win over West Virginia.
Iowa State expects its patience with Brock to pay off this season. Brock steadily saw more and more playing time towards the end of 2020, specifically in passing situations on third down.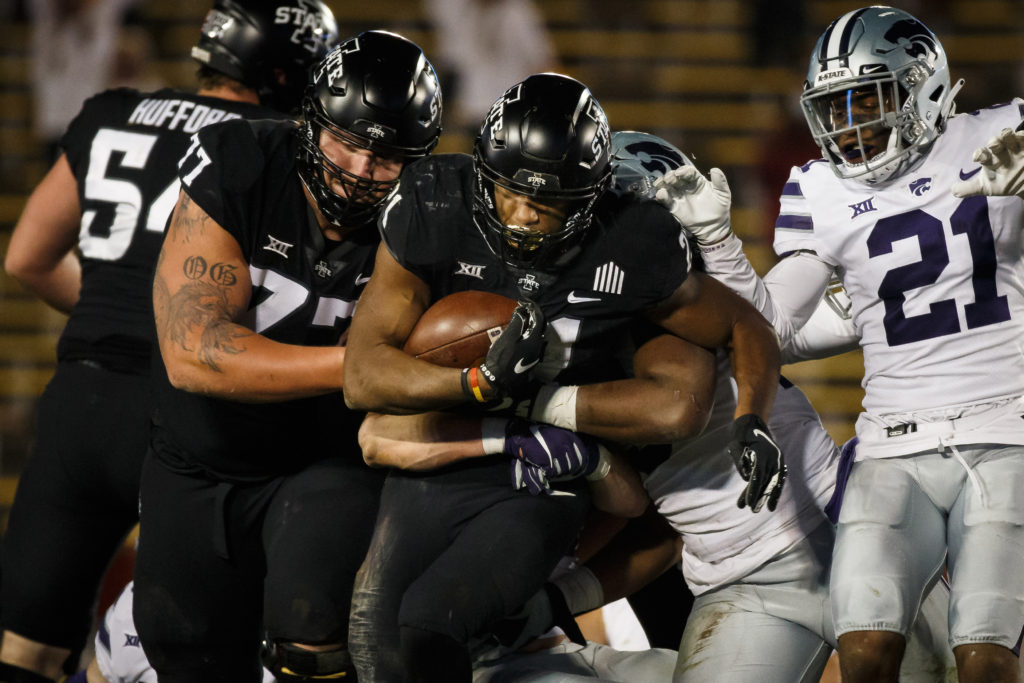 "Jirehl played as a true freshman before Breece got going," Campbell explained. "Jirehl was out with a bunch of stuff through fall camp last year. So you really miss him. And it stunted his growth to get on the football field really until the middle part of the season."
Hall was fantastic last season, but in 2021, the days of going three weeks on and one week off (the Covid schedule) will be long gone. So instead, the plan is to have Brock be more involved early on in the season, to allow Hall to be fresher in November, with massive games against Texas, Oklahoma and TCU all on the docket. 
"Our relationship started like in high school," Hall said of Brock. "We met each other on a couple junior day visits and just kind of like started our relationship from (the fact) our parents had built relationships. So we always got kept in touch. I'm just really proud and happy for him just to see some of the strides he's made."
Campbell said that this should be the best group of running backs he has had to work with during his time at Iowa State. In addition to Hall and Brock, the staff expects big things from freshmen Deon Silas and Eli Sanders. 
QUOTABLE: Matt Campbell goes in-depth on Breece Hall's level head…
"I think Breece has got a mother that's going to demand that happens. And I think that's huge. And, you know, I think one of the things about Breece is he's got this great smile. He's got this ability to project a lot of positivity. But Breece has earned everything he's gotten. Nobody's given anything to Breece Hall. And I think, again, like where's confidence come from? Where do real expectations come from? It comes from earning the right to have confidence. And one thing about Breece, he's earned the right to have success. It means that nobody's given it. It's not by luck. It's by work ethic and commitment. And that's what I do appreciate about Breece. And I think Breece, he's done a great job on top of that, you know, carrying that into the locker room and having that same ability to demand that of the players in the program as well."