[Author's's note: Over the next several sports-less weeks, Cyclone Fanatic is re-running many of my "Where Are They Now" features. This one is my first and I throughly enjoyed writing it. Typically, we like to include an update at the end of these reissued articles and I was initially unable to reconnect with Michalik for one big (ouch) reason: He was dealing with a painful cracked tooth. We spoke recently and please find an updated story on how his handling self-quarantine at the bottom of this "Where Are They Now" piece. —RG]
AMES — The ruckus likely alarmed the neighbors.
On wintry days and nights more than 20 years ago, an unlikely pair of roommates and teammates competed fiercely for in-house hoops supremacy.
The soon-to-be star Iowa State players' names?
Julius Michalik and Fred Hoiberg.
"We used to have this plastic rim on our window and when we played shooting games with a Nerf ball, size of a softball, it looked like World War III was going on," recalled Michalik, who swiftly forged a tight bond with his fellow freshman from Ames despite an initial language barrier. "We would shoot from the hallway and wherever else just to pass the time every once in a while."
Who won those unofficial games didn't really matter.
Both 1991-92 newcomers benefited from the competition — and it carried over to practice and the floor of Hilton Coliseum, where magic unfolded.
Three of the four Cyclone teams Hoiberg and Michalik played on advanced to the NCAA Tournament.
Hoiberg, who led Ames High School to the 1991 state title, was a no-brainer starter as a freshman.
Michalik, a 6-11 forward from Prievidza, Slovakia (then Czechoslovakia), was more of a wild-card type; a gifted player with a thick accent plucked from communist Eastern Europe.
"It was an adjustment because of the physicality, but with the way he could play offense and his ability to pass and shoot at 6-11, it got him in the starting lineup immediately," Hoiberg said.
A fast, productive friendship formed for the eventual roommates brought together by basketball from worlds apart.
Hoiberg, a.k.a. "The Mayor," became ISU's third all-time leading scorer, with 1,993 points. Michalik ranks sixth, with 1,825 points.
"We weren't like the party people," Michalik said. "We liked to practice. We would stay after practice and shoot and we were good in school, so kind of a lot of things in common."
Neither Hoiberg nor Michalik would have discovered that if it hadn't been for a talent-laden junior basketball tournament in the Netherlands. That's when Michalik found his way onto Iowa State's recruiting map, and history was set in motion.
"It was an interesting experience," said Hoiberg, who begins his fifth season as his alma mater's coach in Friday's 7 p.m. 2014-15 opener against Oakland (Mich.). "He didn't know much English when he got over here. He came with, I think, two pairs of shorts and two shirts. Once he got here he got some Iowa State gear, but you could tell right away just what a great person he was."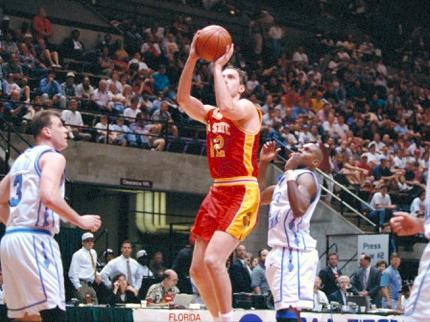 ******
Michalik showed his athletic prowess at an early age. Eastern Bloc nations under the aegis of the Soviet Union understood — and milked — the propaganda value of sporting success.
"So we had sports schools, starting in fourth grade," said Michalik, who is entering his fourth season as girls' basketball coach at Tri-Center (Neola). "In our town, we had basketball school, swimming school. We would go to practice in the morning at six o'clock and you would go to school until about 2 and then you went to practice again in the afternoon."
Michalik excelled in all aspects, eventually landing a starting spot on the junior national team.
"In our starting five we had three guys about 6-10," Michalik said. "I played the wing; I was a 3-man. Then we had a 6-4 — another wing, and a six-foot point guard. We, I don't know, we hardly ever lost. I don't think we lost in three years in our league."
The team played in Brno, Czech Republic, but also took its winning show on the road.
One such trip prompted the hand of fate to intervene — a chance encounter that would eventually set Michalik's path toward Ames.
"We would go and play in this huge tournament in the Netherlands where the Iowa High School Select team was playing," said Michalik, who also teaches high school science while coaching boys' soccer at Tri-Center. "We beat them in the semifinals. I think I scored 40 that game. We ended up winning the tournament and I got MVP. Long story short, when they came back, (then Cyclone assistant to Johnny Orr, Ric) Wesley, whose grandparents are from Czech Republic, he's like, 'Oh, have you seen anybody who can play here? Oh, this guy could probably play.' And the following year I was at Iowa State."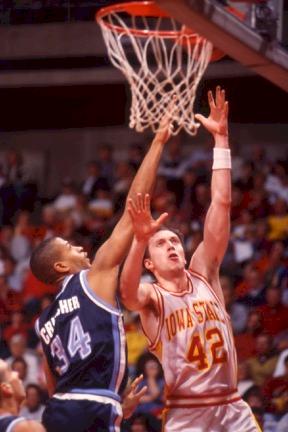 ******
Hoiberg averaged 12.1 points his freshman season. Michalik averaged 12.6. They combined to shoot 55.2 percent from the floor for a Justus Thigpen-led team that advanced to the second round of the NCAA Tournament.
Two games stick out from that season for Michalik:
One, beating No. 16 Iowa 98-84 at Hilton. And, yes, that was the game Hoiberg dunked on seven-foot Hawkeye star Acie Earl.
"Fred is pretty fearless," Michalik said. "When he began his career he kind of looked to drive first. He was very good on the fast break and he has huge hands. If you see Fred, his hands are bigger than mine, which doesn't really mean much, but he can grab the basketball like it's a volleyball. "
Michalik, nicknamed "Julo," also recalled a Cyclone comeback from 22 points down on Feb. 15, 1991 to beat No. 2 Oklahoma State 84-83 in overtime. It was a pivotal moment for then-young Hilton Magic — but Michalik remembers some fans leaving at halftime.
They were sorry later.
"People read the newspaper the next day and they were like, 'What happened? They were getting killed,'" Michalik said.
Enough of the crowd remained to amp up the noise, as usual.
"I think that's the game everybody talks about where the floor was shaking," said Cyclone Radio Network analyst Eric Heft, who called that game along with the late Pete Taylor. "Fred makes a 3-point play to give us the lead and (Oklahoma State's) Darwyn Alexander — a 90 percent free-throw shooter — misses two for the probable win with just a couple seconds left."
The hits kept coming for Hoiberg and Michalik, who for three seasons produced virtually the same scoring average.
Hoiberg posted his second straight 20-points per game average his senior season, while Michalik chipped in 14.3.
Tim Floyd had taken over for Orr, who retired from coaching, and the Cyclones reached the second round of the tournament again, thanks to Julo.
"Lon Kruger was coaching (first-round opponent) Florida, which had been to the Final Four the year before and Julo made the shot to win that game in the final seconds," Heft said. "That was his next-to-last collegiate game."
*****
Before Michalik could hoist up any game-winners, he had to bolster his ability to speak English.
That's where Hoiberg's often-spun tale of late-night "Matlock" viewings comes into play. Two guys. One TV. Something had to give.
"At 11 p.m. every night we watched 'Matlock,'" Hoiberg said. "I tried to get out as much as I could at that time of night, but he was the best. He was such a great teammate. I learned early on that if I was in the right spot he was going to find me because of his ability to pass the ball. Really helped with some of the biggest wins in the program's history."
So Hoiberg endured hours upon hours of "Matlock," but Michalik's tired of hearing about it.
"We told him that we need to give him some new story to tell people," Julo said, jokingly. "Yeah, I liked that one and I still like crime stories. Obviously, they've kind of upgraded from those times."
Hoiberg had a favorite late show, too.
"I was "Matlock" and he was David Letterman," Michalik said. "I didn't know anything about that show." But Julo was as devoted to mastering English as he was to his jump shot.
That impressed Hoiberg.
"I watched a lot of shows with a dictionary in my hand," Michalik said. "If I didn't know a word, I would look it up. You know? You've got to learn somehow."
*****
Michalik makes it back for one or two Cyclones games each season.
"All the games are on TV," said Michalik, who married his freshman season sweetheart, Amy, and can't make weeknight games because his team's practices stretch to 5:30 or 6 p.m. "So we're kind of being lazy bums."
He and Amy live on a farm that's been in her family for generations.
"Just corn and beans wherever you look," Michalik said. "And some cattle. A little different from my hometown where there's mountains and trees, but what can you do?"
He's done plenty. As Hoiberg said, he was part of some of the most memorable wins in program history.
He's become an Iowan, a teacher, a leader, a coach. The two former roommates and teammates lives have tracked similarly, on different stages. And who knows how their respective fortunes might have changed had they not met?
"He's so great," Hoiberg said of Julo. "It's awesome to see that he stayed in the state of Iowa and became a teacher. I know he's impacting a lot of kids' lives."
That's true now, as it was in 1991, when the wiry Michalik boarded a plane bound for Iowa. He found love and basketball almost simultaneously and never looked back.
"We had a great coaching staff and great teams," Michalik said. "We enjoyed playing with each other. Then you have Iowa State fans, who were really great to me and for all the players. They still remember the times and they yell at me when we get to football and basketball games about the past. So it was kind of combination. It was a pretty good choice to come to Iowa State. It was a good place to be."
*****UPDATE STORY BELOW******
Former Iowa State basketball great Julius Michalik and his wife, Amy, have no trouble physically self-quarantining.
Their home is fully isolated, tucked into the terminus of a dead-end road near state forest land in the Loess Hills, and the views are breathtaking.
But being alone — and for Michalik, not teaching and coaching — can be mentally taxing, even as it's obviously prudent given the scope and scale of the COVID-19 pandemic.
"We are used to doing stuff," said Michalik, a science teacher and coach at Ridge View High School in the Galva-Holstein district. "When we have a basketball or volleyball season, I leave at 6:30 and I come home at 8. So we are used to long days where we're constantly interacting with people — and now, it's like, do your part and do nothing.' You know, it's not always as easy as it seems."
Michalik starred at Iowa State after coming over from his home country of Slovakia and averaged 14.5 points, 5.3 rebounds and 2.4 assists as a Cyclone. He famously played alongside — and roomed with — Fred Hoiberg. The duo became fast friends and key components for ISU's hoops success in the early and mid 1990s.
"You could tell right away just what a great person he was," Hoiberg told me for the original 'Where Are They Now' story in Michalik.
He still is.
Shortly before we re-ran that story late last week, Michalik cracked one of his teeth. He texted me to apologize for not providing an update while he was dealing with that excruciating event. That, to paraphrase Hoiberg, is the type of guy he is.
What Michalik wants most now is to be back teaching science and helping coach the Council Bluffs Lewis Central-based AAU team, Western Iowa Express.
He knows its wise and necessary to hold back and self-isolate as the COVID-19 pandemic continues to ravage the world, but that doesn't make it any easier to sit alone at home — no matter how inviting the view can be.
"It's just so strange," Michalik said. "Today I was helping my wife. I went to Earling, Iowa, which is about 40 minutes away and they have this little distillery (Lonely Oak Distillery), which converted to being a hand sanitizer factory. So I went to pick up some hand sanitizer for my wife's medical offices, so she can take them to work on Monday. We just had a school meeting. Everybody is very restless. Teachers don't like to be at home. We are usually very busy people. We teach. A lot of teachers coach, so we like being busy."
Still Michalik, acknowledges, "it's really scary."
He worries about his sister and two kids. They live just outside of London. He's also worried about his parents, both 76-years-old, back in Slovakia.
"You don't know who will survive it and who doesn't," Michalik said. "There's people my age who died, so you never know. It's a scary time for everybody so we try to make plan if school resumes, which I don't think it really will."
Time will tell. He wants to teach and coach. Amy continues to work as a project manager at a local medical office. They both miss sports — and normalcy — as much as anyone.
"I was asking my wife, 'How do you like a life without sports?'" Michalik said. "She's like, 'It sucks. It's like, we should be watching March Madness — there should be basketball.' She is a big soccer fan. She likes Liverpool and Liverpool is about to win the (Premier) League — first time in 30 years — in England, and the league got suspended with eight games to go. So she is mad about that. I know it's small problems in comparison, but we just try to adjust."