AMES — "Game-changing."
"Transformational."
"Bold vision."
These are just a handful of the lofty terms Iowa State Director of Athletics Jamie Pollard and Iowa State University Research Park President Rick Sanders used to describe an ambitious proposal to turn the areas around Jack Trice Stadium and Hilton Coliseum into a "multi-use development" area akin in concept, if not necessarily scale, to Kansas City's Power & Light District.
Pollard and Sanders — who will each head a "working group" aimed at turning the proposal into reality — unveiled the plans in a Tuesday news conference.
Phases one and two of the project consist of a feasibility study that real estate consulting firm Cushman & Associates will oversee at a projected cost of $300,000. That cost will be split by the Iowa State Department of Athletics and the Ames Convention and Visitors Bureau.
Pollard said both early phases would likely take several months or more to complete.
"If we got to that spot in a year, I would be jumping for joy," he added.
 Pollard praised ISU President Dr. Wendy Wintersteen for her vision and leadership in jump-starting the project.He said plans truly began to take shape when she was appointed president on Nov. 20, 2017 and immediately began asking for "big ideas."
Pollard offered his eagerly.
"This was the big idea that I put forth at that time," said Pollard, who added that the under-construction Student Performance Center is expected to be completed in January of 2021. "Obviously, it needed time to percolate and there were a lot of sidebar meetings to engage people. I know personally, I got appointed to the Ames Convention and Visitors Bureau."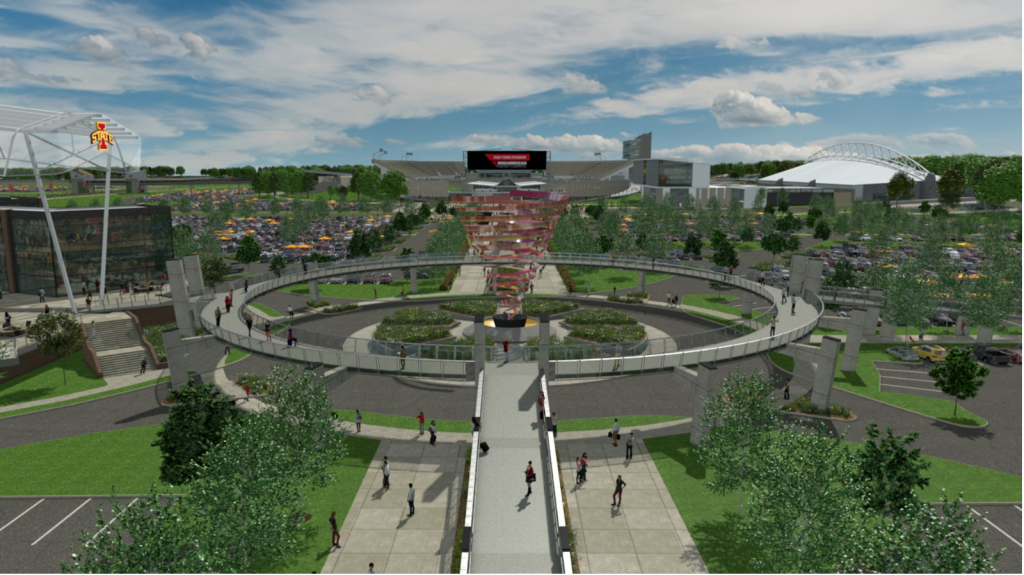 Pollard said he did this to figure out, how "if we were ever going to do this, how do I navigate this?"
What Pollard learned, to his surprise, is Ames had been losing opportunities to host some big events because of a lack of a unified space for conventions and lodging, among other reasons.
His "big idea" shared by others would potentially help alleviate that issue and serve as a springboard for economic growth on campus and community-wide.
He said Sanders' development of the research park, which encompasses 400 acres and has spurred an enviable increase in business and retail activity, offered some valuable lessons for what could be done with the land surrounding Hilton Coliseum and Jack Trice Stadium.
Sanders said the project could contribute to making ISU and Ames a natural hub for "ag-tech."
"We have the opportunity to be that Silicon Valley-esque place when it comes to all things ag-tech, bio-renewables," Sanders said. "It's not going to happen by accident. There's going to be a lot of other places that are competing for that and the reality is we've got to put our best foot forward in every single area if we aspire to something like that and this is a great kick-off point to start to talk about this place is different. This place is special. If you want to grow your business, your world — and truly impact the world, this is the place you can do it."
 Pollard said it's too early to estimate an overall cost for the sprawling project, which would include the construction of a pedestrian bridge spanning reconfigured parking East of Jack Trice Stadium to the stadium itself. The project — which Pollard hopes will eventually be financed by outside developers — also would fund much-needed improvements at the Iowa State Center.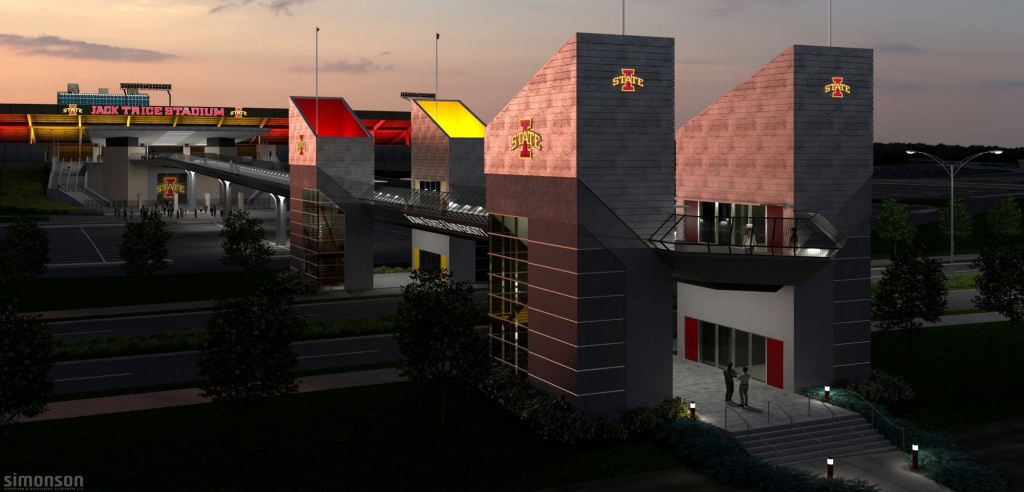 "Those facilities have dire deferred maintenance needs," Pollard said. "They've become outdated and we've got to figure out a way to address that."
Pollard also provided schematic renderings of various aspects of the project as well as a two-minute video produced to provide at least an initial concept for what the space could look like after the project reached completion.
"It may not look like this at all, but you have to start someplace to be able to give people that vision to start saying, 'Well, OK, this is what you're talking about, so where do we go from here?'" Pollard said.
One thing the project would not impact, Pollard stressed, is the tailgating and parking situation around Jack Trice Stadium. Lots would be improved and in some cases moved, but the end result would serve as un upgrade, not an inconvenience.
"It will create an incredible gateway into campus," Pollard said.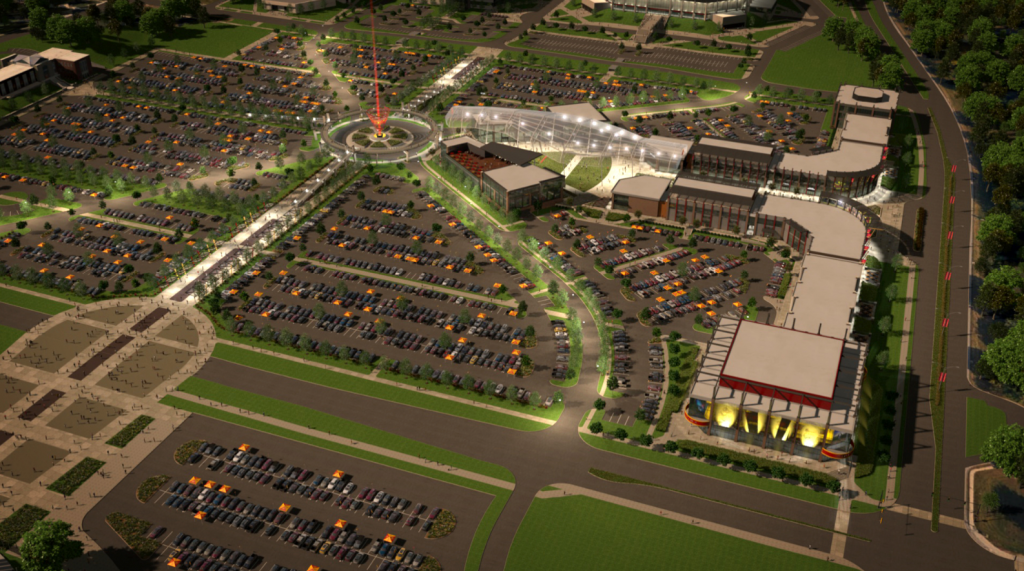 Cushman & Wakefield has helped oversee development around Wrigley Field in Chicago, as well as the Windy City's Navy Pier, along with various other sporting and entertainment venues.
Pollard eschewed comparisons to the company's efforts in the Chicago area and pointed instead to the development of Titletown, which is located west of the Green Bay Packers' Lambeau Field as a more apt model for what is planned at Iowa State.
"Folks, what I'd share with you is this: the same thing that (head football) Coach (Matt) Campbell and I have talked about," Pollard said. "This isn't your father's athletics department. This is an athletics department that has a bold vision for where we want to go and that vision isn't about competing with who we've competed with in the past. This vision is a journey to be the absolute best athletics program, football program, basketball program, wrestling program in the nation. To do that, we have to act and behave like the programs we are aspiring to compete with. And we need this kind of vision. We need those kind of resources, because I'm here to tell you, as the director of athletics, I'm going to do everything that I possibly can do to make sure we find out what's on the other side of that intersection. We've tasted it. We had (ESPN College) GameDay. We've tasted it. We had the Alamo Bowl. But there's a whole other world if we can go straight ahead and we've got to figure out how to do that."
Pollard said, looking back, it seemed Iowa State face a similar "intersection" when then-football coach Earle Bruce steered the Cyclones to three straight eight-win seasons — the first and only time that's happened in program history.
For whatever reason, he said, a bold vision did not take hold in the wake of that success.
That's why he and others are determined to ensure it does now, and even though its in its very earliest stages, it would be unwise to bet against its successful completion.
"Give me that thing that Jamie Pollard has set his mind to — that thing that when you guys all heard it for the first time, you thought it was outlandish," Sanders said. "I don't care what it is. I don't care if it was a basketball practice facility, or bowling in the stadium or a sports performance center, tell me that one thing that the first time you heard it, you thought, 'Come on, this is Iowa State. We can't do that.' Give me his track record, top to bottom. You want to bet against him leading something like this to fruition? Because I'll take it."