Season 3 of Stranger Things debuted on Netflix on July 4 this year, and I wasted no time in binging the entire season with my wife before we went to watch fireworks that night. Does that make me a nerd? Maybe. Is it slightly embarrassing to admit? Sure. But I have no regrets.
With football season quickly approaching, I thought it would be timely to pick out Stranger Things characters to represent each member of the Big 12. As a bonus, I also included comparisons for the four universities that were once part of the conference before moving on to "greener" pastures.
*** As a warning, if you haven't yet watched Stranger Things, especially season 3, and don't want to spoil anything for yourself, then I'd stop reading right now. ***
Otherwise, I hope you enjoy!
Big 12 Members
Iowa State – Mike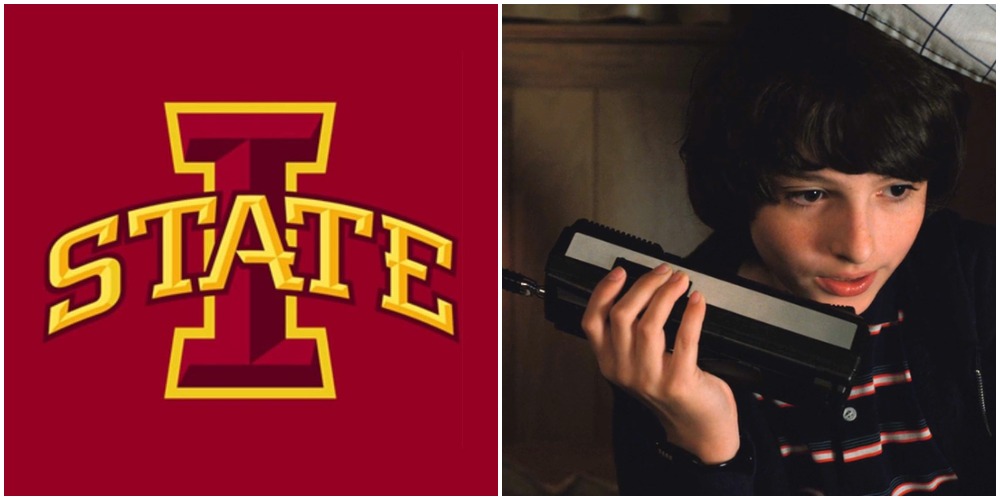 Mike is loyal to a fault and never gives up hope – at one point he jumped off a cliff to protect his friend Dustin from the class bully, and tried to communicate with Eleven every night for a year after Eleven disappeared at the end of season 1. That's awfully similar to how Iowa State and its fans have held out hope through years of struggles on the gridiron.
While Mike is still relatively weak in a universe of telepaths, monsters and capable adults, his ability to make an impact in an underdog role goes a long way. There's no questioning that Iowa State has been an underdog for almost all of its football history, yet there have been multiple cases where the Cyclones have played a huge part in shaping the way things turn out (just ask Oklahoma State and Alabama, 2011).
Kansas – Will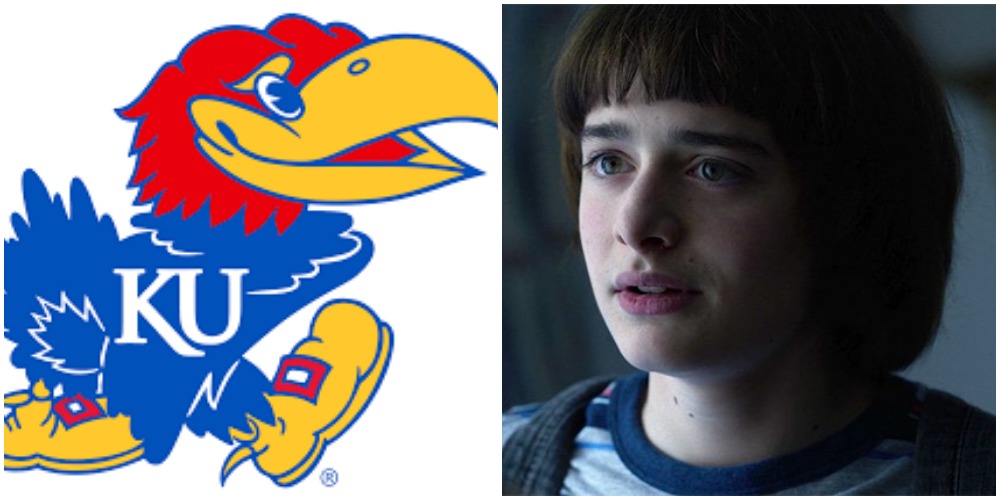 Will is seemingly always helpless and in peril. The poor guy just can't catch a break. In season 1, he got lost in the Upside Down, and in season 2 he was possessed by the Mind Flayer. 
Like Will, Kansas football seems destined for an eternity of paranoia and PTSD due to all the abuse they've taken lately. The only real difference between the two is you kind of feel bad for Will, but everyone seems to be okay with the Jayhawks filling the role of conference doormat every year.
West Virginia – Dustin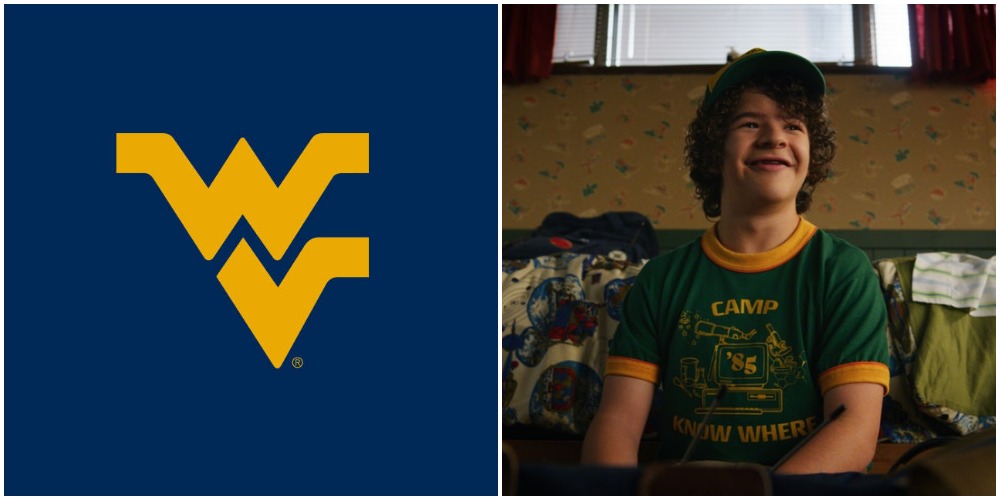 Dustin just likes to have fun, plain and simple. Granted, sometimes that fun can result in bad decisions, like taking in a baby demogorgon as a pet or rioting and burning couches.
However, the real reason West Virginia is Dustin is because Dustin singing The NeverEnding Story theme song near the end of season 3 might as well have been the Stranger Things version of "Country Roads."
Kansas State – Lucas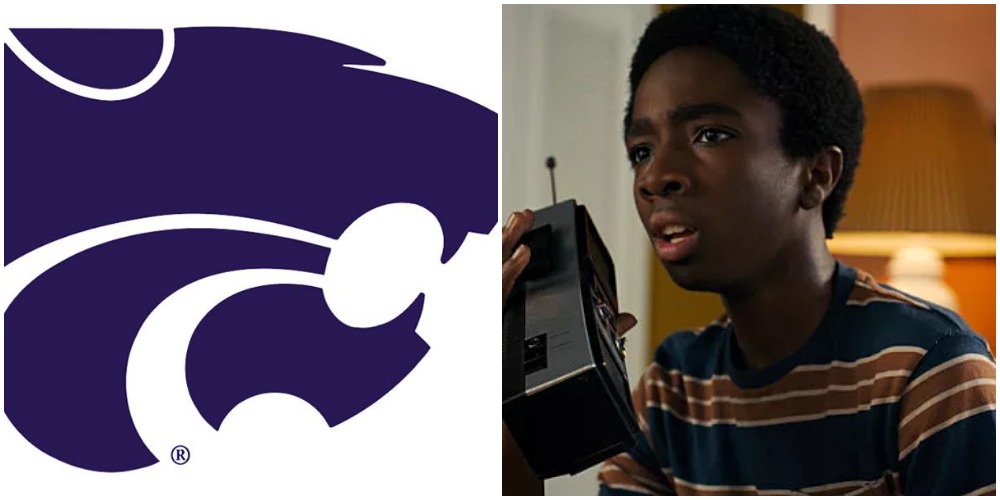 Of the four boys in the Hawkins AV Club "gang", Lucas is by far the most consistent with his decision-making and emotions. Kansas State football has been maddeningly consistent over the years, especially while under the direction of Bill Snyder.
At times, Lucas has rubbed elbows with other members of the gang (like Mike in season 1 when they disagreed about Eleven's choice to protect them from finding the gate to the Upside Down), but in the end he's just got too much in common with Mike, Will, and Dustin to beef for too long. Similarly, there are many things that Kansas State has in common with Iowa State, Kansas, and honorary Big 12 North member West Virginia.
Texas – The Mind Flayer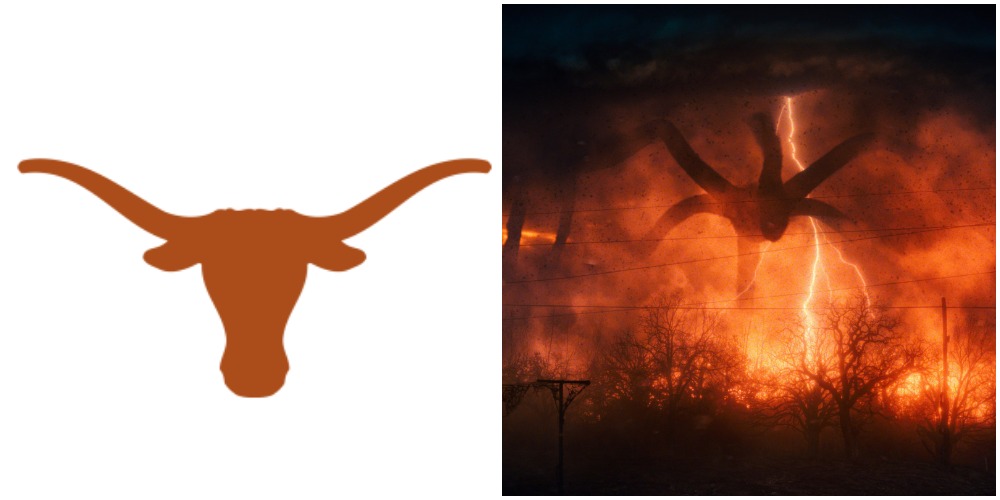 The citizens of Hawkins discovered in season 3 that the Mind Flayer, season 2's big bad monster, was indeed "back." Texas football also appears to be "back" after the program's first double-digit win season in a decade in 2018 that was topped off with a Sugar Bowl win over Georgia.
Much like the Mind Flayer has its own alternate reality to call home in the Upside Down, Texas has the Longhorn Network. As a cold, dark place void of any threats to its main inhabitant, the Longhorn Network Upside Down continues to be a point of contention for everyone involved in the Big 12 Conference Stranger Things universe.
Oklahoma – Eleven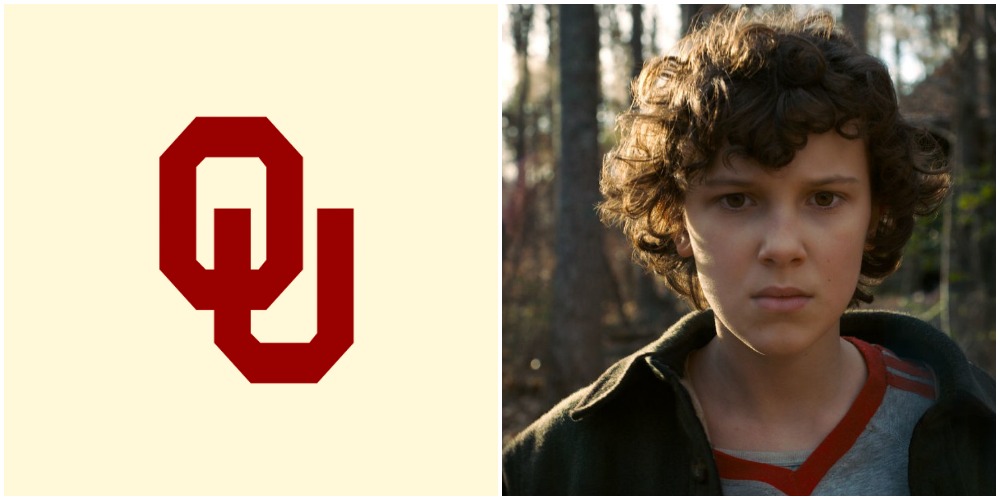 Eleven has been the only individual to go toe-to-toe with the Mind Flayer and live to tell the tale, thanks to her supernatural gifts. In fact, Eleven vs. the Mind Flayer may be the single best rivalry in Stranger Things. Rivalries in the Big 12 Conference begin and end with the Red River Showdown. Recently, Oklahoma has won more often than not, thanks to a string of Heisman-winning quarterbacks with supernatural abilities.
The question is, will Eleven get her powers back after appearing to lose them at the end of season 3? Will Oklahoma be able to continue its string of dominance in the Big 12 after losing Kyler Murray to the NFL? I guess we'll have to wait and find out for both…
Oklahoma State – Hopper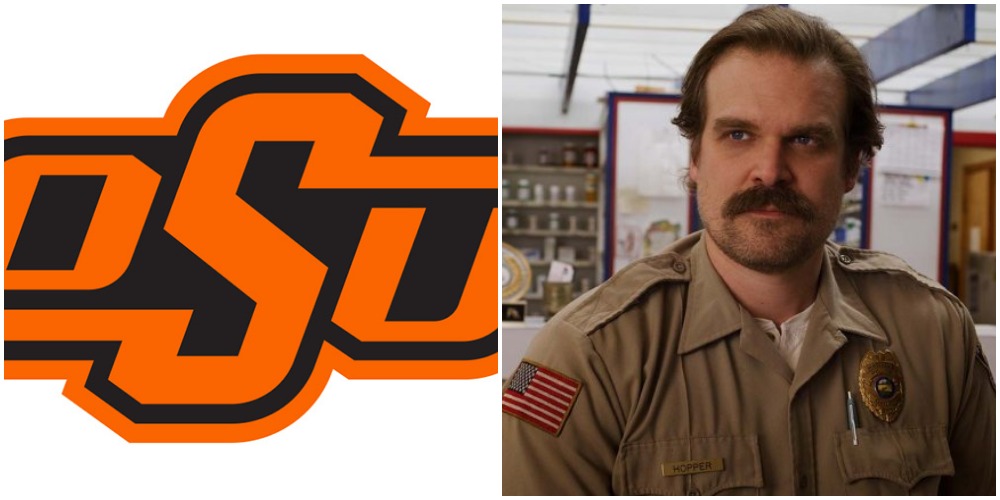 Hopper and Eleven have a close relationship, but have had plenty of squabbles. Even though Eleven is unquestionably more gifted and could telekinetically control Hopper at her will (pre-power loss), Hopper has that "I'm a man, I'm 40!" dad presence and has won his fair share of quarrels between the two.
Beyond the Oklahoma-Oklahoma State relationship, the Cowboys and Pistol Pete simply match the cop vibe of Chief Hopper, who is always running around town with his pistol hunting bad guys. Plus, Poke fans are known to be big drinkers, and Hopper is always down for a beer.
Baylor – Dr. Brenner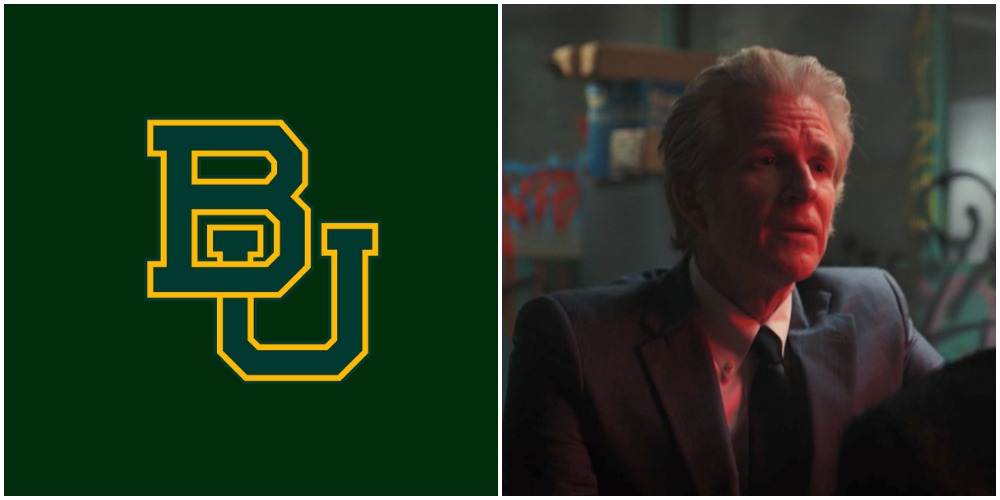 At this point, no one outside of Waco, Texas really likes Baylor, just like no one outside of the Hawkins Lab likes Dr. Brenner. 
Baylor, like Brenner, has been accused of (and involved in) some shady things that have proven to be a PR nightmare. Cover-ups a-plenty and unscrupulous things going on inside the walls of their institution. Need I say any more?
TCU – Max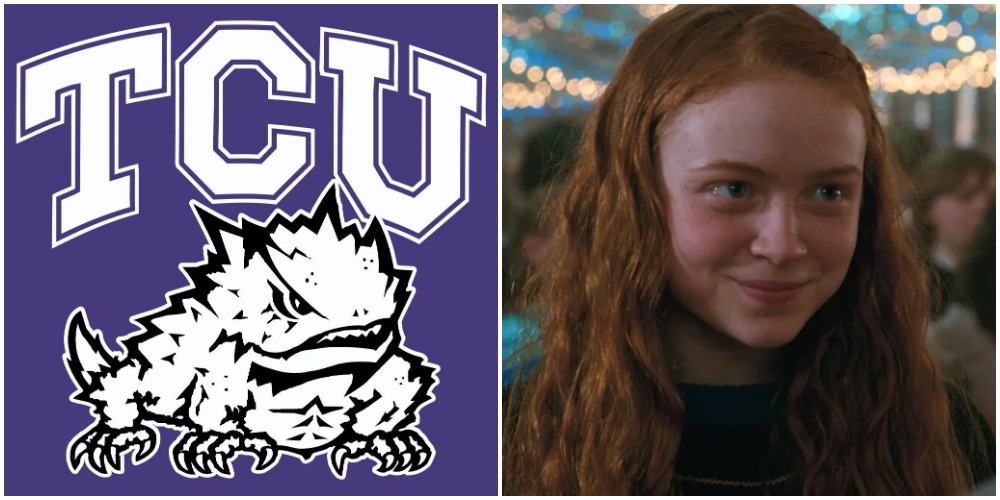 Introduced in season 2, Max was the new kid in town – much like when TCU joined the Big 12 in 2012. Prior to joining, TCU hailed from the Mountain West Conference. Prior to moving to Hawkins, Max and her family lived in California. In other words, both came from the west to end up where they are now.
It didn't take Max or TCU long to adapt to their new setting. After some early vetting by other members of the AV Club gang, Max worked her way in as a valuable member. Similarly, the Horned Frogs won a share of the Big 12 title in 2014 after a couple years of growing pains.
Texas Tech – Billy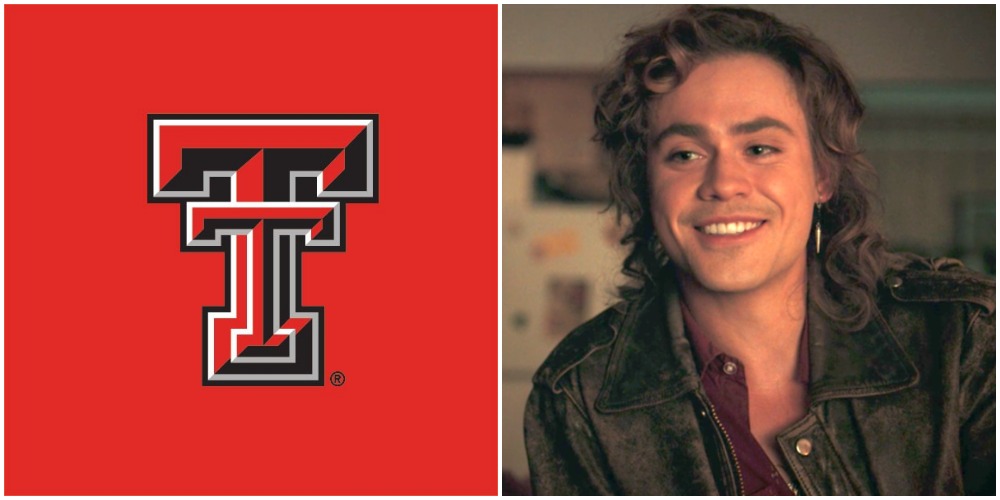 Billy got all of the women in Hawkins hot and bothered until the most recent season. Likewise, Kliff Kingsbury got women across the nation hot and bothered until he recently left for the Arizona Cardinals in the off-season.
Now, with Kingsbury's departure, the famed Texas Tech Air Raid, as we knew it, may be gone for good – just like Billy. RIP.
BONUS: Former Big 12 Members
Colorado – Barb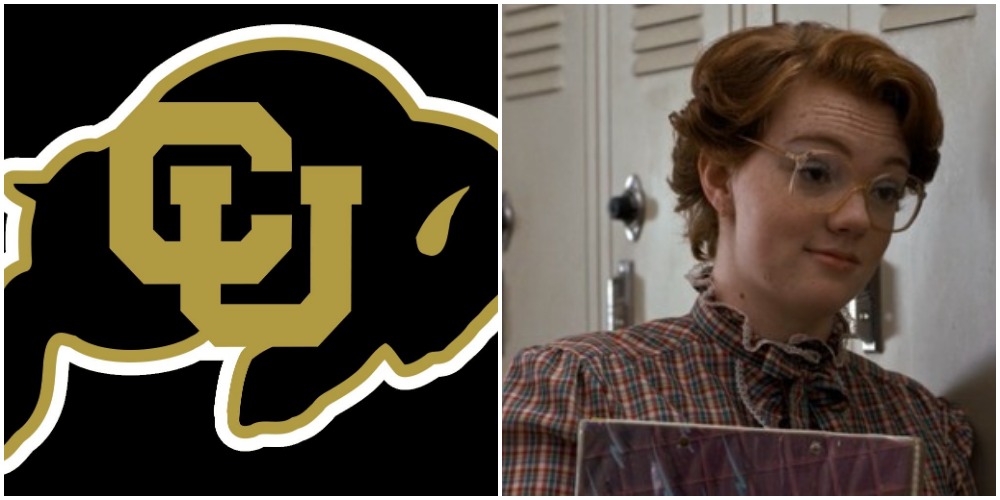 Barb went to a party at a pool and was never heard from again. Colorado went to a conference near the Pacific Ocean and was never heard from again.
Texas A&M – Demogorgon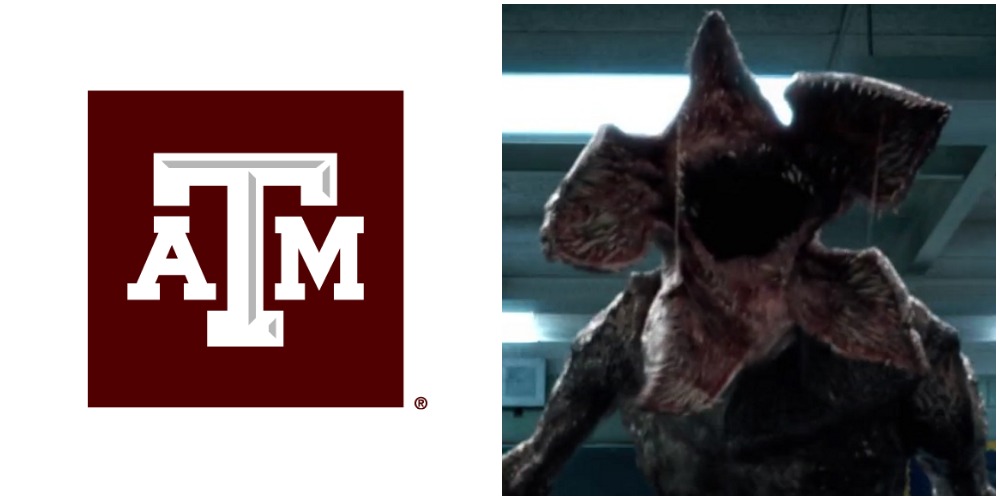 Seems like a big deal until you realize Texas / the Mind Flayer is the actual big deal.
Missouri – Mrs. Wheeler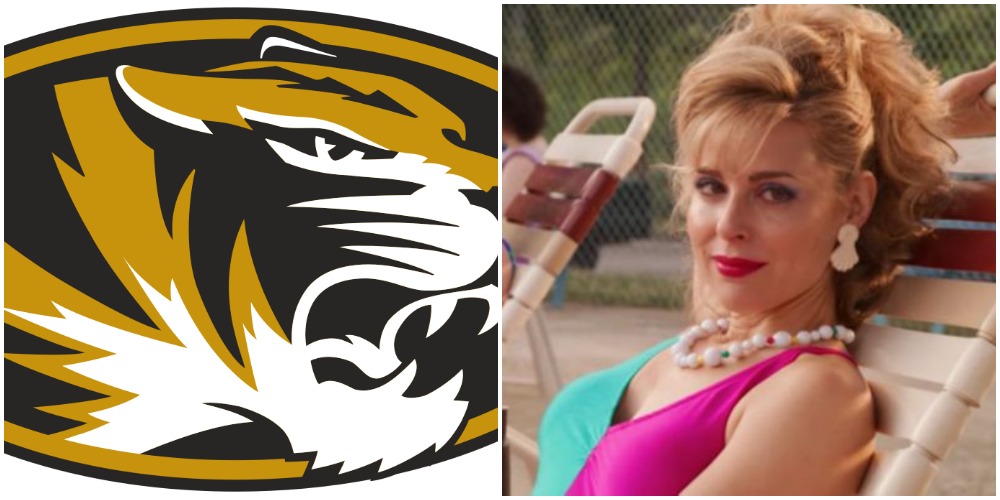 Both have/had wandering eyes, but at least Karen retained some sense of dignity.
Nebraska – Steve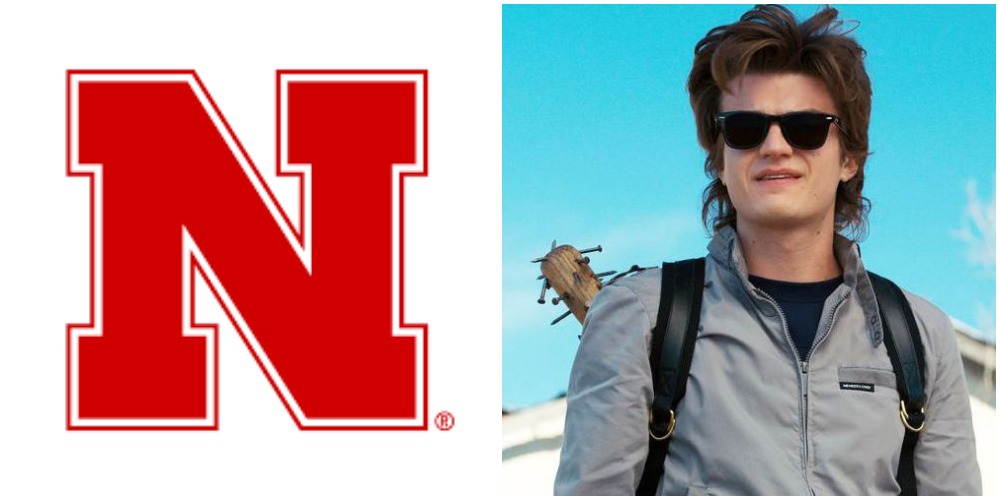 Like Nebraska, Steve peaked in the past and longs for the glory days. The main difference is Steve has actually become more likable over time.
---
How did I do? What college football programs would you assign to the Stranger Things characters I didn't mention? Be sure to let me know on Twitter (@KFitzy87) or the Cyclone Fanatic forums!