ISU head football coach Matt Campbell, his wife Erica, and their four children. (Photo courtesy ISU Athletics Communications)
AMES — The football flies and the young people scatter. It might wobble under a table, into a corner, or onto a chair. Several chase the pesky pigskin in hot pursuit, giggling, jostling, angling for its retrieval.
 It's just like any Saturday at Jack Trice Stadium. The Cyclones are playing and — since Matt Campbell took over as head coach in 2016 — mostly winning.
Either way, life in the ISU coaches wives' box continues apace. It's fast moving, occasionally nerve-wracking, but always family first. … and "almost like a daycare."
 "We've got a very large number of kids of all ages — newborn up to like 11-years-old," said Erica Campbell, who attained a doctorate in audiology and is the head coach's wife. "And there's a changing table in there for diapers to be changed. There's moms that are nursing their babies in there. There is a group of young boys that are running around in the back throwing footballs and diving under tables. There's sneaking mixed fountain drinks from the pop machine, so they take their cups and they get shots of Dr. Pepper, Gatorade, and they mix them all together and then they run around and they're even more hyped up."
 Soon, game day will beckon again when the resurgent Cyclones seek to kick off a third straight winning season on Aug. 31 against Northern Iowa.
 As for hype, there's obviously plenty — and for good reason. The program's trajectory keeps spiraling skyward, attracting national attention as well as top-notch recruits. 
 "Now the pressure is really, really on," said Sally Manning, whose husband, Tom, is back as offensive coordinator after a one-year stint as tight ends coach with the NFL's Indianapolis Colts. "So what is the team slogan? 'Prove it.' It wasn't a fluke. It didn't just happen. We built it, we've done the process — it's a great slogan. It's what we've got to do."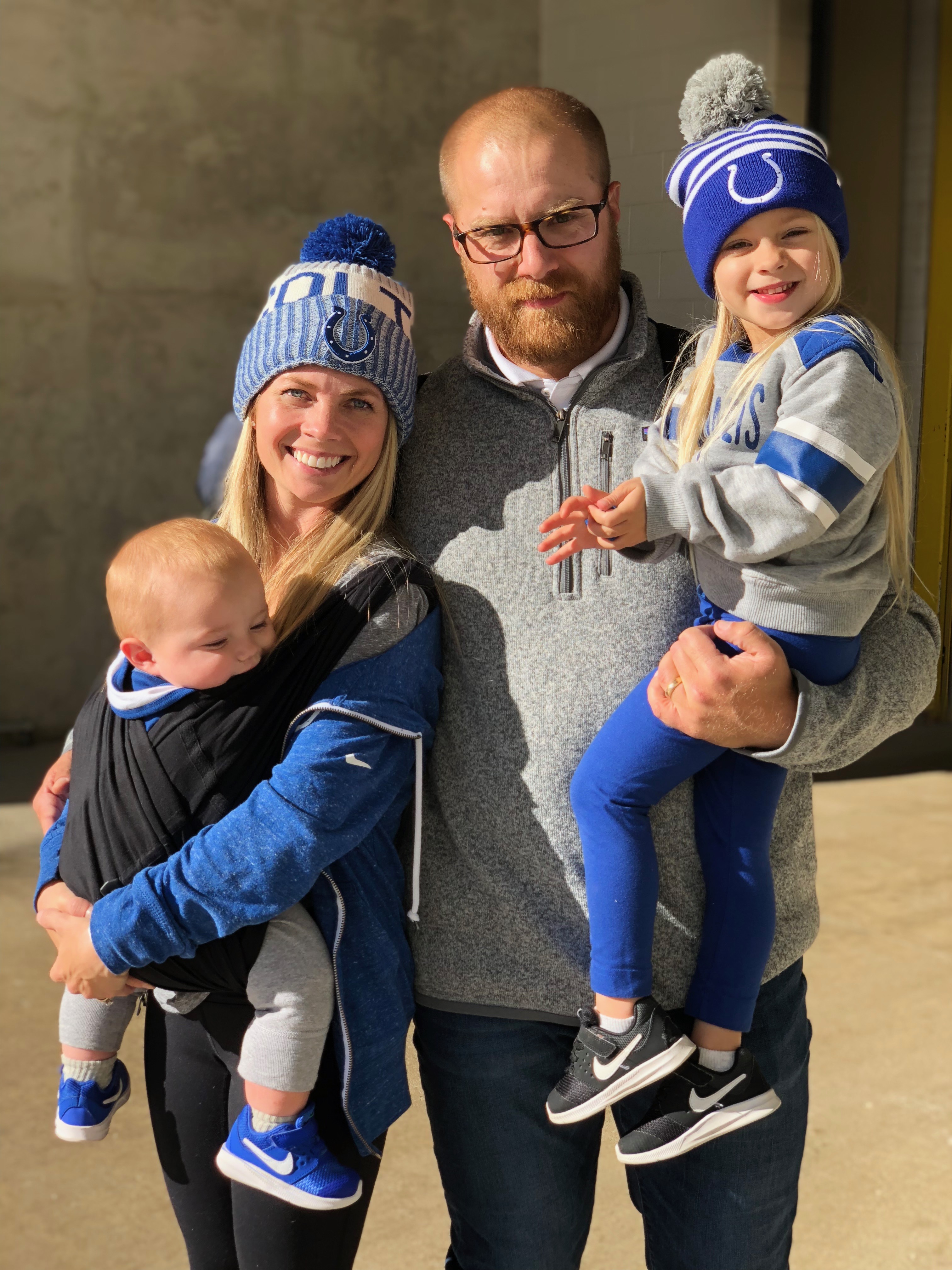 Proof of something else crops up in the suites off of Heartland Hall each Saturday morning, afternoon or evening in the fall. Proof of deep bonds and familial connections. Proof of shared purpose. Proof that uncertainty can be a positive force if properly harnessed and channeled.
 In short, it's chaos of the best kind. A frenzied, fancy-free form of unstructured play that contrasts sharply with the precise down-and-distance balance that's required on the finely-coiffed turf below.
 In other words, it's simply fun. Sheer, unbridled joy, with a side helping of shared stress. All culminating to form a tightly-bound community where a certain kind of family-based chaos is the norm, not the exception.
 Case in point: A recruiting event in February of 2017, when a prospective new coach, his wife, and their young son came in and were immediately sold on joining the program. 
 "There were kids running around on the basement floor of the Sukup (End Zone Club) and they're all playing, running around making noise," said Morgan Scheelhaase, whose husband, Nate, joined the ISU coaching staff two seasons ago. "The staff is all upstairs with recruits, having dinner and talking and I just remember thinking it was just surreal for us as a family, because we'd come from a staff that was just a lot older and there really weren't any other kids on staff. So anytime that we had any event, it kind of felt like I needed to stay home, or we needed to figure something out for (their then-two-year-old son) Cru, so it was just kind of all in all, like walking into that scenario, we always use that as an example of kind of just how grateful we felt to be a part of this crew. It just felt like such a fit. We walked in, our son starts running around with all of the kids. I go upstairs and start to hang out with the wives. It was just, honestly, it felt like such an incredibly smooth transition. It really did."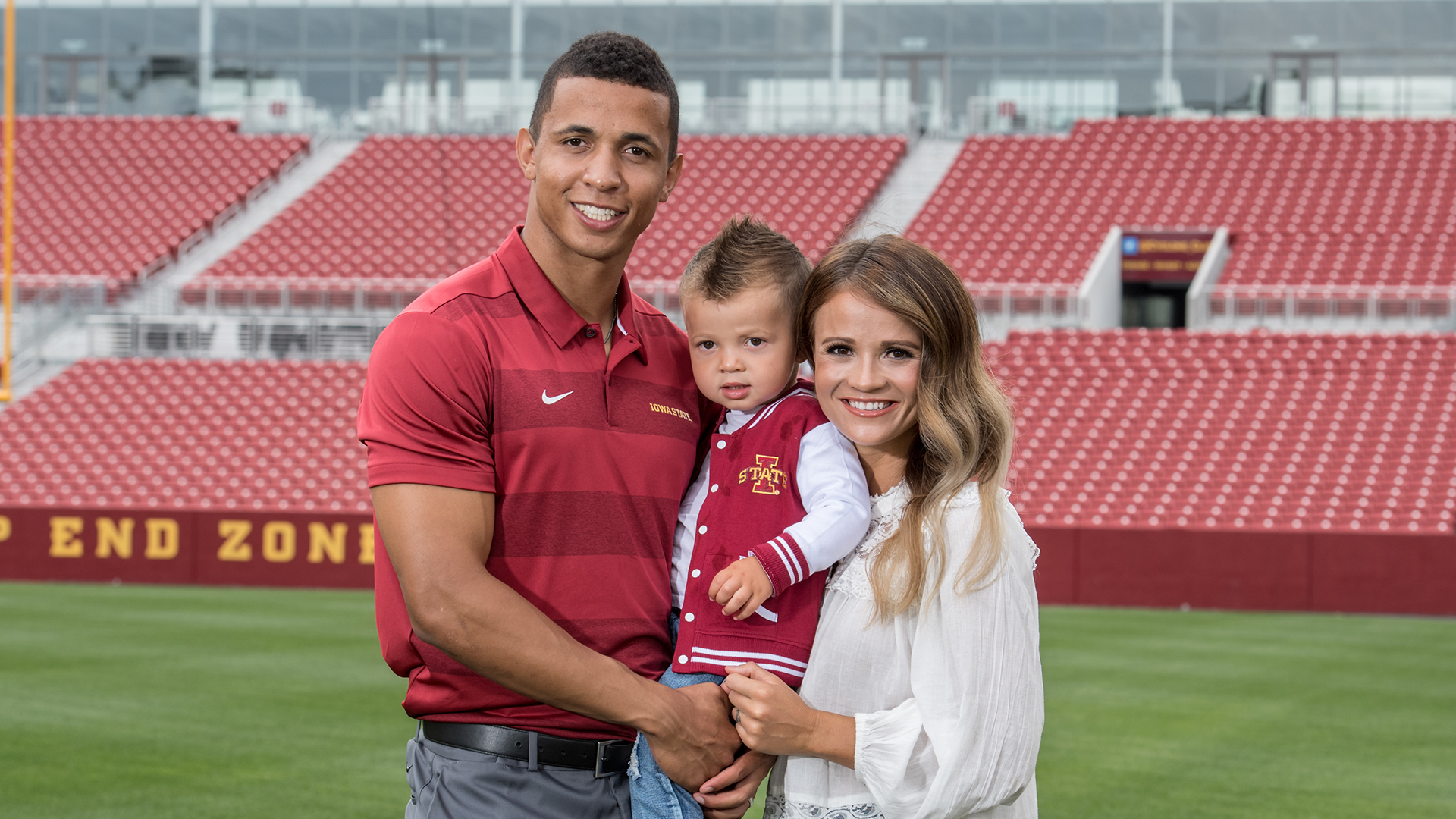 Smooth on the surface. Jagged and multi-faceted — in a good way — around the edges.
 "We are a family, so we support each other and do what we can to help out each other because nobody has any family here," said Trescia Heacock, whose husband, Jon, serves as the Cyclones' highly-regarded defensive coordinator. "We are who we have, so it's awesome. Everybody's great."
 ****
 There are 38 coaches — from the main guys, to graduate assistants and quality control and strength staff — listed on ISU's athletics website for football. Many have families. Some, like recent stars-turned-quality control staffers Joel Lanning and Kyle Kempt don't, but that doesn't diminish the all-encompassing, all-in vibe that permeates the program.
 It's an all-inclusive adventure. No one's left out. And it's utterly unoriginal in its aim, but rather remarkable in hitting the target.
 Every coach strives to lead such a program  — and a few at ISU have achieved some measure of success in that regard, but Campbell's taken it to another level.
"Matt's kind of got that — I don't know what it is about him," Erica Campbell said. "He's got something in him that you just know that you can trust. I think that the players see that, too. If they kind of follow the program, what they say, what they're telling them to do and put their best foot forward, they're going to do great things."
 Sounds simple. It's hard. Belief is a fickle beast. It can be here one minute and gone the next. It's here in full force now, but requires constant tending and feeding — within the program's walls and at home.
 "Obviously, in the beginning when you're starting a program, I think it can be very just nerve-wracking;  not knowing how it's going to turn out," Erica Campbell said. "But the longer that they're here and they're kind of settling in and getting the program to kind of their vision and recruiting the young men they believe will fit those roles and do the best here at Iowa State, I think it becomes something that feels, I don't know, more solid, more stable. I guess my belief just grows every year, because I know the work that they're putting in. I know what they're building behind those walls and I believe in it. I know that the sky is the limit for them. They can do anything and they've kind of shown that in the last two years."
 But with heightened success comes amped up responsibility. Campbell and all on his staff relish the "prove it" mentality that frames that proposition — as do the families that share in every Saturday's triumphs and travails.
 "The football part of it is very exciting," said Trescia Heacock, a nurse by training who earlier this month with Jon celebrated  their 27th wedding anniversary. "They all work very hard to get to where they are now. You just go game-to-game and do the best you can. We encourage Jon. I'm stressed out every day. The other day somebody mentioned, 'We'll see you in (a few) weeks,' and I'm like, 'What's in (a few) weeks?' They said, 'The first game,' and I was like, 'Oh, my gosh.' So it's here already, but I think I get worse as I get older. I don't know why, but it's fulfilling. It's fun. It's rewarding. It's changed a lot since he's been in. With the recruiting 24-7, 365 it seems like, a lot of it has changed but it's still fun. It's unpredictable still. It's still the same, but you don't know what you're getting into game-to-game."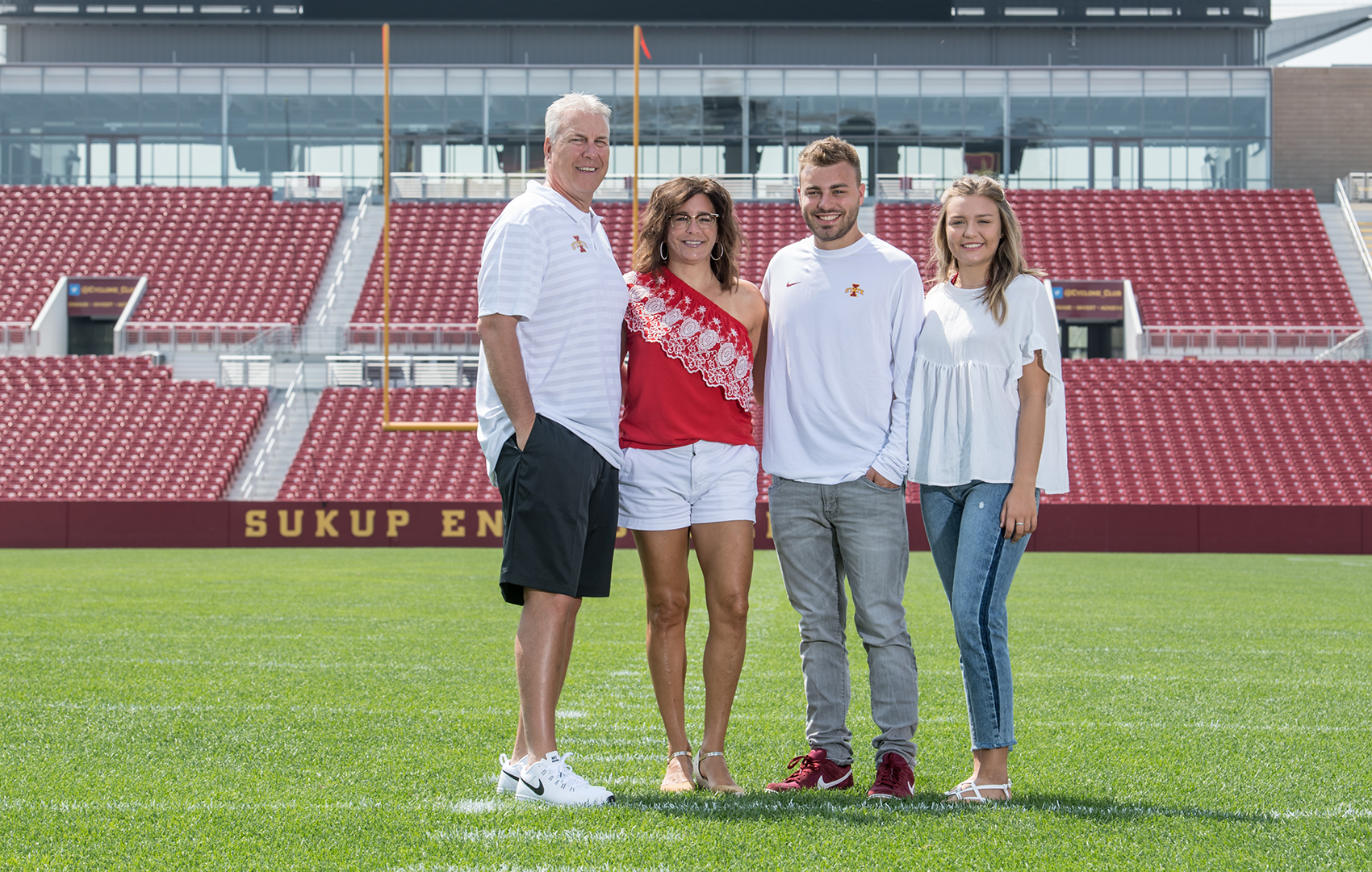 Nerves fray. Children play. Standards are methodically raised — on the field and in the coaches wives' box.
 "Everybody asks if I'm a hardcore football fan — like, if I really know what's going on," said Erica Campbell, who studied ballet and met Matt in sixth grade before earning her PhD. "I joke that I spend more time in the bathroom on game day — running kids in and out of the bathroom — than I do actually watching the game. So I do my best."
****
 That's how families work. Few, if any, on the ISU coaching staff live the "I do my best" dictum better than the Heacocks, who met in college and are veteran navigators of the college football world's vicissitudes. 
 Jon's made many stops — including three in the Big Ten — along the way, but finally ended up as a well-travelled defensive coordinator for Matt Campbell at Toledo in 2014. 
 Two years later the former Youngstown State head coach faced a difficult decision: Would he join Campbell at Iowa State, even as his daughter, Adelyn, was gearing up for her senior season of high school volleyball in Toledo?
 "He was very torn, very emotional, because he wants to be there for his kids," Trescia Heacock said. "Being her senior year, it was very difficult, but we just decided this opportunity — might as well go for it and we'll work things out. We'll be fine."
 They always have been. And Jon had always done his best to be there for major life events.
 When Trescia was pregnant with their first child, Jace, Jon had already accepted a job as an assistant at Indiana and moved to Bloomington. Trescia remained in Youngstown and let Jon know on Valentine's Day of 1997 that she was about to deliver their first child.
 "I ended up being in labor all day and finally called him in the evening and it was a blizzard," Trescia Heacock said. "So he had to drive in a blizzard and got to the hospital at about 3 in the morning. Then the doctors proceeded with everything for me to have him and he was there. Yup, he was there."
Talk about emotion. And chaos. Blessed chaos. 
 "I think I was more concerned about him getting there and driving in that horrible weather," Trescia Heacock said. "It kind of took my focus off all the pain I was in."
 Time marches on, despite its achingly short supply. Many ISU coaching families, including those mentioned in this article, managed to hold together long-distance relationships — and sometimes even before coaching careers commenced.
 The Scheelhaases met in high school in Fort Worth and were married just before Nate's senior season at Illinois. Morgan earned a degree in communications and sociology at TCU in three years partly in order to do so. They've been clear-eyed about what college football coaching means in terms of quality family time ever since. Carve out minutes here and there. Relish the brief summertime lull that allows more home alone time in late June and early July.
 "If we're in this world spending our time where our schedule just looks different than most families, how do we raise a son who has all of the characteristics that we want him to have?'" Morgan Scheelhaase said, in reference to conversations she's had with Nate. "So one of the things that we've tried to do as a family is do things a little bit differently. For example, once a week we'll try to run up there to practice, honestly, more than anything, for Cru to see his dad's face and to go out there and kind of be a part of, 'OK, this is where he is right now.' He gets to run around with the receivers and play catch with his dad and it's only 15 minutes after practice, but it just allows him to kind of be a part of it. I feel like over the years we'll have to probably evolve that and see what's his need? What does he need?"
 The Heacocks have traversed that path twice before. Jon was unable to attend many of either of his children's games or matches, but always managed to convey his fervent support verbally, if not always physically.
 Jace is now a student at ISU and helps out with the football team. He wants to be a coach. Addy is with them, as well, studying at DMACC to eventually earn a nursing degree, like her mom.
 "The most important thing is pretty much quality of time versus quantity," Trescia Heacock said. "He was there emotionally for her. They talked on the phone. They FaceTimed. She knew that he was there supporting her from a distance, which is sometimes more important than just physically being there, just because she knows how much he loves her and supported her in the game."
 ****
 When ISU plays on the road, sometimes the coaches wives' gather together at various homes. Sometimes they watch the games alone with the kids. It really doesn't matter. Manning says 80 percent of the Cyclones coaches' wives live near each other in the Somerset Village section of Ames.
 "We walk everywhere," Manning said. "All of our kids are best friends. It's like a trip to another time where you could just let your kids out and you feel comfortable with who they're playing with."
 Manning's perspective is unique among the staff. When Tom left to join the Colts last season, he felt a tug back to ISU's orbit. Back to his friends — and the broader relationships that envelop the coaches entire families.
 "So we were gone for about 11 months and it is kind of strange and surreal," Sally Manning said. "There are parts of my brain that are like, 'Did that even really happen?' And when I'm here with the wives and my girlfriends and the players, I think, 'This is how it should be.' I just feel normal and natural and grateful and happy."
 Oh, they've shared many joyous moments. Grand events — like watching the unlikely Kyle Kempt-fueled win at Oklahoma in 2017. Everything fans exulted about, the coaches wives' experienced tenfold from afar and together.
 "The kids and I were here at our house with (linebackers) coach (Tyson) Veidt's family — they have a set of twin girls and a son," Campbell said. "So his wife and I were watching the game and kind of totally shocked at how wonderful things were turning out. It was such a nail biter and I just remember there was such pandemonium at the end of the game. We were crying. I mean, it was just so awesome because we knew that coming here, that they had a really great opportunity and that they could do something like this. But to finally see it happen so quickly and on such a big stage, it was just incredible. And then TCU…"
 Yes, ISU went into rapid "prove it" mode a couple weeks later, downing the No. 4 Horned Frogs, 14-7, at Jack Trice Stadium.
 "That was just as awesome, because then it was like, 'OK, this was not a fluke,'" Campbell said. "We are really turning this around. It was just incredible validation for all of their hard work and just the direction that we knew we could get this program and this school to —it's just awesome. You see how much work they put in behind the scenes. Matt going in at 4 or 4:30 in the morning and not coming home until after 10 o'cock at night every day, weekends. Just the sacrifices. It feels like it's worth it, you know?"
 That day, Trescia Heacock hosted some coaches' families for a game watch. One brought a bottle of champagne over later. All celebrated, sensing the sea change that had occurred meant more happy shifts were to come.
 "We are a family, so we support each other and do what we can to help out each other because nobody has any family here," Heacock said. "We are who we have, so it's awesome. Everybody's great. … You always learn something whether you have a win or a loss. You just try to figure it out and do better the next week."
 ****
Adaptation is key for families wedded to the college football coaching profession. Great relationships can be cut short by bad luck (and substandard results). Greater dreams can require long stints apart — in season, or in between jobs. But at this level, the money is good, and the rewards are tantalizing.
 Time is precious and life is good. Kids chase imaginary glory while pressing play on soda machines as self-styled sugar alchemists; turning a seemingly bland single stream into a blended burst of flavor. On Saturdays at Jack Trice Stadium, all is good until it isn't. Urgency reigns alongside unconditional love. Laughter crescendoes as the yard sticks dance. It's only a game, but it's life that binds.
 "The summer is kind of the wonderful time when you can forget, because daddy's home a little more and we're not living and breathing football," Manning said of the days that are ticking toward kickoff a month away. "I joke and I tell people, 'I hate football,' but that's not true. I chose Mount Union because of their football program. I chose athletic training because I love the game of football and I knew I'd be able to be around it if I were an athletic trainer and I married my husband because we had a similar interest. I love it. I love the game. I study it as if I were a play caller. I love everything about it. It's just the three, four hours of game day on Saturday I'm in, like, a living nightmare."
 Also, a waking dream.
 "Last year, I remember walking into the first game," Scheelhaase said. "My son and I walk in probably 30 minutes before the game and we go up into the (box) and it is chaos up there, with all the kids running around. It's chaos kind of in a good way. It's either that, or sitting in the stands and trying to wrangle a two-year-old in the stands, so honestly it's so nice to be able to all be up there and have the kids play together. I just remember we're standing out, there's a little patio area kind of outside of that little (box) and it was my first game at Iowa State. I wasn't even that familiar with the fan base or kind of what they were known for, but all of a sudden, the sirens start going off and they start doing the smoke and the flames go up. I am not kidding, I'll remember that moment probably for the rest of my life. It was such an incredible experience just seeing that whole stadium just light up. I've never experienced anything like that in my life, so every time that we go somewhere and we talk about Iowa State, that is the memory I have of our fan base. So when I think of game day and all of those things approaching, to me it's incredibly exciting. I'm so excited."