I love traveling, but I love coming home even more. I miss my daughter, dog and believe it or not, all of you.
Over the last five days, I have been escorting my wife around San Diego as she was attending a national veterinarian conference. I cranked out the following mailbag way high up in the sky somewhere between Las Vegas and Des Moines yesterday afternoon.
Before hopping on a jet plane Monday morning, I asked my Twitter followers for questions. We've got a lot on Iowa State basketball coming your way, with some gridiron and vacation stories mixed in as well.
Enjoy!
On Iowa State basketball…
@Jkonky44 writes: If ISU beats UNI this weekend, can fans start start talking about making the NCAA Tournament?
CW: Absolutely. That would put Iowa State at 8-2 and according to KenPom, give the Cyclones their second best win of the season statistically (behind Boise State). Fans can and in my opinion, should always shoot for the NCAA Tournament. Realistic expectations from the people paying the bills (fans) are healthy for a program. Prohm clearly has thing turned around and the ceiling looks much higher for Iowa State than it did in the middle of November.
But…
@_AlexGookin writes: Basketball seems to be trending up, but defense still has huge holes. Cyclones have only played one opponent ranked in KenPom top-50 offenses (Missouri). Fifteen of their last 19 games are against top-50 offenses. How screwed are we?
CW: Screwed? That might be a bit much. You are correct though, Alex, in your assessment that the teeth of the schedule is obviously still to come. Take Iowa (80) and Boise State (61) out of the equation and the other five teams Iowa State has beaten are ranked a combined 227th via KenPom.
Even after the seven straight wins, Iowa State is the lowest ranked Big 12 team via KenPom (63).
When it comes to defense specifically though, I am actually somewhat optimistic about this group's future. I write that mainly because the young Cyclones are really competing on that end. Often times they are in the wrong spots, but the group is working hard (for the most part). I believe they have bought into Prohm's message – that playing solid defense will result in their best offense.
I talked to Lindell Wigginton at length about this specific topic following Iowa State's win over Western Illinois last month. He gets it, and he's only a freshman.
Iowa State's backcourt should be fine defensively. The bigs should continue to get better.
This team isn't as talented skill-wise as those we have seen in the past but I think it might be a bit grittier on the other end of the floor. It will have to be if Iowa State's season is going to end in the NCAA Tournament.
@shananigins writes: In your opinion, how long do you think we see Wigginton in an ISU uniform?
CW: I really don't even like speculating on this topic because all it does is build expectations about something I am not qualified to analyze. If I had to guess, I'd put the over/under at 2.5 years. I don't think that Lindell is a one-and-done guy but he is rapidly improving by the day. Who knows how good he will be in March. That's about all I can say about it though. We would be much better off asking an NBA guru like Blum or Stansbury to get a more accurate read.
@DrewSikkink writes: What is the best-case/most likely/worst-case scenarios for the basketball season as we near conference play?


CW: For what it's worth, KenPom currently has Iowa State at 6-12 in league play. That obviously wouldn't be good enough.
The best-case scenario is around 10-8 or 9-9, in my opinion.
I think that an 8-10 (ish) team that is fun to watch and improves throughout the year is the most likely scenario. If you're 8-10 in the Big 12, you are likely on or near the bubble when Kansas City rolls around.
Worst-case scenario is that the defense doesn't keep getting better, the team doesn't continue to gel and the Cyclones miss the postseason altogether.
I am simply choosing to limit my expectations. I didn't have this team in the tournament before the season and have really enjoyed just letting the Cyclones surprise me over the last month. Let's hope it continues. It might not as the competition increases. Altogether, this still feels like an NIT team to me. Hope I'm wrong! 
Saturday's game vs. UNI will be a great test.
@Jrichman14 writes: When do you think Lard will replace Beverly in the starting lineup?
CW: …When his coach fully trusts him.
Remember that this is a guy who was suspended early in the season (for reasons we still do not know) after having academics keep him out last year. Cam is an incredibly promising talent but there is clearly a reason why Prohm has kept him out this long. Anybody watching the games can see that he is better than Jeff Beverly.
Speaking of Beverly, maybe this is just as much about him as it is Lard? We have seen Prohm be very careful in dealing with the emotions of graduate transfers in the past. Perhaps he is simply allowing Beverly to exhaust every ounce of equality he has left before moving him to the bench. If that is the case, (and this is a huge if because I truly don't know), I can't imagine it lasting much longer with Big 12 play quickly approaching.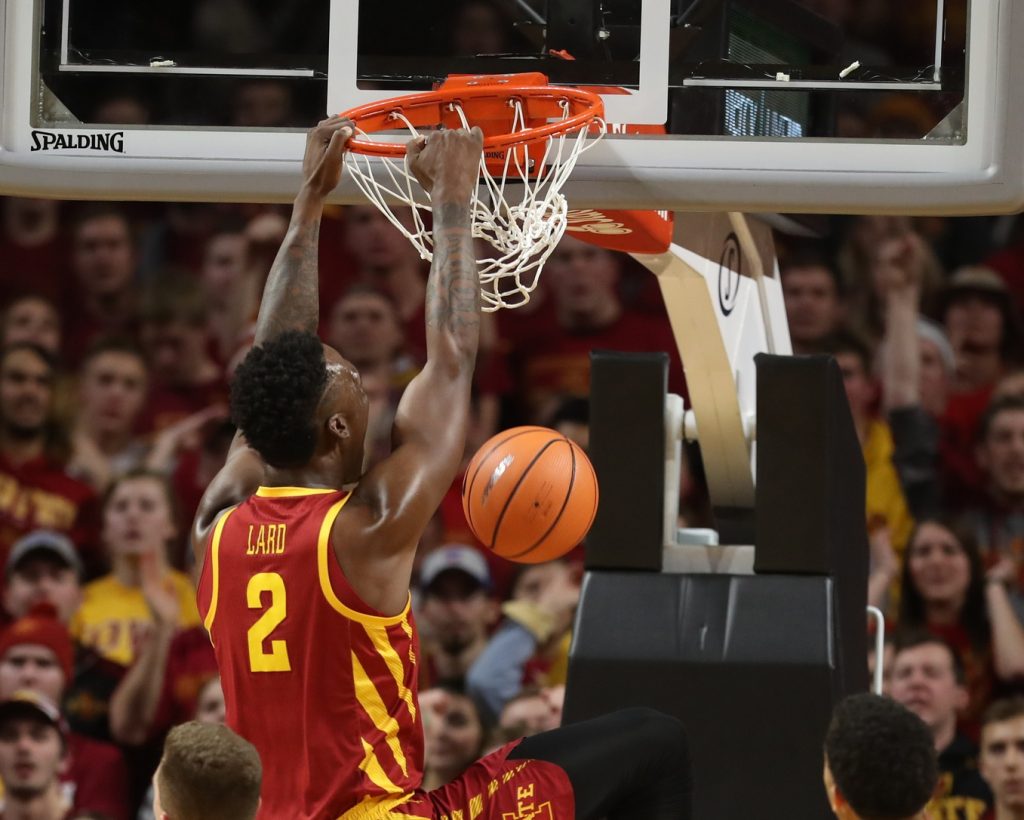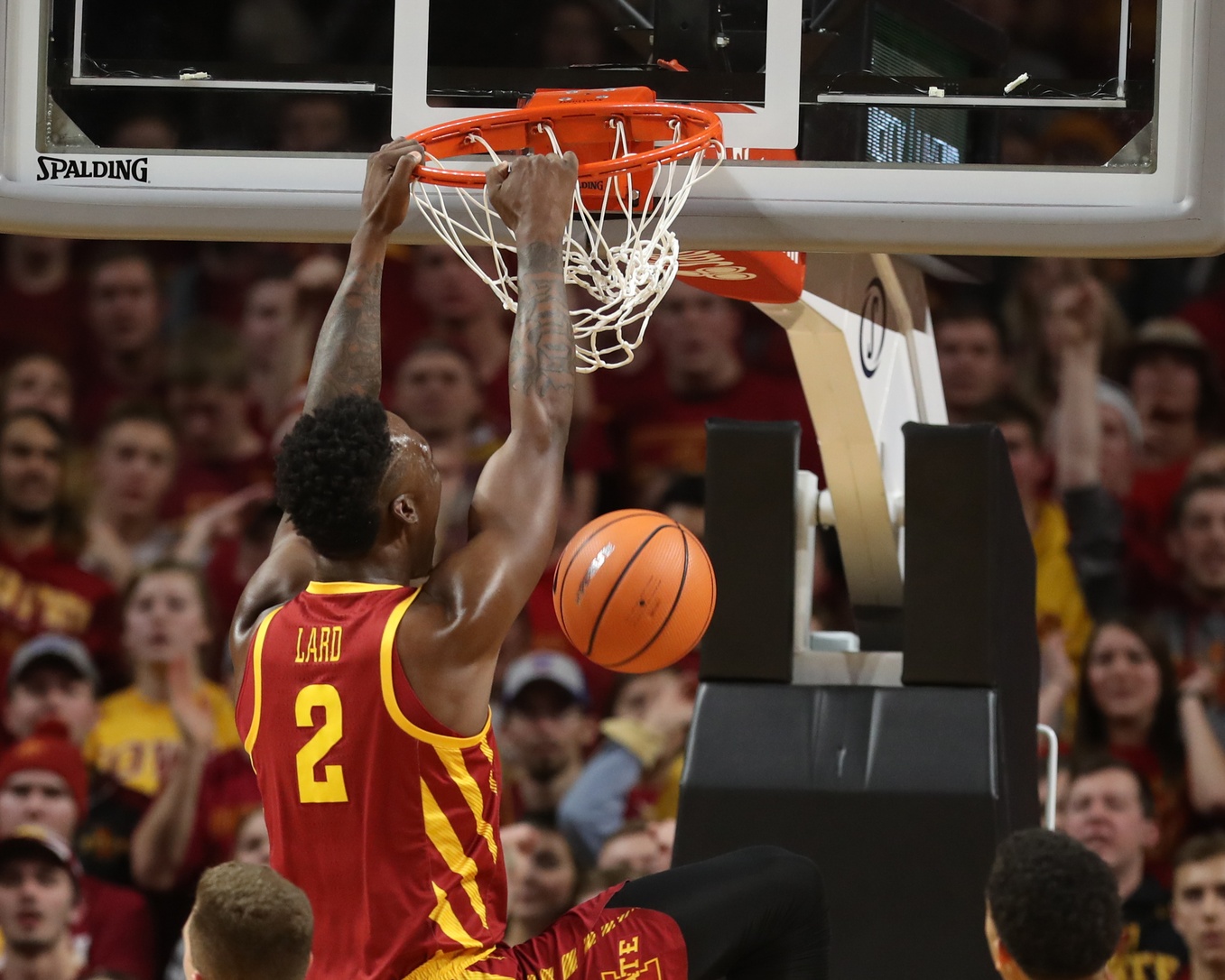 On Iowa State football…
@ryanvogt27 writes: Most intriguing non Iowa/ISU bowl this year?
CW: Well, obviously the two Playoff games. I think I am probably more interested in Oklahoma/Georgia simply because of Baker Mayfield. I love the guy and am rooting like crazy for him. Plus, it is always fun to put the "Big 12 plays no defense" theory to the test on a huge stage.
Not counting the Playoff, here are a couple of games that I really want to watch and why:
Peach: UCF vs. Auburn – Although this is much less sexy for me now that we know Scott Frost has already left for Nebraska. I don't really care that he is coaching in the game. His mind is elsewhere.
Holiday: Washington State vs. Michigan State – Leach vs. Dantonio … two totally different teams going head to head. I always like to watch and see which style prevails.

Orange: Wisconsin vs. Miami – Both teams that had great records all season long but were thought to be overrated due to metrics. Which one will win out in the prestigious Orange Bowl?
Alamo: TCU vs. Stanford – A healthy Bryce Love vs. Gary Patterson and TCU's defense. Sign me up.
@5thGenCyclone writes: Is Jake Campos eligible for a medical redshirt considering he missed all of last year? Haven't heard anyone bring it up, but would think it would be a no brainer if he wants to peruse it.
CW: You are correct – that everybody always dances around this topic. From what I understand, it is a lot different than basketball, where guys normally don't redshirt. That sixth-year is always sticky for the NCAA.
I think it will mostly depend on Jake though. Some guys just want to move on after football. Others will do anything that they can to stick around. I'm not really sure where his head is at but will ask some questions here in the coming days.
On returning from a quick vacation…
@WideRtNattyLt: Recruiting news was fairly limited during your vacation. Will your plane breakdown on the runway, keeping you hostage until a 4 star recruit commits to Iowa State?
CW: Uh, I'm pretty sure that the Clones got a pretty big commitment on Monday morning…
THE LEGEND GROWS.
@Jenny0607 writes: Did you love San Diego? I had family living there and think it might be the perfect place.
CW: I did, indeed. Absolutely stunning. My favorite part of San Diego was probably the people though. So laid back. So chill. So friendly.
Thursday night was a special experience for me. I worked at a cool little coffee shop for most of the day and then had to find a place to watch the Clones vs. the Hawks. It was so surreal for me to be in California, by myself (wife was at class), while that game was going on. Plus it started at five there! The good news is I had a few total strangers cheering on the good guys!
@GrappleCy : Are you an aisle or a window guy?
CW: Window. What do you think I am, a communist?
@DFWCyclones What's the difference between a seal and a sea lion, according to C-Dub?
CW: After a surfing incident, I actually became quite the expert on this.
Sea lions have flappy ears. Seals do not. Sea lions bark at you. Seals are very quiet. Those are the two main ways to spot the diference.
@hansenry writes: Better coast … east or west?
CW: Better? That's hard. They are very different. This was my first time of being in California for much time…
I really appreciate the history on the east coast. The Carolinas are very near and dear to my heart as that's where my mom is from. There is no place like New York City. I surprisingly really have enjoyed trips to the Big Apple. I've been to Boston once and had a really nice time.
I have to say though if I had to pick a place to live, it would probably be out west. I just like the culture out there. I think I would fit in better. I would never want to live in L.A. though. It's San Diego or Seattle for me.