Jan 7, 2017; Ames, IA, USA; Iowa State Cyclones guard Deonte Burton (30) dunks the ball during the second half against the Texas Longhorns at James H. Hilton Coliseum. Iowa State won 79-70. Mandatory Credit: Jeffrey Becker-USA TODAY Sports
AMES — Before Iowa State's 79-70 win over Texas at Hilton Coliseum, Deonte Burton's teammates had a message they wanted to get through to him.
Make the simple play.
It was something Burton had been struggling with over the past several weeks and during the Cyclones' first two games in Big 12 play. He hadn't necessarily played poorly, but the 6-foot-4 senior wasn't doing the things necessary to help his team on both ends of the floor.
In the win over the Longhorns, Burton got back to doing simple things and it led to success. So much success that he scored 27 points on 12-of-17 shooting including 3-of-4 from 3-point range. H grabbed five rebounds.
"My teammates gave me the confidence before the game," Burton said. "We talked before the game and they told me I need to pick it up and I did."
Burton's struggles at scoring around the rim have been well documented during the last month. Since scoring 20 points in Iowa State's win over Omaha, he's scored in double-figures twice but shot just 31 percent (16-of-51) from the floor.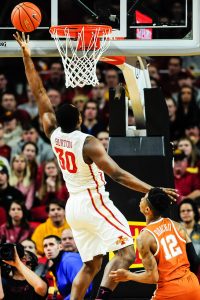 That included a six points on 2-of-11 shooting performance in the conference opener against Texas Tech. The Cyclones needed the version of Burton that scored 21 points against Miami (FL) and 29 points against Gonzaga back.
Finally, it seemed like they got him on Saturday. Actually, what they got might have been even better.
"That (Gonzaga) game was really fast-paced and really up-and-down," Iowa State head coach Steve Prohm said. "I thought he really executed in the half-court tonight. This was probably his best game offensively all year, whether he had more points against Gonzaga or not. Just the efficiency. Shoot, if he makes three free throws he finishes with 30 points tonight."
Burton was the best player on the floor for long stretches of the game against the Longhorns. No matter which former blue-chip prospect Shaka Smart threw at him, Burton was able to use his strength and quick first-step to get to the rim.
For the first time in several weeks, he was able to finish those chances when he got there.
"He's not a big guy, he's strong, but he's a perimeter player who does some really good things around the basket," Smart said. "He's a tough matchup."
Burton will need to continue to be a tough matchup for Iowa State to max out during their last 15 games in Big 12 play — and any possible postseason berth. They don't really even need him to score 25-plus points every time out.
They need him to make the simple plays.
"He's a mismatch problem," senior guard Monte Morris, who finished with 22 points and 10 rebounds, said. "He's so versatile out there once he got it going he can draw so much attention. Guys step up and make shots. I tell him, 'Make the simple play.' He did that tonight."