Dec 21, 2016; Lubbock, TX, USA;  Texas Tech Red Raiders guard Keenan Evans (12) goes to the basket against the Longwood Lancers in the second half at United Supermarkets Arena. Texas Tech defeated Longwood 91-60.  Mandatory Credit: Michael C. Johnson-USA TODAY Sports
Chris Beard was sitting at a table by himself when the Cedar Rapids Gazette's Dylan Montz and I approached him at Big 12 Media Day in Kansas City in October. To the surprise of nobody, Texas Tech's new head coach wasn't drawing the same level of media attention as Kansas' Bill Self or West Virgina's Bob Huggins.
We told him we wanted to ask him some questions about Iowa State, to which he replied by asking (with a laugh) if we were there to talk "smack." Beard clearly had not forgotten about the Cyclones' win over his Little Rock squad in the second round of last season's NCAA Tournament.
Over the next several minutes, Beard gushed about Steve Prohm, scoffed at people who thought Georges Niang wasn't a pro and said he went into that game in Denver thinking the Cyclones' best player was actually Monte Morris. He closed the interview by asking if he would see us in Lubbock come February.
On Friday, Beard will lead the Red Raiders (11-1) into Hilton Coliseum (5 p.m. on ESPNEWS) for his first Big 12 game as a head coach.
Here are five points to prepare for the Cyclones' Big 12 season opener:
1 — Tech's offense is highly efficient
Led by junior guard Keenan Evans who averages 13.4 points per game, Texas Tech's offense was one of the biggest surprises of the non-conference slate.
Evans is joined by Anthony Livingston (13.0 points per game), Aaron Ross (12.3 PPG), Zach Smith (12.3 PPG) and Justin Gray (10.0 PPG) as players scoring in double-figures. They've done that while playing at a pace that ranks No. 318 (out of 351) on KenPom.
"I know they lost one or two guys, but I think they're playing with great confidence," Prohm said. "They're defending. They're sharing the ball. Chris does a really good job, did a great job at Little Rock, and he's doing a great job there implementing his culture and his style. I'm sure Tubby laid a great foundation there, as well, for him to build on. Chris is doing great and they've had a great non-conference schedule, 11-1, to where they're coming in here now with a lot of confidence."
The Red Raiders are also the second-best 3-point shooting team in the Big 12 as they've knock down 40.1 percent of shots from downtown. Evans (46.3 percent), Livingston (46.8 percent) and Ross (11-19 in seven games) have all solidified themselves as decent options from behind-the-arc.
Smith, a 6-foot-6 junior, is one of the league's better two-way players as he's also the team's leading rebounder (7.5 per game) and rim protector (19 blocks). Livingston, a 6-foot-8 graduate transfer from Arkansas State, and Norense Odiase, a 6-foot-9 junior who made his season debut in the non-conference finale, join Smith to form one of the more underrated frontcourts int he league.
2 — Beard and Prohm have bond over jumping from mid-majors
Another thing Beard mentioned at media day was a conversation he had with Prohm last season. Although the two don't know each other overly well, Beard said he told Prohm he was the torch-bearer for coaches looking to make the jump to the sport's highest levels.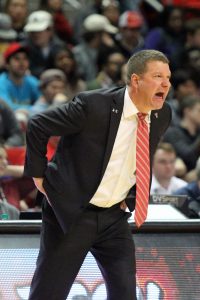 "He paved the way for a lot of us like myself that coached at a mid-major and took the jump," Beard said. "I told him last year he was kind of carrying the torch for all of us. I thought he did a great job. I thought it was one of the most under appreciated coaching jobs in all of college basketball. It's difficult to take a team like Fred had and then put your own stamp on it, but at the same time win. Then to advance to the third round, I thought it was just a great coaching job."
Beard, who was an assistant coach at Texas Tech under Bobby and Pat Knight for 10 seasons, took over as the Red Raiders' head man after initially leaving Little Rock for UNLV. That came after he spent just one season leading the Trojans and compiling a 30-5 record in the process.
Two seasons ago, he was the head coach at Division II Angelo State.
"He's had a lot of success as a head coach," Prohm said. "Very good coach. I don't know him great, I know him a little bit, but (I'm) pulling for him when he's not playing Iowa State."
3 — Tech proves the depth of the Big 12
Entering the season, few people would've expected Texas Tech to enter conference play with the No. 27 adjusted offense in the country. Even though they are the eighth most experienced team in college basketball, last season's NCAA Tournament team wasn't exactly an offensive juggernaut.
The Red Raiders are 10th nationally in two-point field goal percentage and leads the conference in overall field goal percentage. Despite being picked seventh in the league's preseason poll, Friday night's game proves there aren't any off-nights in the Big 12.
"It's probably a lot more balanced top to bottom than it was last year," Prohm said. "I thought, probably, last year you had a couple teams at the bottom you kinda could say, 'We're going to get them. Probably, have a really good chance to get them at their place, too.' I think one through ten now, you have your elite teams at the top, teams that are playing really well right now, Kansas, Baylor, West Virginia, Oklahoma State with those guards back are very good. I just think when you look at Texas Tech, you know, had a great year last year and I think they're better this year."
4 — Finding the free throw line
Iowa State enters conference play ninth in the league in free throw shooting percentage. The Cyclones are 339th nationally in free throw rate, which means they get to the charity stripe less than any other major conference team.
Finding a way to get to the free throw line could go a long ways towards correcting some of the troubles Iowa State has had on offense. More often than not, when you're getting to the free throw line, you're attacking the basket.
The Cyclones have been at their best when attacking the rim this season and it seems to be something Prohm has emphasized over the past couple weeks. Don't be surprised to see Iowa State at the line a lot more during the second half of the season.
5 — Playing nasty
At times this season, Iowa State has played with a serious edge on both ends of the floor. Some might call it swagger or toughness but whatever it is, the Cyclones have it when they're playing at their peak.
It's one of the things that's missing when they're not playing at their best, so making it something consistent has been one of Prohm's biggest goals over the past few weeks.
"We were really good defensively, like in Florida, I thought we were nasty," Prohm said. "I thought we were tough. I thought we really competed at a high level. Miami was bigger, we rebounded them even. Gonzaga, same way, had a chance to win that game. The last couple weeks we lost that edge a little bit and we've got to get that back and I think we're making strides to be able to do that."
The Cyclones will need that edge if they have any hopes of making some noise in Big 12 play. The next step in getting it back starts when Texas Tech rolls into town on Friday.