Nov 17, 2016; Iowa City, IA, USA; Iowa Hawkeyes head coach Fran McCaffery reacts to a call against the Seton Hall Pirates during the first half at Carver-Hawkeye Arena. Mandatory Credit: Jeffrey Becker-USA TODAY Sports
The Cy-Hawk basketball series is alive and well. After a decade of boring and horrific basketball in the state of Iowa, this heated matchup has stoked old fires and has become "rearrange your calendar worthy" once again. While Iowa State has made a program record five straight NCAA appearances, Iowa has made three straight Big Dances for the first time since 1993.
Iowa State has won three games in a row in the series, yet needed last second heroics to escape in Hilton Magic classics in two of those three wins. (Thanks for the timely misses Mike Gesell, Zach McCabe and Jarrod Uthoff.)
Those recent instant classics were a far cry from the dull efforts of the late 2000's.
From 2002-2011, Iowa State and Iowa combined to go to just three NCAA Tournaments. The only NCAA Tournament win in that stretch was Iowa State's victory over Minnesota in 2005. The only team to make the Sweet 16 from the state from 2000-2013 was the UNI Panthers in 2010.
A proud basketball state was relegated to irrelevance for a decade.
Attending the Cy-Hawk games during the McDermott-Lickliter era was like attending a relative's winter choir concert: you felt obligated to be present but there was little emotional investment.
I will send you $100 via PayPal if you can name three of the five leading scorers in the 2008 Cy-Hawk meeting. Seriously give it a go.
Iowa won an abysmal game 73-57 and there were only five players in double figures:
Jeff Peterson (17 points) Jermain Davis (16) Diante Garrett (16) Devan Bawinkel (12) Cyrus Tate (10).
Jermain Davis? Devan Bawinkel? As Wayne Morgan famously said, "Never heard of 'em."
During the classic battles in the '90's it was easy to despise guys like Jess Settles, Russ Millard, Sam Okey, Guy Rucker, J.R. "The Pump Fake" Koch, Ryan Bowen and his mini-me Ryan Luehersmann because they were memorable, relatively good and around for CENTURIES or the beginning of civilization in Settles case.
As a 14 year old, if I was given a free punch in the face to any member of the human race, I would have selected the guys from the group "Chumbawamba" or Iowa forward/instigator Jacob Jaacks.
I wanted to get fired up over Matt Gatens, Seth Gorney and Todd Lickliter, but I just kind of felt bad for them.
We have come a long way. Iowa State has won six NCAA tournament games in the last five years, made two sweet 16's and had multiple All-Americans.
Iowa has made three straight tournaments, won two NCAA Tournament games and has produced enough dudes over the last five years that Cyclone fans could grow averse to.
Zach McCabe, Devyn Marble, Aaron White, Adam Woodbury, Jarrod Uthoff, Mike Gesell just to name a few. Those guys were good enough and annoying enough to add to the legitimacy of the rivalry.
The current Iowa team has a household name in Peter Jok, who isn't nearly as loathsome as some of the previous Hawks, but a damn good player that could put up 35 in a heart-beat.
I can certainly see youngsters Jordan Bohannon (I think Bohannons equal half the population of Marion, Iowa), Cordell Pemsl, Tyler Cook and Nicholas Baer becoming the newest Cy-Hawk villains in due time.
But best of all for the rivalry is Fran McCaffery. Franny Mac and his FRAN-CON levels of eruption are such a huge upgrade over Todd Lickliter's CSPAN-2 methods.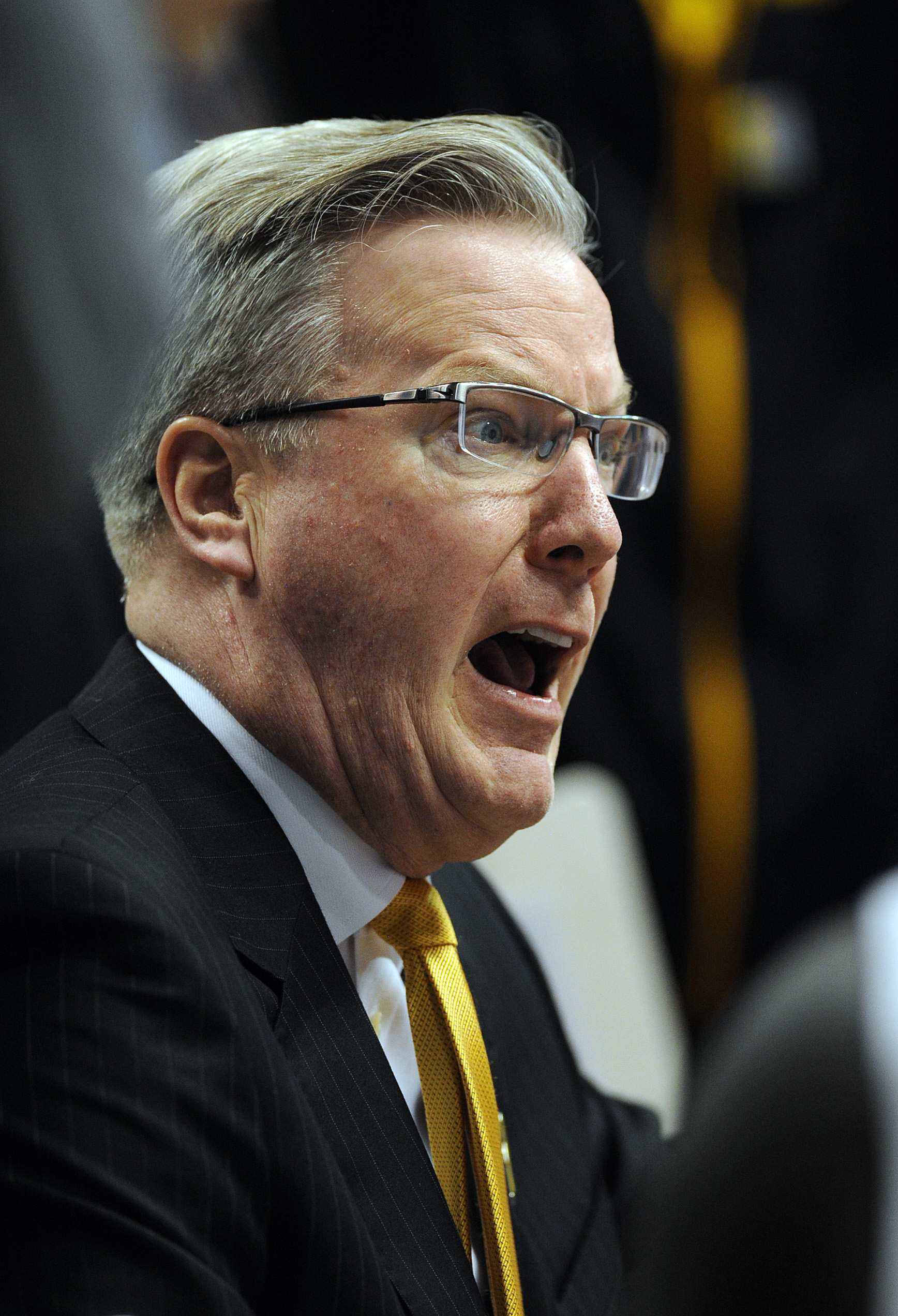 McCaffery is some weird combo of Dr. Tom Davis' enjoyable playing style, mixed with Bo Pelini's red face and Larry Eustachy's peak sideline antics. It is a blast to watch to try and guess when Fran's next clipboard will be smashed. He and Georges Niang should be thanked first and foremost for helping resuscitate this rivalry.
To be entertained properly, an investment is needed and there is some serious investment in what happens on Thursday night. A rivalry needs two components to thrive:
Your team needs to be playing for something meaningful.
The rival team needs to have villains.
Both sides of this basketball game can check both boxes.
As a basketball fan, it is great to see the two big programs in the state relevant. Iowa State and Iowa have made the same NCAA Tournament three straight times for the first time ever. The Cy-Hawk series has benefited because of this.
Iowa may be young, down this season and a fringe-at-best NCAA tournament team, but Carver-Hawkeye will be as raucous as ever and Mt. McCaffrey will be on high alert Thursday night.
This is not going to be easy for Iowa State. This series is a rivalry again.