Sep 24, 2016; Ames, IA, USA; Iowa State Cyclones defensive end J.D. Waggoner (55) celebrates with defensive end Jhaustin Thomas (8) after sacking San Jose State Spartans quarterback Josh Love (12) at Jack Trice Stadium. The Cyclones beat the Spartans 44-10.  Mandatory Credit: Reese Strickland-USA TODAY Sports
Iowa State came out of Saturday's loss to Baylor relatively healthy, but there were a few guys that got banged up.
Defensive end J.D. Waggoner and linebacker Bobby McMillen are both questionable for this week's game against Oklahoma State, according to head coach Matt Campbell. Left guard Patrick Scoggins practiced on Sunday and will be available in Stillwater after battling cramps against Baylor.
Waggoner played one of his best games of the season in the loss to the Bears. The redshirt junior from Dallas recorded four tackles, three solo, and a tackle for loss in a reserve role. Campbell didn't specify Waggoner's injury, only saying he was "banged up" on Saturday.
McMillen is trying to bounce back from a sprained ankle suffered in Saturday's game. The redshirt freshman from Naperville, Ill., has recorded six tackles and a pass breakup during the Cyclones' first five games.
*** Campbell said two weeks ago a decision would be coming on Chase Allen's playing status during his true freshman season. We learned on Monday that decision has been made.
Campbell announced the 6-foot-6-inch, tight end is likely to redshirt.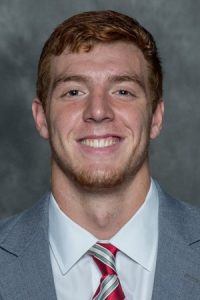 "Barring any unforeseen circumstances I would certainly love to redshirt Chase," Campbell said. "Chase's situation is a tough one because obviously he was playing really, really well for us in fall camp and did a really good job in the summer. But some injuries and certainly we all know of some of the things that happened to Chase and then Chase really getting sick has hindered that."
Allen was hit by a car outside of Iowa State's football complex in August, which forced him to miss several days of practice and get 103 stitches in his back. He was also hospitalized with the flu in early September.
"Do I really want to put this young man at risk of not getting a full season?" Campbell said. "I don't know if that's fair to him. I'd rather play a young man too late than too early. I just don't think it's right by Chase."
Allen was one of the top prospects in Iowa State's 2013 recruiting class. He chose the Cyclones on signing day over Nebraska, Michigan, Florida State and a handful of others.