DALLAS —Newsflash: If you want to consistently win football games in the Big 12, you have to be able to win a shootout.
In 2015, four of the top 10 offenses in college football resided in the Big 12. Those same programs (Baylor, Texas Tech, TCU and Oklahoma) accounted for four of the top seven teams nationally in scoring offense at a combined average of 44.7 points per game.
Scroll all the way down to a tie for 93rd and you will find Iowa State, right there neck-and-neck with Sun Belt juggernaut South Alabama at a whopping 25 points per game.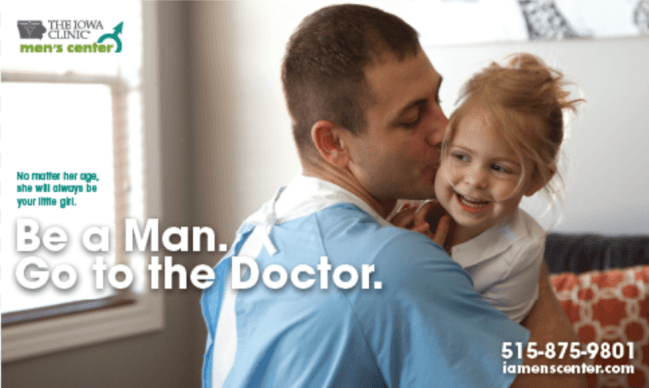 Matt Campbell and rookie offensive coordinator Tom Manning still have to figure out what do with an improvised offensive line. But for the first time since 2006 (Bret Meyer and Todd Blythe), two Cyclone offensive skill players (Mike Warren and Allen Lazard) are on the Preseason All-Big 12 team.
That's a positive sign.
Warren, who led all freshmen in rushing yards a year ago, will get his touches. That's inevitable because of the position that he plays.
But Lazard, a hulking, talented wide receiver, only has so much control over how successful he can be. The offensive line has to block for the quarterback, who in return has to get him the ball. Despite catching 101 passes for 1,401 yards and nine touchdowns over the last two years, a strong argument can state that he was underused.
This brings us to Iowa State's need to get No. 5 the damn ball more in 2016.
Did you know: Iowa State hasn't had a wide receiver drafted since Luther Blue back in 1977.
At 6-foot-5, 223-pounds, ask anyone within the game and they will tell you that Lazard is due to break that streak. But that streak also tells you that having a receiver of this caliber in Ames is exceptionally rare.
Matt Campbell has experience with this. Back when he was named the interim head coach at Toledo in 2011, Campbell inherited a senior wide received named Eric Page, who accounted for nearly 3,500 yards during his three-year college career. As Page's offensive coordinator and eventual head coach, Campbell constantly heard voices in his head.
"As a young coach I was constantly asking myself, 'How many catches does he have?' You absolutely have to get the ball in those guys' hands," Campbell said. "You have to allow those guys to affect the game whether if it is an attempt or getting it there."
During his first two seasons, Lazard caught an average of 50.6 catches per year. At Toledo, Page never caught fewer than 82 (it's notable that Iowa State's school record for receptions in a season was set by Tracy Henderson with 81 in 1983). Page caught 306 passes during his three years working with Campbell because he understood the importance of getting his stud the damn ball.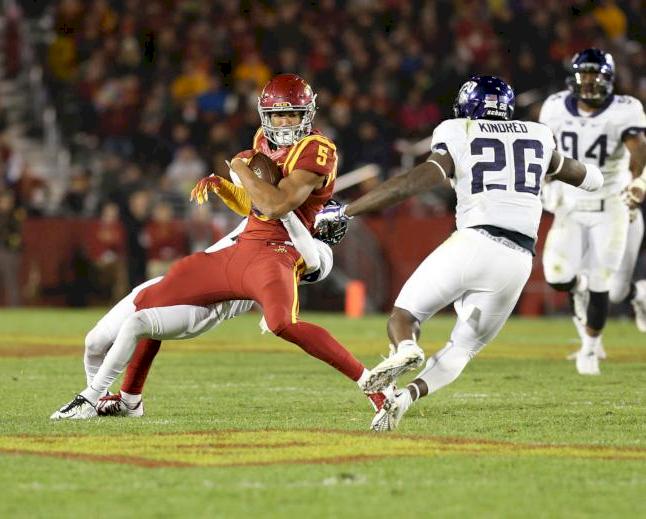 "With Allen, what scared me as an opposing coach, was that you could double-team him and he's still big and physical enough to go over the top of you and make a play," Campbell said. "He can be a mismatch in all of those areas. You have to find ways for a guy like Allen Lazard. You have to move him all over the place. That's our job."
Lazard's quarterback, a confident, big-armed junior in Joel Lanning gets it too. In his first real Big 12 experience last season, Lanning stepped in and threw a 74-yard rope to Lazard for a touchdown in a 45-21 loss to TCU last October. (Mysteriously, he did not attempt a pass the rest of that game.)
"If I am in any sort of a situation, I am just going to resort to him," Lanning said. "That's how close we are. I feel good with him and can literally put the ball anywhere in his area and he will come down with it."
Lazard, a Second-Team All-Big 12 AP selection, is different from many stud receivers. Guys like Keyshawn Johnson, Terrell Owens, Randy Moss and Chad Ochocinco (I still can't believe that's his last name) have given wide outs a bad reputation.
Lazard is soft-spoken and humble. Running into the huddle and demanding the ball isn't his style.
"I'm not that type of guy," Lazard said. "I'm way more about team success than I am individual."
But when you combine Campbell's dedication to getting him more targets, a competent running game and Lanning's appetite to chuck the long ball, this really could result in getting Allen Lazard the damn ball more in 2016. 
"He can trust that if I'm not making the play, nobody is making the play," Lazard said. "He doesn't need to worry about throwing an interception. Just throw the deep pass."
Mike Tice, a former head coach of the Minnesota Vikings, did a lot of things wrong but one thing I admired (I'm a Vikings fan if you didn't know) about his tenure was the "Randy Ratio."
In hindsight, it was ridiculous to openly promote (for professional defenses to hear) that you were going to throw the ball to one man 40 percent of the time.
But this is Iowa State and Lazard, who two years into his career is 22 touchdowns away from tying Todd Blythe's school record, is a once-in-a-generation type of player at a historical position of weakness within this program.
Campbell seems to know not to waste him.
If Iowa State is going to go bowling in 2016, chances are, it will largely be because they got Allen Lazard the damn ball.